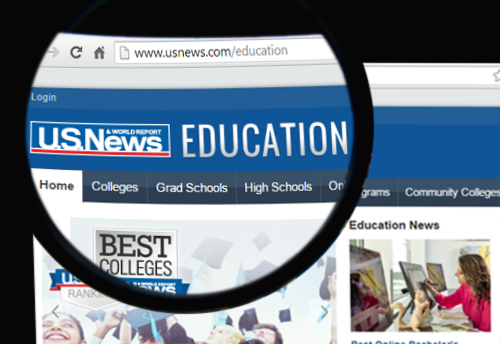 Auburn University's Raymond J. Harbert College of Business earned a pair of top 10 rankings on U.S. News & World Report's newly released 2015 Best Online Programs list.
Harbert College earned a No. 6 ranking among Best Online Graduate Business Programs (excluding MBA), while its online MBA program earned a No. 10 ranking.
"We are thankful for and proud of the external validation of the high quality of Harbert College's online graduate programs," Harbert College Dean and Wells Fargo Professor Bill Hardgrave said. "The faculty and staff are diligent in their efforts in providing great value and a positive student experience, whether they happen to join us on campus or in the cyber realm. Top 10 rankings certainly suggest we are finding success in our efforts."
For the first time since it began ranking online business programs in 2013, U.S. News & World Report created separate categories for non-MBA and MBA offerings. Harbert College's non-MBA online graduate offerings include the Master of Accountancy (MAcc), a Master of Science in Finance and a Master of Science in Information Systems. The college's online MBA program has ranked 12th or better each year since U.S. News & World Report began assessing the quality of online graduate business programs in 2013.
Harbert College Associate Dean for Graduate and International Programs Stan Harris said online students find that their experience mirrors that of an on-campus graduate student. Online students have the option of joining on-campus classes live or watching the recorded content at their convenience.
"We try to give our online students the experience of being in the back row of a live class," Harris said. "We want to give online students other opportunities to feel part of the Auburn family. In some classes, they actually interact and work with campus students on projects."
Harbert College's online MBA students also have the opportunity to visit campus for orientation, as well as for capstone case presentations.
U.S. News & World Report gathered data on 118 non-MBA online graduate programs and 225 MBA programs, weighing such factors as admissions selectivity, faculty credentials and training, student services and technology, peer reputation, and the program accreditation.
Harbert College's online and on-campus graduate programs have earned recognition from a number of media outlets in the last year. Poets & Quants explored the value proposition offered by Harbert College's online programs in the February 2014 article, "An Online MBA For the Price of a Jeep."
U.S. News & World Report ranked Harbert College No. 2 among "MBAs with the Most Financial Value at Graduation" in 2014, while PayScale placed it 10th among public university MBA programs for mid-career salaries ($132,000 average). Accounting Degree Review ranked Harbert College fifth on its list of the best online accounting master's degree programs.