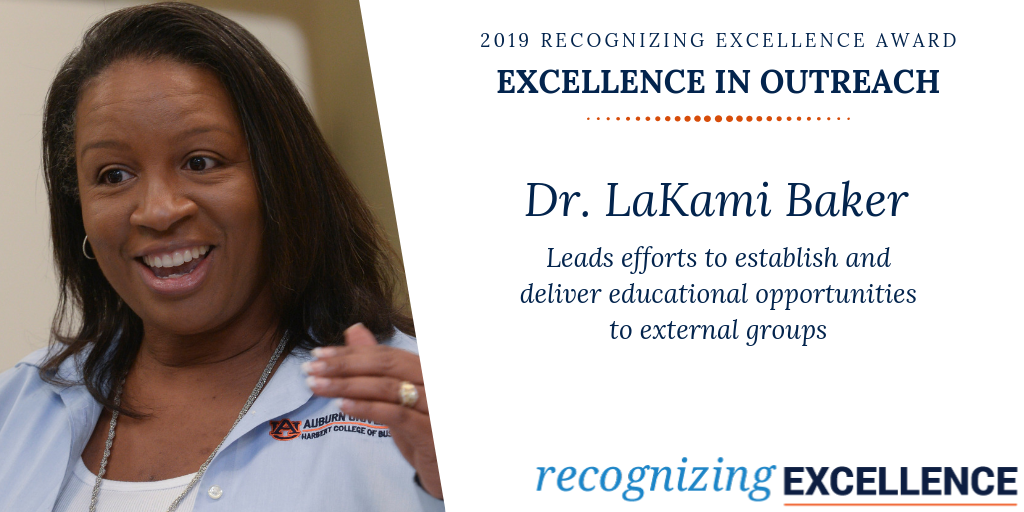 LaKami Baker parlays her passion for entrepreneurship and economic development by helping provide students and adults with the tools necessary to turn their business dreams into reality.
Baker, Managing Director of the Lowder Center for Family Business and Entrepreneurship and Associate Professor in Management at Harbert College, helps oversee the Auburn University Tiger Cage Incubator and Accelerator programs, developed entrepreneurship programs for schoolchildren, recently worked with administrators in Ghana to help fuel economic development, and was instrumental in bringing the regional Alabama Launchpad competition to east Alabama.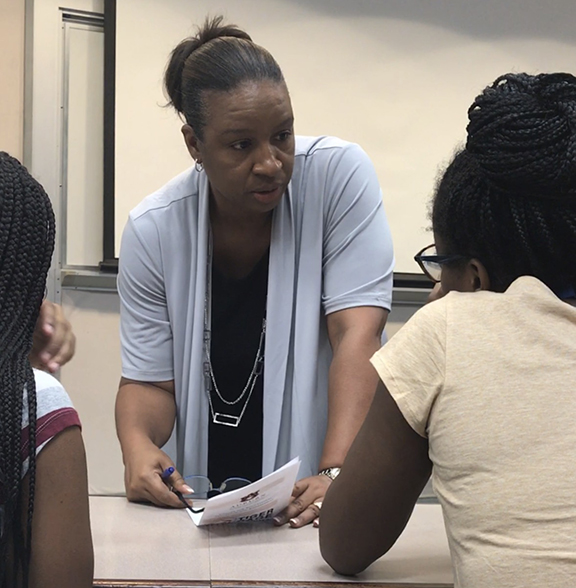 "Auburn University is a land-grant institution," said Baker. "That's part of our mission. Some of the things that I do help in the fulfillment of that mission that we have as a university."
Baker was presented with Harbert College's annual Excellence in Outreach Award.
"When you think about what we're doing with entrepreneurship, we're focused on not only creating or starting new businesses, but also the economic impact that has," said Baker, who received her Ph.D. from the University of Texas at San Antonio in 2007.
Baker's expertise took her to Ghana last December, where she visited the industrial districts of Accra, Takoradi and Cape Coast. "What we were really trying to do was gain more insight into how we can increase economic development activity within the country," she said.
In Takoradi, Baker recognized the district's dedication to oil and gas production – and suggested taking advantage of this opportunity to lure industry. "We asked, how can we create this economic ecosystem around oil and gas?" she asked. "We can do straight entrepreneurship training, but if we are really interested in drawing industry in, then the area must develop expertise around oil and gas – and have student startups focus on those raw materials. We're trying to figure out how we can best partner with students in Takoradi to help them increase their entrepreneurship education, and also provide training and create startups around things that others might be interested in."
Ever heard of the annual Junior Tiger Cage Entrepreneurship Camp, or Kid-Preneurship Day, both sponsored by the Harbert College, where children who aren't typically exposed to business ideas are given that first spark of ideas? Baker is behind them both
"Sometimes that bug – that excitement – has to come at an earlier stage," she said. "That's why we go back into the K-12 area to work with those students. What we want for them is to be excited about something. Perhaps they can look into problems and find a solution to make it better. What I hope is in that process, they recognize 'Hey, this is a good idea that can have promise.' That gets them excited about pursuing education.
"It's encouraging that activity. Sure, it's at a small level, but it can blossom into something larger. With outreach, I want people to feel that they can create jobs. They can do something to impact their own standard of living. Do I get anything in return for helping startups? No. But the feel-good of knowing that I've helped someone to improve their livelihood so they can provide for their family – those are things that are important moving forward."