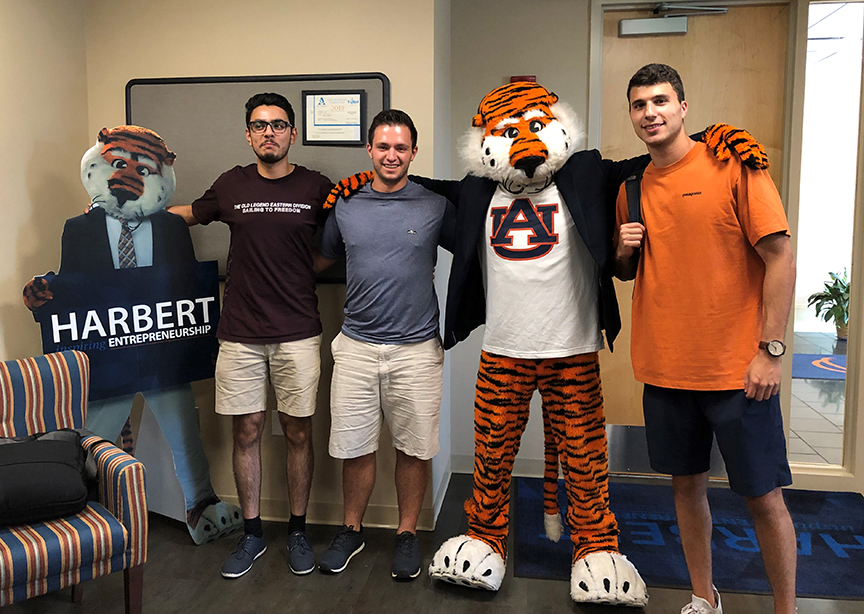 This is the real deal. There are people here who have had lifelong experiences and they are really pouring that knowledge into you."
Ever needed a haircut, but couldn't find time to leave the office? Austin Haikes, who is working toward a degree in architecture at Auburn University, has a solution: bring the haircuts to you. His aspiring mobile startup, Cutbus, can fit a busy worker's schedule.
Engineering students Gbenga Popoola and Tope Soneye, who came to Auburn from Nigeria in 2018, hope to fill a consumer demand by creating a market specifically dedicated to selling African foods – helping patrons avoid a 200-mile round trip to Atlanta. But how can they develop a business plan for their dream?
These ideas and others are being refined at the Tiger Cage Accelerator program, an eight-week summer business boot camp for Auburn students. Located at the Auburn University Research Park and managed by the Harbert College of Business, the crash course welcomes students into the world of startups by teaching:
Protecting intellectual properties
Customer identification
Pricing strategies
Marketing and sales strategies
Competitor analysis
Product development
Communications skills
And, of course, how to make the perfect pitch to investors
"This is the real deal," said Maaz Khan, who is pursuing a graduate degree in building science, and hopes to build on his e-commerce business, Blue Cascade. "There are people here who have had lifelong experiences and they are really pouring that knowledge into you. For me, I find that really valuable."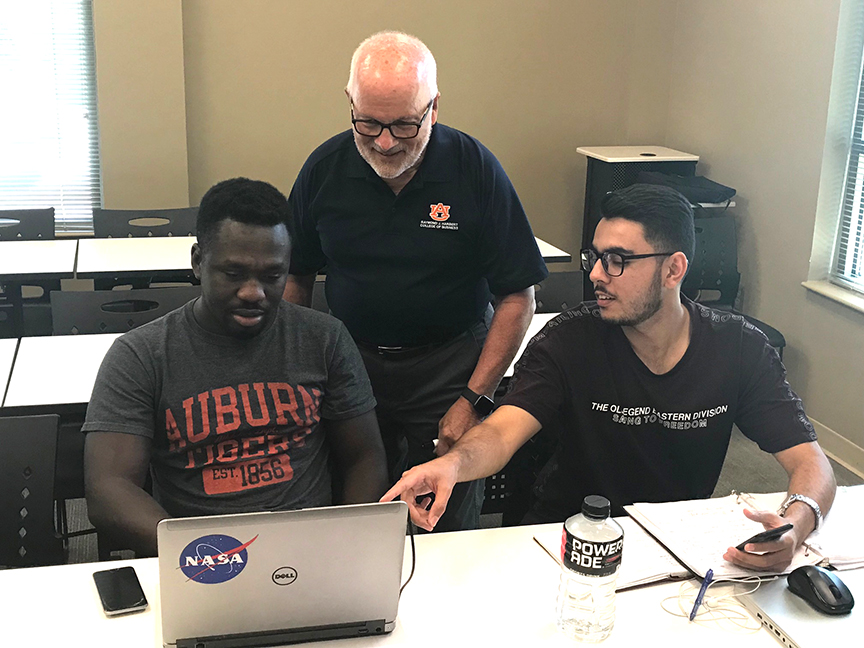 The Accelerator is led by Lou Bifano, Director of Entrepreneurship Strategy at the Harbert College of Business, and Scott McGlon, a veteran entrepreneur/investor and Entrepreneur in Residence at the Harbert College of Business.
"The main focus of the program is validating their business ideas through customer interviews and being able to communicate their business ideas to potential customers, people they are recruiting to join their team, and even potential investors," Bifano said. "It's also good preparation for the Tiger Cage Business Idea Competition, which starts in the fall."
Porter Kennedy, a senior in finance who will graduate in August, competed in the Tiger Cage Business Idea Competition last year. His startup, SoStraws, produces environmentally friendly paper straws that last beyond one drink.
"The Accelerator program has essentially made us come up here and work on our businesses," Kennedy noted. "That's allowed it to where I've been able to get so many more sales and so many more contacts."
Jake Jackson, a senior in business administration, said the program has helped students better identify who they will be attempting to market their ideas and products.
"Whereas typically, I know who my target customer base is going to be – it's going to be Auburn students," said Jackson, whose startup – University Movers – assists with the painstaking process of moving. "But this program opened my eyes to the customer discovery side of things. I didn't understand how in-depth that actually goes. Are customers males, females? What age? What income? People spend countless hours and energy pinpointing who their customer is."
Other Tiger Cage Accelerator startups include Lupa, an app dedicated to physical training, and Deep Security, a cyber-security business.
"We're hoping to provide opportunities throughout the year for students to pursue business ideas," Bifano noted on the summer program, held between the busy spring and fall semesters. "The Tiger Cage competition goes from September through March. We can use the summer program to plug the gap of programming for some students who are going to be on campus."
The 2020 Tiger Cage Business Idea Competition kicks off Thursday, August 29, with an introductory meeting for prospective student teams. There, prize pools, eligibility, rules, and other information pertinent to the contest will be discussed. Monthly strategy sessions and workshops overseen by veteran entrepreneurs and Harbert College faculty will be offered to teams.
For more information, contact Lou Bifano at ljb0022@auburn.edu