Auburn University's Online Bachelor of Science in Accounting program is ranked seventh nationally by DiscoverBusiness.us, which revealed its "2017 Best Value Online Accounting Degree" rankings on September 13. Degree programs offered by Auburn Accounting Online have received other recent accolades from U.S. News & World Report, Online Accounting Degree Programs, Affordable Colleges Online, and Accounting Degree Review.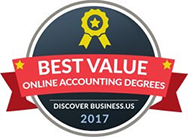 "Our online accounting programs continue to be ranked among the top 10 programs in the country," said Amy Murphy, Director of Accounting Graduate and Online Programs. "We distinguish ourselves from other online competitors by being separately accredited in accounting by AACSB International, continuing to have CPA exam pass rates that are among the highest in the U.S., and delivering our traditional face-to-face accounting classes to online students using state-of-the-art technology."
For a complete list of Auburn Accounting Online Program rankings, please visit http://harbert.auburn.edu/academics/online-programs/bs-in-accountancy-online/rankings.php.
DiscoverBusiness.us is a media organization designed to help prospective college students better evaluate important program factors like quality, cost, and salary outcomes. The 2017 rankings used that criteria and compared colleges with accredited four-year accounting degrees.
"Prospective students today are looking for a high-quality online program, while at the same time they are also more mindful of the program cost," said Kristen Morris, editor at DiscoverBusiness.us. "After collecting and analyzing data on 132 online programs, this list of 37 of the best provides a fresh look at bachelor's degree options that provide excellent value for students."
Auburn University's School of Accountancy also offers online undergraduate and graduate accounting certificate programs as well as an online Master of Accountancy program. For more information about Auburn's online accounting programs, please contact Amy Murphy, Director of Accounting Graduate and Online Programs at amy.murphy@auburn.edu.