Startups from five East Alabama counties have an opportunity to win a share of $100,000 in cash prizes at the Auburn Regional Alabama Launchpad finals this April. However, they must clear their first pitch round.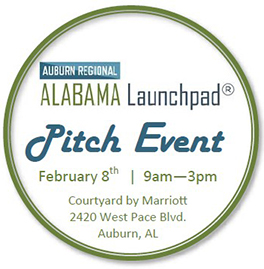 Eleven teams will have 10 minutes to pitch their ideas before industry professional judges on Thursday, Feb. 8, from 9 a.m. to 3 p.m., at the Courtyard by Marriott in Auburn. The event is sponsored by BBVA Compass.
After the round of first pitches are made, judges will determine the teams that will advance to the semifinals. The Auburn Regional Alabama Launchpad is presented by the Auburn University Harbert College of Business' Lowder Center for Family Business and Entrepreneurship, the City of Auburn, Auburn Research and Technology Foundation, and the Economic Development Partnership of Alabama (EDPA).
"Looking at the entrepreneurship ecosystem for our area, it's important to have competitions like this to help spearhead some of the entrepreneurial activity," said LaKami Baker, managing director of the Lowder Center for Family Business and Entrepreneurship.
The Auburn Region includes Lee, Tallapoosa, Chambers, Macon and Russell counties. Teams competing include:
Proximity Biosciences, LLC (Auburn): Functional molecules used for therapeutics and diagnostics
Beyond Home Care (Alexander City): Personalized non-medical home care for elderly and disabled individuals
SoleLine LLC (Auburn): Storage containers for footwear
Focus Engineering (Auburn): Simplified parking and parking management system
InhiProt (Auburn): Novel treatment for multiple myeloma
SWIGRO Addictive Manufacturing (Auburn): Innovative system for 3-D printing
Carol's Spring Water (Tuskegee): Developed energy H20 for life
NanoXort (Auburn): Developed safer contrast agents for MRIs
Lil' Monster Box, LLC (Seale): Monthly, returnable toy boxes
Tennibot (Auburn): World's first autonomous tennis ball collector
JC Golf Info (Alexander City): Online golf service for National Junior College Athletic Association (NJCAA) golfers and coaches
Baker said hosting the Auburn Regional Alabama Launchpad reinforces Auburn University's position as a driver of innovation and growth in the region.
"This demonstrates that the university recognizes the value of entrepreneurship and innovation in driving economic growth, and our partnership with the city and the EDPA fits with our mission as a land-grant and our designation as an Innovation and Economic Prosperity University by the Association of Public and Land-Grant Universities," Baker said.
"When I look at this region and think about the resources that we have at Auburn University and our partnership with the City of Auburn, I get excited as I am finding there is a lot of talent in East Alabama. We want to help entrepreneurs start, stay and grow here."