Try to summarize Wayne Alderman in one word. Teacher? True. In 39 years as an accounting professor and administrator at Auburn University, Alderman touched countless lives. Researcher? That fits, too. Alderman has published more than 50 articles in financial accounting, reporting and auditing.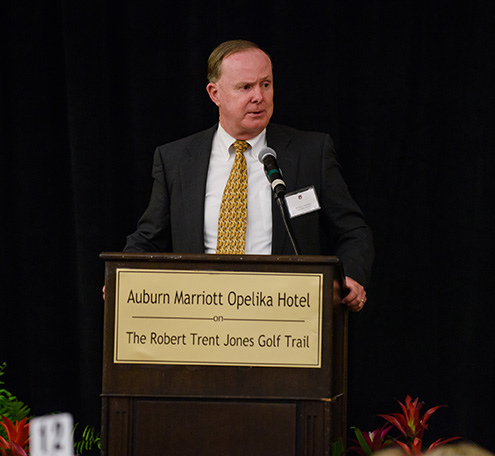 Golfer? He's been to 25 consecutive Masters Tournaments at Augusta National and a large print of the course's famous 12th hole adorns the wall in his Lowder Hall office, but he'll remind you he's better at watching the game he loves than playing it.
Legacy. That's it. Legacy. Wayne Alderman is an Auburn legacy. Sure, he an Auburn accounting alumnus, is former Dean of the Harbert College of Business, professor, and later Dean of Enrollment Services, but the impact Alderman has made here is immeasurable.
It's no wonder that Wayne Alderman was selected this spring as the Auburn School of Accountancy Outstanding Alumnus of the Year.
Before Alderman, there was no Beta Alpha Psi student honor society – which also serves as an agency for networking with industry professionals and acts as a springboard to job/internship placement. "I was working for Ernst & Ernst after graduation from Auburn and many of my colleagues from other schools had Beta Alpha Psi," explained Alderman, a Mobile, Ala., native who returned to Auburn as professor in 1979 and assumed the role of Dean of the College of Business from 1993-2000. "Back then you had to be fully AACSB accredited, and we were working through that. When I came back to Auburn I said, 'I don't want our students to feel like they have missed anything. Beta Alpha Psi was one of the first things that I tried to do once I came back."
Almost 3,000 Auburn accounting students have been Beta Alpha Psi members – including 191 in 2017-18 – as the organization is celebrating its 40th year.
"Once you get a chapter, such as Beta Alpha Psi, you have to build on it," he said. "Just like any business, it's about the people, and we've had some great people here. Today, Beta Alpha Psi is a machine."
Before Alderman, there was no Tiger Cage student business plan competition, no Auburn Entrepreneurship Summit, or no Lowder Center for Family Business and Entrepreneurship. He didn't create the Tiger Cage, but he did establish the Lowder Center for Family Business and Entrepreneurship – an arm of today's Harbert College that oversees the student competition, as well as the Tiger Cage Accelerator and Incubator – where young student businesses are provided office space and expert direction.
"When I became dean, I felt that one of our strengths would be entrepreneurship," he said. "We had been an entrepreneurial business school because we were young as a business school. I felt the entrepreneurship program was a natural fit for Auburn. We had graduates who were successful entrepreneurs, and we had students who wanted to be in entrepreneurship."
"Sometimes when you're working on things you wonder if it's worth it and then you look back over your career and say, 'Yeah, that was a good thing,'" he added.
From 2006-17, Alderman's role as Dean of Enrollment Services produced increased average ACT scores (24.3 to 27.4) and high school GPAs (3.43 to 3.80) for incoming freshmen. Not only did Auburn freshman enrollment increase from approximately 3,700 annually to 4,700 annually, but the university was getting better-qualified students.
Though accounting was his love, Alderman urged students to choose majors based on their personal fits. "Don't go into a major because your mom and dad want you to be in that major," he would say. "Don't go into a major because you think you are going to make the most money."
But why should students consider accounting?
"Accounting is a great major because it really is the language of business," he added. "You learn so much about the business world, not just accounting. If you worked for Delta Airlines in accounting, you've got to understand a lot about the business. You're not just doing debits and credits. You've got to understand what the assets are and what reports management needs. If you can understand the language of business, then you can flourish in the business world."
Why will Auburn continue to flourish? People, Alderman answered.
"We've had a great faculty for a long period," he said. "They work well together, but they have high standards, they care about our students. That's very rewarding to me. I used to worry – would Auburn have the kind of accounting faculty we had in the 1980s and 1990s? But we still have a great group of people. That's how you build things – with people over a long period of time."