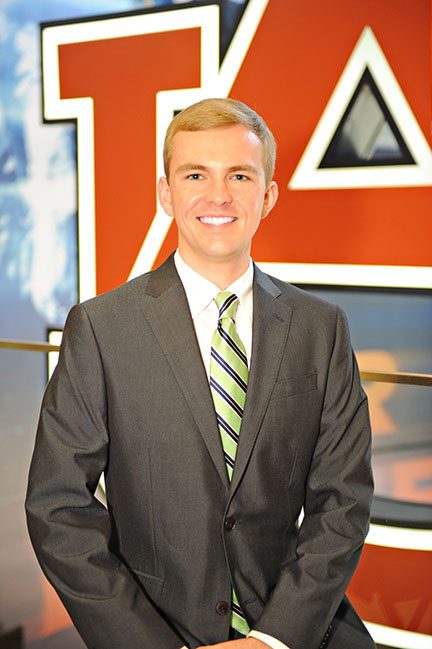 As a manufacturing planner associate at Lockheed-Martin, Wilson Hood is a busy man. Not only is he responsible for the release of work orders and materials to the manufacturing floor, but he must also collaborate with other organizations within the company to provide status updates and ensures that production schedules are followed.
"Simply put, no day of work is ever day same," he quipped.
But just a year ago, Hood was a Supply Chain Management student at Auburn's Harbert College of Business – wondering what his future holds, juggling studies with internships and even working as a teaching assistant within Harbert College's Office of Professional and Career Development (OPCD). In that short time, he went from student to young professional on the rise.
"I give a significant amount of credit to my time spent in the OPCD, both as a student seeking career development services and a teaching assistant serving other students," said Hood, who graduated in the spring of 2016 and made special note of the many services the OPCD offers that are geared toward internships and ultimately, employment. "The staff is truly dedicated to making sure that Harbert students are prepared to compete for amazing career opportunities on a regional and national level."
During his time at Auburn, Hood utilized the OPCD's many career coaching appointments, employer preview panels, mock interviews, and even Resu-Mania – where students are coached how to create attractive, professional resumes.
"One of the most beneficial services I used was the mock interview sessions with the OPCD career coaches," added the Hamilton, Alabama native. "This allowed me to experience how a job interview would be conducted from start to finish, including feedback at the end."
Hood urges students to take advantage of all the OPCD offers.
"Getting involved in OPCD events and activities often leads to increased interaction with potential employers," he said. "Many of the companies that recruit our students often request more interaction with underclassmen so they can begin building those relationships as soon as possible. Pro-active involvement in the OPCD will significantly lower a student's chances of entering their final semester, or weeks, at Auburn without any sort of employment offer."
Harbert College's Career Fair, held Feb. 9 at Auburn Arena, was open to students of all majors. Hood used previous career fairs to network with a diverse group of recruiters and urges students to take advantage of this opportunity at coming career fairs.
"Attending career fairs ultimately resulted in both a summer internship (P&S Transportation) and my current position," he added. "In addition to the OPCD's general business career fair, the Supply Chain Management Department also hosts a career expo each semester. Many companies also host next-day interviews on campus for internship and full-time candidates. Career fairs are not always the most comfortable or natural environments to be in, so I would highly recommend that students participate early and often in their undergraduate years."