Amber Arthur will soon trade textbooks and academic projects at Lowder Hall for the corporate world of Atlanta. The Harbert College of Business senior in finance begins her role as Financial Analyst for Treasury at Georgia-Pacific, but the Marietta, Georgia, native credits the college's Office of Professional and Career Development (OPCD) for playing a key role in her future employment.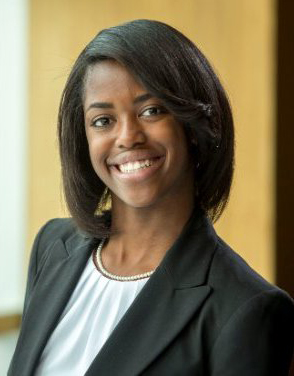 "Students who are not using the OPCD are not only missing out on the resources that they pay for (professional fees), but they are missing out on making those valuable connections with people," Arthur said. "By being plugged in with the OPCD, students increase their chances of being aware of companies coming to recruit and free events that could help enhance their skills. They are, by far, hurting themselves in the long run."
Of the many tools the OPCD offers, including mock interviews, Arthur found the office's resume and cover letter reviews to be the most helpful in obtaining internships and employment.
"For just about every internship I applied for, I had to do a cover letter and I had no idea how to or where to start," said Arthur, who worked as a corporate treasury intern at Georgia-Pacific in 2016. "I made an appointment with the OPCD and they walked me step-by-step through it and I feel as though I now have a pretty strong cover letter. The resume review was also super-helpful because they were able to catch so many errors that I completely overlooked that could have caused a recruiter to throw my resume to the side."
Arthur, who has served as a student recruiter at Auburn University's Office of Student Recruiting since 2016, encourages students to get a head-start on internships. "My internship is really the only thing that has ensured me that I will be able to do my job this summer," she said. "We learn so much in our classes, but putting it to practice is a different ball game. I had to learn so much last summer, both specific skills for GP and some general skills. It is so important to get internships as early as possible because then you will learn these skills earlier than your counterparts and companies want people with experience."
Arthur, who is also a member of the Financial Management Association Honor Society, looks forward to using these skills again this summer. She said her role was created to support Georgia-Pacific's consumer products group, as well as other facets of the company as a whole. Arthur knows that a large portion of the company's new vision is to become more proactive and analytical – with a strong focus on reporting, innovation, business partnership and value creation.
"I think I will be a great fit to help with this transformation and have a good intro into reporting and analytics," said Arthur, who wouldn't mind "working my way up to be Chief Financial Officer."
"My studies in finance here at the Harbert College of Business has prepared me in so many ways – especially my financial statement analytical class. The Harbert College of Business gives you a good mix of financial electives to choose what will be most useful in your career."