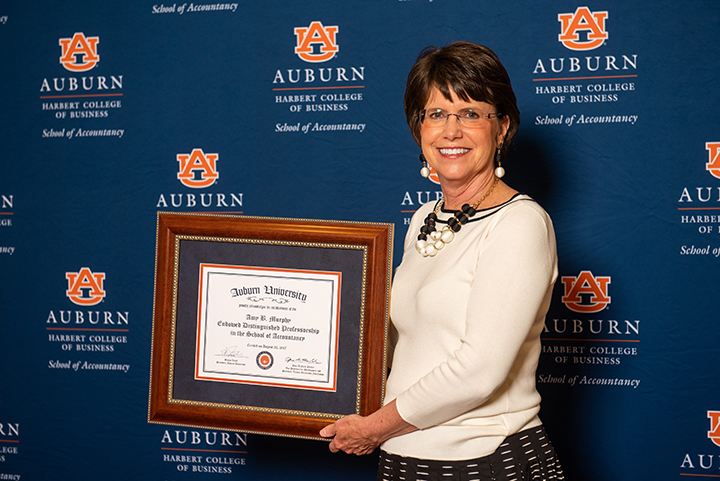 By choosing accounting and going the path that I did, I have had unlimited opportunities. Auburn gave that to me."
Amy Murphy was at a crossroads. The likable Southern girl from North Alabama worked her way up from an entry-level file clerk position to mid-management at Central Bank (now BBVA Compass Bank), but she aspired for more. After applying for a commercial lending position, HR informed her that any future promotions would not happen without a four-year degree.
Murphy said, "I was 27 years old and didn't know what to do. I did know for certain that I would not settle for a career without growth or advancement opportunities."
Fate intervened, and this roadblock ultimately steered her toward academic, professional, and personal prosperity. The career hurdle she faced led her to her destiny: a role where she would shape graduate accounting programs at Auburn University and touch the lives of countless students. After receiving a BSBA in Accountancy (1988) and a Master of Accountancy (1992) from Auburn University, Murphy was eventually offered the position of Director of Graduate Programs within the School of Accountancy in 1994.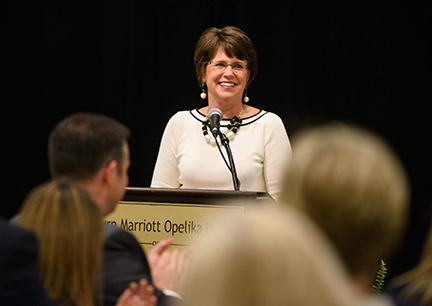 Murphy retired on July 1, 2019, after 25 years in this role. To thank her for her innumerable contributions, the SOA recognized her as the 2019 Outstanding Alumna at the annual awards ceremony in April.
Murphy is responsible for many of the SOA's initiatives and programs that make it what it is today—highly awarded and nationally respected. She developed the SOA's formal internship program in 2000 and later created the Accounting Roadmap to Success, the SOA's undergraduate recruiting and program guidance brochure. Murphy served as Beta Alpha Psi and Financial Leadership Society faculty advisor for a decade and taught Principles of Financial Accounting, Intermediate Accounting I, and Professional Development in Accountancy throughout her time in the SOA.
In 2005, she pioneered a change to the Master of Accountancy (MAcc) curriculum, allowing students to sit for the CPA Exam before graduation. This change has yielded amazing pass rates and gained national recognition for the program. Murphy also created five online accounting programs over the past 18 years, leading the online MAcc Program to No. 6 by U.S. News & World Report in 2018 and developed the first online undergraduate degree program at Auburn University. A woman who always had her finger on the pulse of SOA graduates, she established the SOA Connection alumni magazine, and served as editor for 18 years.
Murphy's honors and awards over her many years of service demonstrate exemplary leadership and an ability to serve as a role model for others. Her most recent awards and recognitions include the Auburn University Faculty Woman of Distinction Award 2019, Auburn University SGA's Final Lecture Nominee 2018, Beta Alpha Psi Outstanding Teacher Award 2017, Alabama Society of CPAs Outstanding Accounting Educator Award 2017, Amy B. Murphy Endowed Distinquished Professorship established by alumni and faculty in 2017 and the naming of the Beta Alpha Psi Amy B. Murphy Service Award in 2015.
Being part of the Auburn family is one of the greatest blessings of my life."
Now, with the perspective of an extremely successful career, the decision to leave banking and pursue an Auburn education was the best thing Amy Murphy could have done.
"My father, Charles Murphy, strongly believed in hard work and education, so he offered to fund my way to Auburn so that I could pursue a degree from a major university," Murphy explained. "I had one more shot to do something really great with my life. My father provided the financial support and my mother, Sarah Murphy, provided the love and endless support I needed to make such a drastic move. My parents stood by me as I left mid-level management in banking and became a full-time student."
Another pivotal moment came in 1986. Ronald Reagan was President, Pat Dye was Auburn's Head Football Coach, and an accounting professor named Gary Waters walked into Amy Murphy's life. "Thank goodness I met Gary Waters!" she said of the veteran Auburn academician. "He recognized my academic abilities and encouraged me to become a CPA. He said, 'If you major in accounting and pursue your CPA, you will never have limitations. You will always have options.' He was so right. Through his encouragement, I decided to pursue accounting. I wanted the sky to be the limit, and I can honestly say that by choosing accounting and going the path that I did, I have had unlimited opportunities. Auburn gave that to me."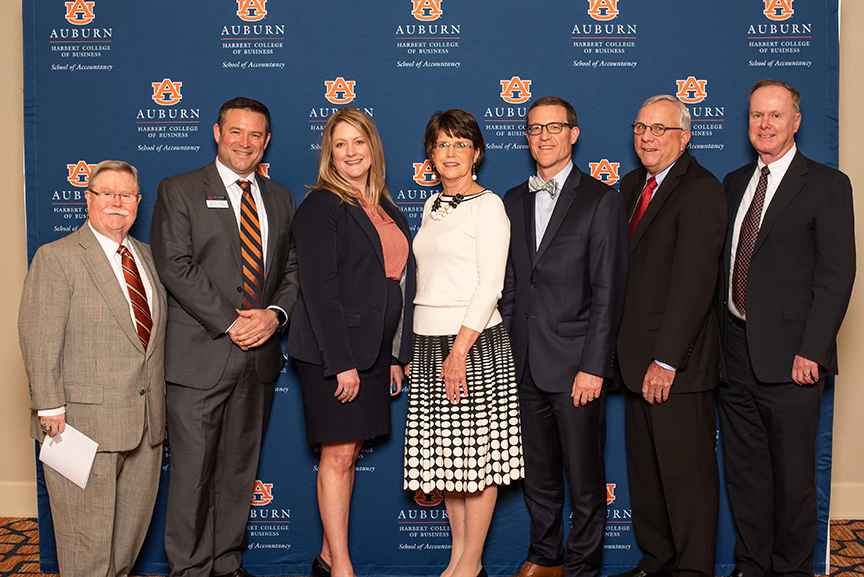 Undergraduate and graduate accounting degrees from Auburn lifted her to new professional heights in the corporate world as Murphy worked for Ernst & Young and served as Assistant Controller at a flagship hospital in Alabama owned by a parent company in Naples, Florida. Nevertheless, nowhere came close to feeling like "home" like Auburn.
"Auburn helped me have a different life," Murphy, pictured with former SOA Directors Gary Waters, Duane Brandon (current), Jennifer Mueller-Phillips, Norman Godwin, Rick Tabor, and Wayne Alderman, explained. Just as Waters steered Murphy toward an accounting degree, former Harbert College of Business Dean and Professor, Wayne Alderman, steered her back to the Plains in 1994. The School of Accountancy needed someone to lead its MAcc Program and other professional programs, and he knew Murphy was that person.
She recounts, "John Maxwell, a renowned author, coach and speaker, once said, 'One of the greatest values of mentors is the ability to see ahead what others cannot see and to help them navigate a course to their destination.' I am so grateful to my Auburn mentors, Dr. Wayne Alderman, Dr. Gary Waters, and Dr. Rick Tabor, for helping me reach my destination of serving students in higher education. Without these individuals in my life, I would not be where I am today. I have truly tried to emulate with my students what my mentors have done for me."
My students will always be my heart and soul,

and I love them dearly."
The mentorship is now full circle, as Murphy has taught, advised, and mentored thousands of students over the past 25 years. When asked about the one thing she loved the most about her time at Auburn, she states, "It's the lifelong relationships that I've developed with Auburn faculty, staff, students, and alumni. Being part of the Auburn family is one of the greatest blessings of my life."
Even in retirement, Murphy continues to mentor aspiring accounting students. Despite her talent as a program administrator, she always found her passion in the classroom. She passed the torch as Director of Graduate Programs, but she is not ready to give up teaching. She loves it too much.
"I'm so grateful to have the opportunity to teach part-time during retirement and to pour into my students the discipline and guidance they need," she added. "Although I don't have any biological children of my own, God blessed me with the best and the brightest at Auburn University. My students will always be my heart and soul, and I love them dearly."
Murphy embodies the Auburn spirit and lives by the Auburn Creed. Throughout her tenure, her commitment to excellence was unwavering, and she always led with passion and excitement, every single day inspiring her students to be the best they can be. Her commitment to Auburn University and the School of Accountancy has always been beyond the call of duty, and her legacy and contributions will live on for future generations of proud SOA alumni.