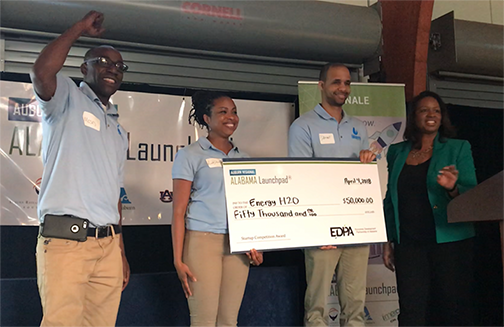 Three local startups earned judges' favor and split a share of $100,000 at Wednesday evening's first Auburn Regional Alabama Launchpad finals held at the Auburn University Ag Heritage Park.
Energy H20, a Tuskegee-based company (right) that specializes in the production of energetic and healthy bottled water, received $50,000 in funding. Tennibot, an Auburn company headed by Harbert College MBA graduate Haitham Eletrabi (below) that produces a robotic tennis ball collector, received $40,000 in funding.
Fo Park, a simplified parking management system presented by Auburn engineering alums Sakthi Kandaswaamy and Parker Roan, will receive $10,000 in funding.
Boyd Stephens, founder of Netelysis in Montgomery, was one of the three judges and marveled over the teams' ability develop their pitches and business plans.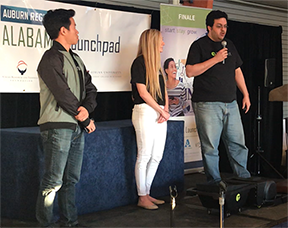 "The work that went into their presenting and the way they readjusted themselves from feedback that we gave them a few months ago was stellar," said Stephens, who joined John Marsh and Frank Braski on the panel. "Some of the participants … it was really neat to see how they took the feedback and integrated it into their second pitch. That's what entrepreneurship is all about – readjusting."
Three other finalists competed Wednesday in the "Shark Tank" style event. They were:
Beyond Home Care, a personalized non-medical home care solution for elderly and disabled presented by Kelly Adams of Alexander City.
InhiProt, a treatment idea for those suffering with multiple myeloma, presented by Auburn University Harrison School of Pharmacy professor Alexei Kisselev.
NanoXort, which focuses on the development of safer contrast agents for MRIs, presented by Tareq Anani and Barry Yeh of Auburn.
Finalists from the Auburn Region, which includes Lee, Tallapoosa, Macon, Chambers and Russell counties, were trimmed from 12 teams to six after a first pitch event in February.
For Moses Weaver and his Energy H20 team, Wednesday's windfall event was answered prayers for a company who needed equipment upgrades to begin mass production. With $50,000, that equipment can be purchased.
"This helps tremendously because we've been struggling for 11 years," said Weaver, fighting back the tears and hugging teammates Darnell and LaDonna Suggs. "This changes things because of the volume. Right now, we can create 150 bottles per hour. This will allow us to take it to 5,000. It changes everything. It takes us to that next level."
The Auburn Regional Alabama Launchpad is presented by the Auburn University Harbert College of Business' Lowder Center for Family Business & Entrepreneurship, the City of Auburn, Auburn Research and Technology Foundation, and the Economic Development Partnership of Alabama. BBVA Compass served as the event's title sponsor.
Teams have the opportunity to compete July 12 in Birmingham at the Alabama Launchpad statewide competition. Applications for the event are due no later than April 23.