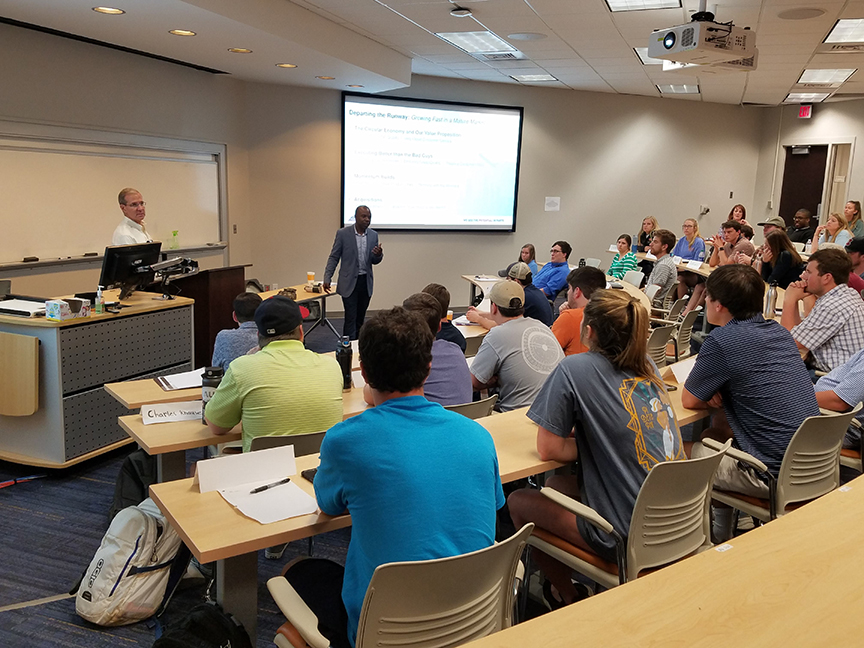 Beth Davis-Sramek's Sustainable Supply Chain Management class emphasizes how businesses within profit-driven, market-based economies have the ability to address society's most vexing challenges by leveraging their scale and global reach.
Students were given firsthand knowledge when BBB Industries CEO, Duncan Gillis, and BBB Industries Senior Director of Strategy and Business Development, Mark Nugent, visited class. An additional reason for the visit was to spread the word about Global Remanufacturing Day. This initiative communicates the value of remanufacturing by bringing attention to the critical role it plays in creating a circular economy.
The BBB team developed and delivered a case study, "Real World Sustainability: Doing Good While Flying High," which highlighted both the sustainable outcomes and the business case for remanufacturing. They facilitated an interactive discussion with students on the impact remanufacturing offers to customers, the environment, the workforce, and investors.
"In addition to the environmental benefits, the remanufacturing industry is projected to grow at a rapid rate in the coming years, generating many highly skilled job opportunities," Gillis said. "The goal of Remanufacturing Day is to promote the benefits of remanufacturing, and BBB is happy to do its part to bring awareness to the value remanufacturing brings to the economy and the environment."
Davis-Sramek, the Gayle Forehand Professor in Supply Chain Management at the Harbert College of Business, said students "received a unique and impactful opportunity to participate in a live case study."
"Through this interaction, they got firsthand knowledge about how firms can embrace the principles of a circular economy to meet the needs of society now and in the future. At the same time, they learned how business models that promote the circular economy can increase profit, fuel market share, and create job opportunities for people in emerging economies to provide for their families."
"For our business leaders of tomorrow, these kinds of learning opportunities are priceless."