Kate Bagley, a senior in finance, is the SGA Outstanding Student of the Year for the Harbert College of Business. This award is a family tradition – her mother, Betsy Osterling Bagley ('88, marketing) won the same award 31 years ago.
"My mother has always been my biggest role model," said Kate, a Houston, Texas, native, who has served as Auburn Student Investment Fund President since 2017. "Oddly enough, I never set out to follow the same path as her and even had no idea she won the same award until after I was notified I got it. We are incredibly similar people, and if I had to choose someone to be like, I am so glad it is she.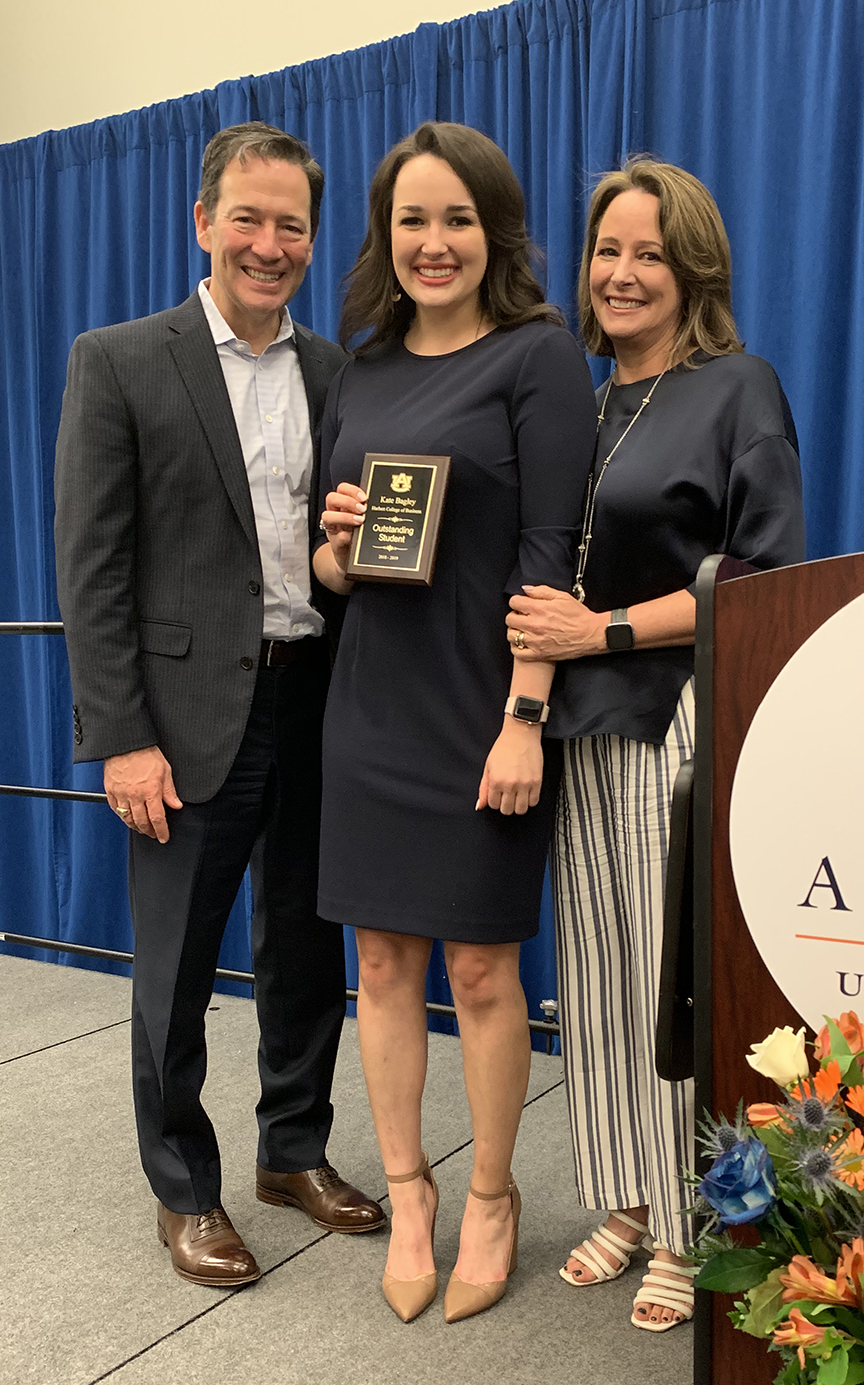 "She is my go-to person and a constant inspiration to me. Since I was young, she has always emphasized through her words and actions the importance of gratitude, hard work, putting others first, relationships, and most of all: grit. My parents always said to me, "Do your best, forget the rest" which I think is the best advice in every aspect of life and really reinforced the imperative quality of perseverance."
Kate is pictured at left with her parents, Don and Betsy Bagley.
As Vice President for Internal Affairs of Auburn's prestigious Financial Management Association Honor Society with a 3.81 GPA, Kate has already enjoyed internships at ExxonMobil, Morgan Stanley and Wells Fargo. After graduation in May, she will begin full-time work as a controller's analyst at ExxonMobil.
Betsy Bagley (right, with former Harbert College marketing professor Ford Laumer) is Vice President for consulting services at Catalyst, Inc., a global nonprofit organization.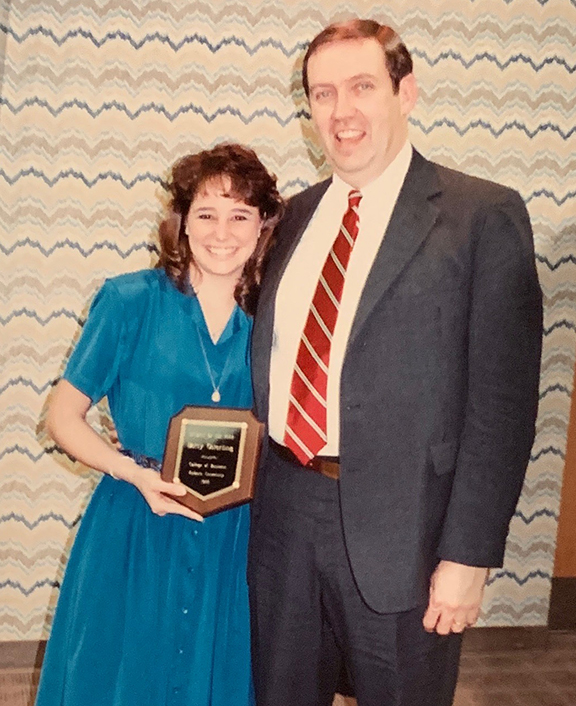 "I am so delighted to see Kate recognized for all her commitment and contributions," she said. "I'm incredibly grateful to the Harbert College of Business for the opportunities it has provided for actionable learning and leadership development. It is a double honor to share this same award that I received as a student with her. Who knew when she came to auburn to chart her own unique path that is it would culminate in a similar place?"
Kate Bagley said involvement in organizational activities at Auburn allowed her to develop leadership skills, build lifelong relationships and "be challenged every single day."
"It has been amazing to see not only the transformation of Auburn Student Investment Fund over the past two years as we began the actual trading and portfolio management, but also each and every student that has been a part of the organization," she said. "It has been a learning experience for all of us, and I would not be able to do any of this without each member of the ASIF. As I often say to younger students, you win some, you lose some, and it goes without saying that that holds true. I have absolutely experienced my share of failure, but it has always been about getting back up and working even harder.
"The Harbert College of Business has been instrumental in my personal and professional development and in obtaining my dream job with ExxonMobil. Throughout my four years, (FMA Director) Tracy Richard has pushed me to be my best and without her, there is no way I would have had the opportunities that I have had. She saw potential in me back in my freshman year that I would have never recognized by myself and I could not be more grateful to her and to the College of Business for supporting and encouraging me throughout my time at Auburn."