An estimated 100 banking administrators from across the state have the opportunity to gain insights on regulatory, compliance and marketing information from industry professionals and experts at the 8th Annual Bank Directors College at Auburn University, February 22-23, at The Hotel at Auburn University and Dixon Conference Center.
The event, which is hosted by the Harbert College of Business, provides training for prospective bank directors, new bank directors, and even veterans of the industry.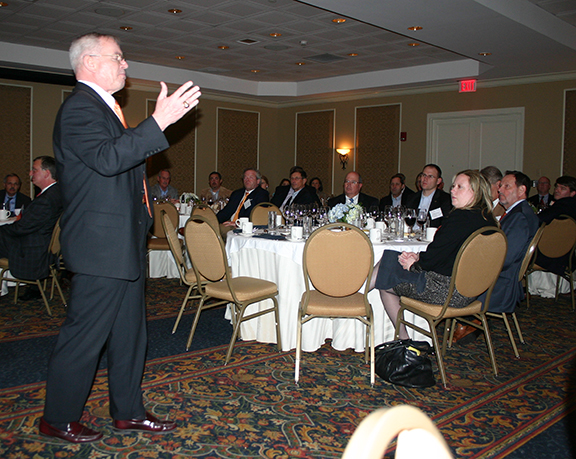 "The objective is to provide relevant and timely information so that directors become more knowledgeable and more effective board members," said John Jahera, Lowder Distinguished Professor in Finance at the Harbert College of Business, and event moderator. "Directors have a significant fiduciary responsibility and it is vital that they be aware of current banking laws and regulations. Also, the bank regulatory environment is always changing it seems and we have seen some easing of the regulations impacting community banks."
Jahera said the eight-hour conference also will provide legislative and regulatory updates.
The program will include faculty and speakers with a mix of academics, professionals, regulators and experienced corporate directors. Other topics of discussion include: important banking trends, national and regional economic updates, and the basics of community bank directorships.
Some of the event speakers include David Altig, Executive Vice President and Director of Research for the Federal Reserve Bank of Atlanta; 1988 Harbert College finance alum Kevin Hagler, Commissioner of the Georgia Department of Banking; and 1972 Harbert College alum Mike Hill, the Superintendent of Banking for the State of Alabama.
Anita Gentle Newcomb, former member of the Board of Directors for the Federal Reserve Bank of the Richmond, Virginia/Baltimore, Maryland, branch, will be the keynote speaker for the Thursday, Feb. 22, banquet. Newcomb is a 1976 Auburn University School of Accountancy graduate and was the School of Accountancy's Alumnus of the Year for 2013.