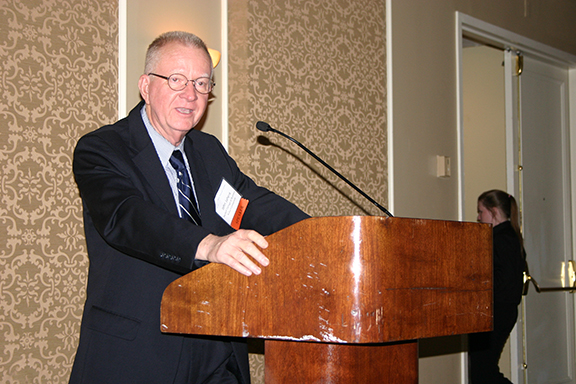 As everyone in banking knows, banks have been heavily regulated by the Dodd-Frank Act and other legislation. But with changes in Washington, how could potential regulatory reform impact the community banks?
The 7th Annual Bank Directors College at Auburn University will prepare senior bank officers for potential changes in their professional environment. Hosted by the Harbert College of Business, the event will be held February 23-24 at The Hotel and Auburn University and Dixon Center.
"Getting a better understanding of what might happen could help the bank directors develop their strategies moving forward," said John Jahera, Lowder Distinguished Professor of Finance at the Harbert College of Business, who will also serve as a moderator. "One of our speakers, Karen Thomas, represents the Independent Community Bankers of America in Washington, which is primarily a lobbying group. She's going to give us a Washington update, which has always been a popular session and especially this year with the change in the administration and all of the talk of rolling regulations back. Bankers want to know … where will we specifically see regulatory relief?"
Jahera said that instead of hiring new tellers, clerks, loan officers, etc., many banks have been forced to make room in the budget for hires in the area of regulatory compliance. "If you're a small bank, you don't have the economies of scale to spread that cost out. We've seen a number of mergers among the small banks because of this."
The two-day, multi-session event helps the bank directors learn more about a variety of topics, including capital funding, corporate law, corporate governance and cyber insurance.
Jahera noted that bank directors also have the opportunity to meet and learn from new Alabama Superintendent of Banking Mike Hill. Hill, who will serve on a regulatory panel discussion, most recently served in the Legislature, representing Shelby County.
"Attendees will have the opportunity to question him … is he envisioning any changes to the Department of Banking?" Jahera said. "Anytime you have someone new in an oversight role, it can be beneficial to hear what they have to say."
Other speakers include David Altig, Executive Vice President and Director of Research for the Federal Reserve Bank of Atlanta, Karen Thomas, Senior Executive Vice President of Government Relations and Public Policy for the Independent Community Bankers of America, Kevin Hagler, Commissioner of the Georgia Department of Banking & Finance, and John Henrie, Deputy Regional Director of the FDIC (Atlanta). Reginald Hyde, Executive Director of the Cyber Institute at the University of Alabama, will serve as the event's keynote speaker.