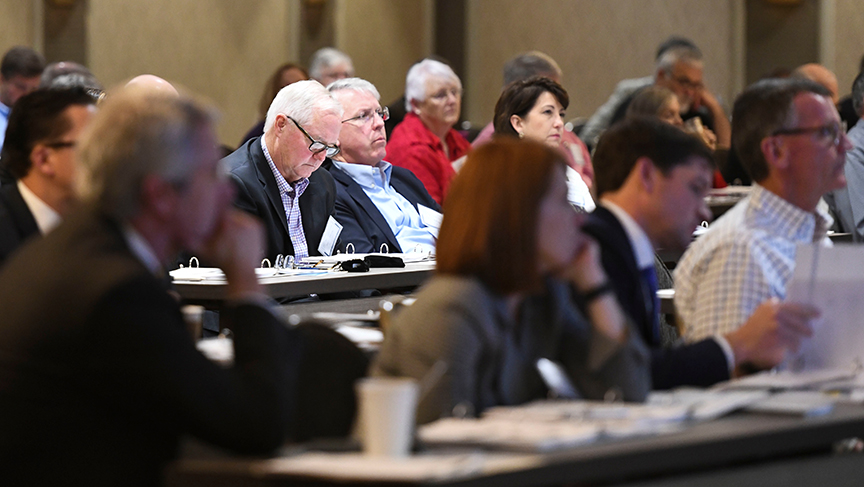 You will have the opportunity to network with other professionals in your field and be educated on topics relevant in today's evolving market."
The Harbert College of Business takes pride in engaging with industry to improve business practice. One example is keeping bank directors throughout the state and region up to speed on the latest trends, regulations and compliance issues. The annual Auburn University Bank Directors College, February 27-28 at the Auburn University Hotel and Conference Center, will provide this opportunity.
"If you're a bank board member, it is vital that you remain aware of the latest in bank regulations as well as general economic issues. This is important for the success of your bank as well as protecting yourself from any liability from failure to properly oversee management," said the recently retired John Jahera, who served as finance professor at the Harbert College of Business since 1980 and was among the founding members of the Bank Directors College in 2009.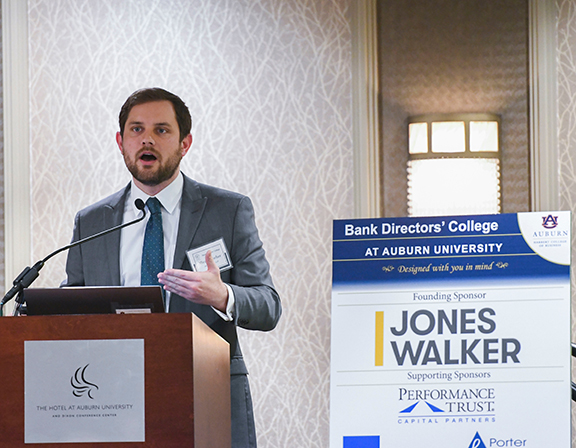 "It's very important that bank board members and presidents attend because regulations change frequently. This conference will provide an update of the year's changes and other trends."
Hosted by the Harbert College of Business Department of Finance and Auburn Technical Assistance Center, the conference's points of interest include compliance, management and marketing information, industry trends, national and regional economic updates, and community bank directorship issues.
"If you work in the banking industry, the Bank Directors College is designed with you in mind," said Tai Boos, who administrates Outreach Faculty and Client Development for the Auburn Technical Assistance Center and serves as the event's program director. "You will have the opportunity to network with other professionals in your field and be educated on topics relevant in today's evolving market. We are honored to host industry experts, speakers and panelists, from across the country. Don't miss out on your chance to be part of this dynamic event."
The ability to spend some time with your peers, stay on top of what regulators are looking at and what the hot-buttons are with them ... and from a director's perspective if you're looking at overall management of the bank – there's a lot of good information that comes out of this meeting, so you need to come." -- Jimmy Stubbs, CEO, River Bank & Trust
Noted speakers have included Ronald A. Snider, J.D., partner, at Jones Walker, LLP; David C. Wood, audit partner at Porter Keadle Moore, LLC, Michael J. Dean, Regional Director of the FDIC Atlanta region; Kevin Hagler, Commissioner of the Georgia Department of Banking and Finance and Harbert College finance alum; David Altig, Executive Vice President and Director of Research at the Federal Reserve Bank of Atlanta; Robert L. Carothers, J.D., partner, banking and financial services group at Jones Walker, LLP; Mike Hill, Superintendent of Banks, Alabama State Banking Department; Allen Stanley, Assistant Vice President, Community and Regional Bank Group, Federal Reserve Bank of Atlanta; and Jason Bosley, producer, Corporate Risk Broking, Willis Towers Watson.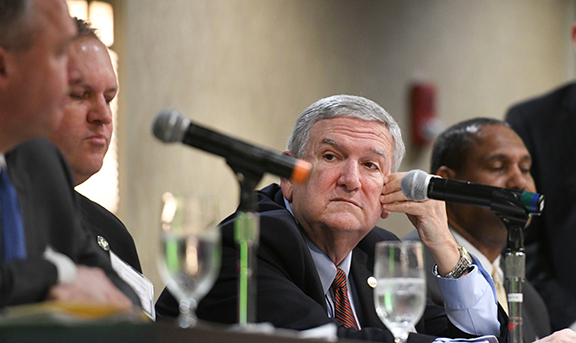 "Bank board members might not be bankers themselves," Jahera added. "You could be a prominent business person in the community, but not necessarily a banking expert. Banks are extremely regulated in the United States and this conference is designed to bring members of bank boards up to speed on those regulations.
"Members of bank boards, just like any other board, have a responsibility to oversee what management is doing. If you don't know the rules and regulations, it's hard to understand if what they are doing is correct."
Jahera credited the Birmingham law firm of Jones-Walker, LLC, for helping found the event, along with Auburn University colleagues Jim Barth, the Lowder Eminent Scholar in Finance at the Harbert College of Business, and Jon Waggoner, Secretary to the Board of Trustees, years ago. Jones-Walker is the event's founding sponsor.
"Jones-Walker is a law firm that specializes in bank-related issues," Jahera said, "And they have been involved with similar programs in Florida, Georgia and other places. They thought Alabama needed to have something like this, so it really started with their urging. We found out what bank directors here needed and began putting a program together. That's how it all started."
Bank directors and board members are encouraged to Register Today: BDC.Harbert.Auburn.edu