What made that car go from 0 to 60? How can this be done more efficiently? How can a tiny computer hold memory, surf the web and play a DVD at the same time? These are questions Reid Barry asked as a child growing up in Macon, Georgia.
His father, real estate broker Art Barry III, offered him another challenge: learn how engines, automobiles and technological products are manufactured and sold.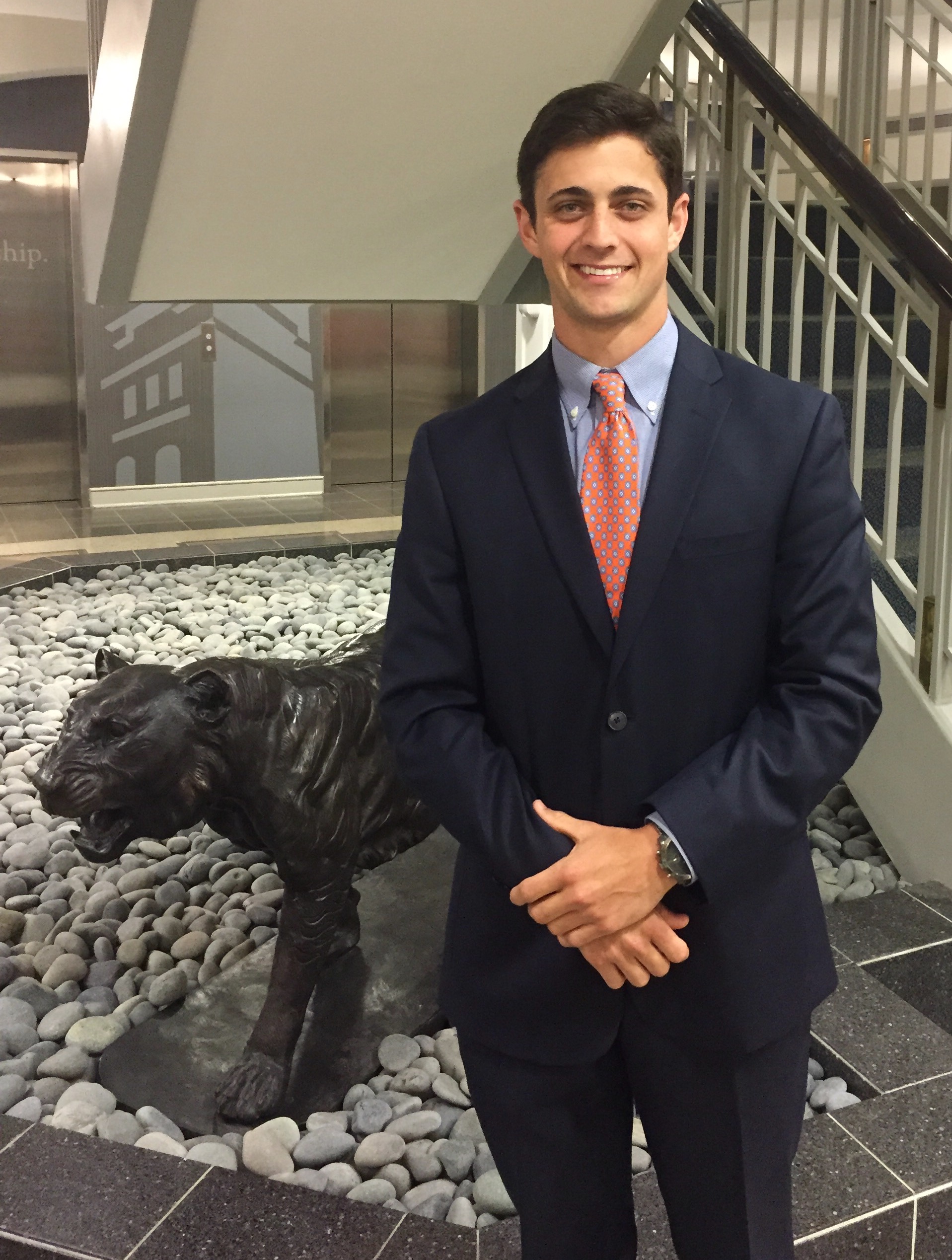 That inquisitive nature is one reason why Barry, a junior in Supply Chain Management at the Harbert College of Business, won the 2015-16 Material Handling Equipment Distributors Association Honor Scholarship ($5,000).
But Barry isn't focused solely on learning how products are manufactured and sold. It goes way beyond that now.
"Making a difference is my ultimate goal in my future career," said Barry. "Making a difference in the world is a hard-to-do matter. Making a difference in a major corporation is a little more achievable but still a fairly daunting task. Developing my understanding of global logistics will allow me to further my ability to make a profound difference for a corporation in the future. There are some corporations that are highly recognized for making a difference in the world, and some of those corporations are able to make a profound difference in the world due to their ability to derive maximal value from their supply chain. Those companies that are using their supply chain practices to efficiently reach the entire world with their products are the types of companies that I hope to work for in my later career."
Barry considers the world of supply chain management as an "ever-changing industry" that presents new challenges daily. That's what excites him about the future.
"It is an industry that has not only changed names throughout the previous century, but its appreciation and value in the global business sector is becoming tremendously recognized as companies begin to realize the cost savings associated with operating a maximally efficient supply chain," he said. "Supply chain management is a booming industry to be a part of at this time. It is certain that as long as the world has consumers of goods, there will be a demand for people who have the necessary skills to get the right customer the right product in the right quantity in the right condition at the right place at the right time."
This summer, Barry will intern at Apple, Inc., in Austin, Texas, under the mentorship of Harbert alum Ben Cook, Apple's Director of Logistics & Supply Chain for the Americas. There, Barry will work on a variety of projects and operations involving procurement, supplier management, analytics, transportation and distribution.
"While working as part of their logistics team this summer, I hope to learn which areas of supply chain are the most intriguing to me personally," Barry said. "Also, I hope to learn the skills necessary to work within a team to objectively meet the goals of the corporation. I don't know of anyone who knows exactly what it is they are good at in their major or where they will be the most successful, but my hopes for this summer are to get a greater understanding of where my knowledge, skills, and abilities can be the most useful."
Harbert College was recently named the nation's seventh-best among "Top Undergraduate Programs for Supply Chain Technology Education" by Software Advice, and No. 8 among undergraduate supply chain programs by Gartner. Aside from national acclaim, Barry recommends Auburn's program to anyone.
"Our program has come very far in recent years thanks to the diligent efforts of our great faculty to produce highly-qualified graduates," he said. "The professors in this program are among the best not only in the business school but also across the entire university. I have learned so much from their expertise in the classroom and from conversation with them outside the classroom that I am confident will be the key to my success in any career path I choose. Auburn has prepared us exceedingly well to enter the workforce and perform our jobs with the highest level of knowledge possible."