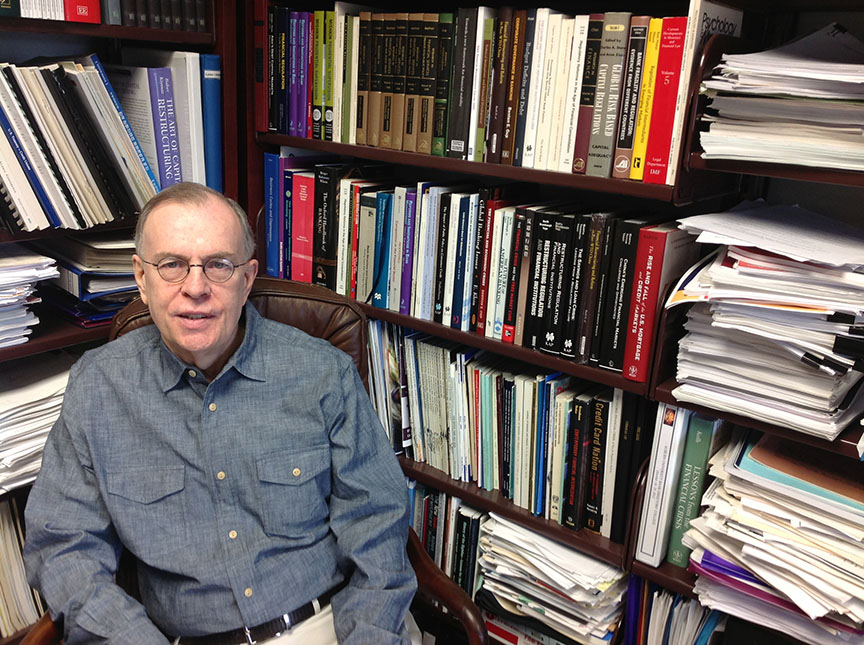 "The ultimate goal of research is to hopefully improve the lives of people. I think that everybody who does research tries to think their research is going to have an impact, a beneficial impact on people." – Jim Barth, Eminent Scholar in Finance
He's offered countless views on bank regulations, the good and the bad of payday lending institutions, and recently his study of brokered deposits have circulated among finance committee members on Capitol Hill.
Tuesday, Harbert College Eminent Scholar in Finance Jim Barth learned his research is among the Top 10 all-time most downloaded by the Social Science Research Network (SSRN), an online research repository.
"I think there is more of an obligation to try harder to do policy-oriented research – research that can change policies for the better," said Barth, recently named an advisory board member at the Journal of Risk and Financial Management.
"I gravitated toward the financial system in countries around the world. We've had financial crises. These crises have destroyed value – value of homes, value of assets and cause a lot of unemployment. Sometimes they lead to recessions in countries. How can we reform the regulations and supervision of financial systems so that we don't have financial crises? I've researched ideas to better assure that systems will function properly and contribute more to economic growth and job-creation."
Barth learned in September that his work had been downloaded more than 15,000 times on SSRN, a network that connects scholars around the world to each other's projects.
"By research, you're trying to connect the dots. Every researcher in every area wants to influence the world in a positive way," he added. "If I've done something that suggests a better way to regulate financial markets, not just here but across the globe, then I've done something important."