When the Real Estate Academic Leadership author rankings were released last month, a familiar name ascended into the Top 25.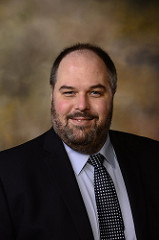 Justin D. Benefield, the Walker Reynolds Bickerstaff Associate Professor of finance at the Harbert College of Business, is ranked 21st among real estate authors worldwide for 2011-15. Benefield co-authored six publications in that time that appeared in elite journals, including Real Estate Economics, the Journal of Real Estate Finance and Economics, and the Journal of Real Estate Research."
"This is the culmination of a lot of hard work I put in during the early part of my career," said Benefield, whose research interests include real estate brokerage, sustainable real estate and real estate investment trusts. "This is very nice recognition. I was a little surprised by this. I was very pleased to see I had risen this high up the list."
Benefield's co-authored works to appear in elite journals from 2011-15 are: "Does Time-on-Market Measurement Matter?"; "Cyclical Determinants of Brokerage Commission Rates"; "The Effects of Estate Sales of Residential Real Estate on Price and Marketing Time"; "The Limited-Service Brokerage Decision: Theory and Evidence"; "Sale Price, Marketing Time and Limited Service Listing: Influence of Home Value and Market Conditions"; and "On the Relationship between Property Price, Time on Market and Photo Depictions in a Multiple Listing Service."
Benefield said his interest in real estate research coincides with when he earned his doctorate degree – just as the sub-prime crisis hit in 2006. "The timing of that, career-wise, certainly provided for some interesting topics," Benefield said.
"Real estate is a topic that is pretty easily understandable and has real-world ramifications. There's a bit of a psychology side to it that I find interesting -- the psychology of why buyers, sellers and agents are doing the things that they are doing."