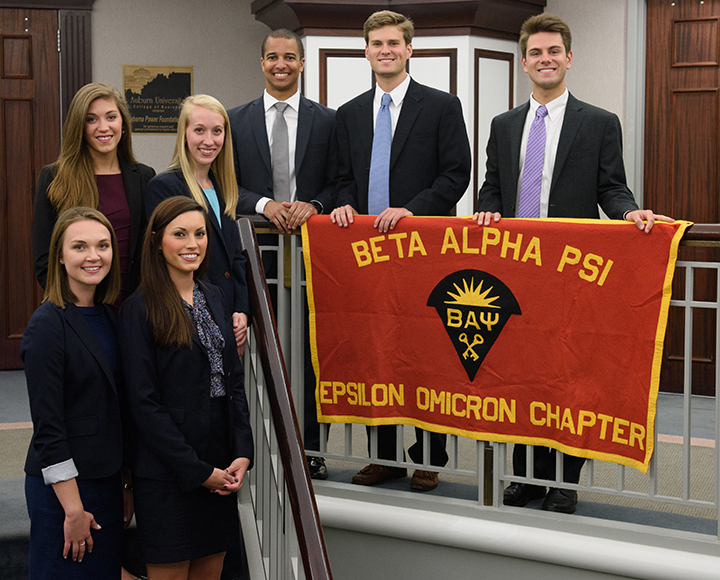 The School of Accountancy's Beta Alpha Psi chapter, Epsilon Omicron, has earned "Superior" status for the sixth consecutive year and 21st since its chartering into the international honor society in 1978.
The 142-member chapter exceeded Beta Alpha Psi's national standards for good standing. Chapters are graded based on service hours per chapter member, professional development meetings (Tuesdays at 6 p.m.), presentations at regional and national meetings, and hosting special events such as "Meet The Firms," where dozens of accounting employers (Beta Alpha Psi sponsors) recruit students for internships and full-time positions.

"Superior chapters are over-achievers," said Colby Lakas, Harbert College's Beta Alpha Psi faculty sponsor. "We're not just meeting the bare minimum for existing as a Beta Alpha Psi chapter -- we go above and beyond."
Of the roughly 300 active chapters nationally, less than half achieved Superior status. Each 'Superior" chapter will receive an award for $500 from KPMG.
"This honor tells our students that they can be proud to be an Auburn Beta Alpha Psi member because the organization has recognized Auburn as being in this top tier of chapters nationally," Lakas added. "For us to be specifically named as being outstanding, that's a great thing. I also think it gives our employers a lot of confidence in what we do. It's not one of those honor societies that you just pay a fee and you put it on your resume."
Juniors and seniors must earn their way into Beta Alpha Psi by having grade point averages of 3.0 or higher overall, in their respective major, and in upper-level accounting courses.
"Students are placed on membership lists that are then distributed to the sponsoring employers," Lakas said. "The employers, because there is a GPA requirement in Beta Alpha Psi, prioritize recruiting Beta Alpha Psi students. The employers obtain these lists each semester and waste no time in reaching out to those students for events they host on campus."
Auburn's Beta Alpha Psi chapter is designed to: 1) help students build their professional skills; 2) foster interest in current career topics by connecting academic preparation with the practice of accounting; 3) provide an avenue for students to build relationships with accounting professionals; and 4) instill a lifelong commitment to serve.
For more information about the chapter, contact Colby Lakas at (334) 844-6253 or Colby.lakas@auburn.edu