Marie Beverly once took a career test, which suggested she become a prison warden or human resources manager. She made the right choice.
After graduation in May, she will begin work as Training Coordinator at Fast Enterprises in Centennial, Colorado.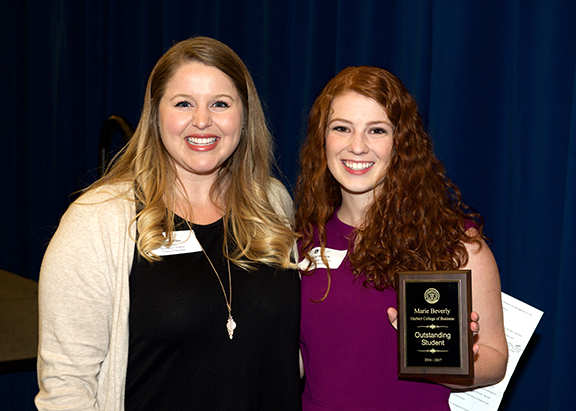 "Human resource managers are the gatekeepers for the company image as an employer," said Beverly, a senior in human resource management at the Harbert College of Business, who was named SGA Outstanding Undergraduate Student at an April 6 awards ceremony. Jillian Miles, Harbert College's Department of Management Program Champion, presented the award to Beverly (far right).
"Companies that receive recognition for the positive ways they treat employees are the companies people want to work," Beverly said. "Human resources must attract, select, train, retain and compensate employees in ways that enable them to have skilled, motivated and hard-working employees that result in better overall business outcomes."
Originally from Owens Cross Roads, Ala., Beverly will graduate with a 3.92 cumulative GPA, and was a member of Auburn University's Honors College, Phi Kappa Phi Honor Society and Mortar Board. She was also the President and past Treasurer of Auburn University's Society of Human Resource Management chapter.
She interned last summer at Sherwin-Williams' Southeast Regional training center in Atlanta, where she learned about planning, implementing, and assessing employee training classes. "I became passionate about empowering employees to improve their skills," she said. "This led me to look for full-time job positions in training."
Beverly cited resources within Harbert College's Office of Professional and Career Development, "approachable professors," diversity of classmates and a variety of student organizations as attractions for prospective students.
"As I start my career path, my actions will affect the success of my co-workers and clients," she said. "I think that having our success depends on each other and will motivate me further as I progress in my career."