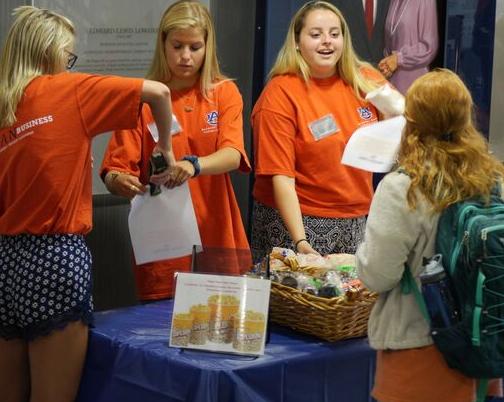 Want to learn more about career options, your major or student organizations within the Harbert College of Business? Business students have the opportunity to do this, and more, at the first "Business Bash" Sept. 15 from 4 to 6 p.m. at Auburn Arena.

Special guests include Aubie and second-year men's head basketball coach Bruce Pearl, a dedicated motivator, who kicks off the event at 4 p.m.
"Students will get a chance to ask questions of faculty, staff and their peers in a non-office, non-classroom environment," said Melissa Voynich, Student Engagement and Marketing Coordinator within the college's Office of Professional and Career Development. "Maybe you want to know more about your major, or just figure out what career options are available in your major, and you don't know who to speak with? You can ask at Business Bash. We are bringing everyone to one spot so that students will have the opportunity to ask questions and see options."
Representatives from each Harbert College department will be available at special tables set aside for student-faculty interaction. There, a subject expert will be available to answer questions and direct students to the correct contacts.
"A visit with your advisor is invaluable, and we are not replacing those important meetings," Voynich added. "This event will provide additional info and networking practice along with information. We will have a fair/booth setup so it's a casual environment, and you will get to talk to as many people as you wish! No appointment is needed.
"Also, it might seem difficult to connect with clubs and student organizations because you don't know what is out there. Students who are involved in organizations learn invaluable skills in time management, teamwork and networking, to name a few. We find that involved students tend to be more successful at managing stress and maintaining a good GPA, too. If you don't know where to start, then start at Business Bash."
Giveaways will be available at some tables, Voynich added. Students have the opportunity to win prize packs from the OPCD by taking selfies and posting them to social media using the hashtags #AUOPCD and #HIREHARBERT.