Have you been to the Russian North Caucasus? You know, that mountain range between the Black and Caspian seas? No? Have you heard of Russia's Mount Elbrus, the highest summit (18,510 feet) in Europe? Would you consider climbing to the top, or skiing its slopes?
Shannon Scarbrough, a 1996 Harbert College of Business graduate in marketing, owns Elbrus Elevation – an outdoor adventure business located in the heart of Russia. As Auburn graduate and U.S. citizen originally from Birmingham, Ala., Scarbrough stands out from the locals.
"There was a time when people we met on the street would ask questions like, 'Why is America doing this? Or 'Why is America doing that?'," said Scarbrough. "Since we are Americans, they would expect us to have some kind of answer that was more believable than what they hear on TV."
Elbrus Elevation faces numerous business challenges – including marketing its company against local Russian outfitters, the logistical challenge of drawing tourists into rugged terrain near former Soviet states Azerbaijan, Armenia and Georgia, and various state-mandated obstacles adventure-seekers must overcome.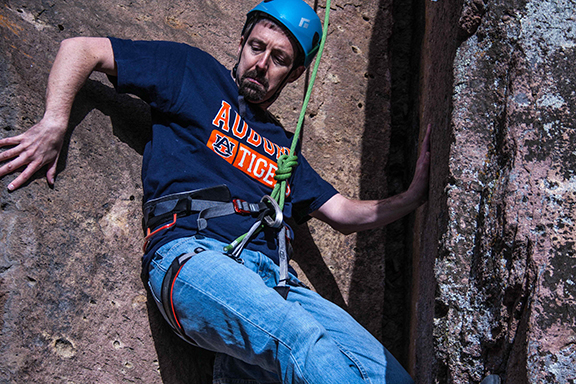 Tourists shouldn't be concerned about being thrown into a Russian gulag. Instead, they must pay between $200 and $300 for a visa just to enter the country, and are carefully screened by Russian security.
"Not all of the gateway cities are hospitable when people come in," Scarbrough said. "Customs agents might ask a lot of questions – and especially when politics these days are such a big deal in that region of the world. People from America are not used to going through a more expensive visa process, or people stopping them at the border and asking, 'How did you get here?'"
Scarbrough, who was a Senator for the College of Business before becoming Auburn University SGA Vice President, stressed that such vetting was for visitors' protection.
Other obstacles, however, persist. "The mentality we have about how business should be done is not the way people who have lived the Soviet culture perceive business should be done," he said.
"The language barrier is definitely real. It's an ongoing process. My wife and I speak Russian now and our kids are starting to speak some Russian."
Fitting in with the locals isn't an issue. In fact, it's often a celebration.
"Our neighbors are open to us," he said. "New Year's is a really big celebration there, as we would say Christmas and Thanksgiving are big celebrations in America. We did some Christmas caroling there and we had a chance to give them gifts like we do in America, and they reciprocated. They brought us gifts and invited us into their homes. The longer that we are there, the more we will be well-received by the community because we really enjoy being there. They have a beautiful place and they are excited to show it off."
Elbrus Elevation offers multiple options for adventurists, from week-long guided hikes to day trips. If one adventurer doesn't have the adrenaline rush to scale and rappel the side of an icy mountain, he or she can simply take horseback rides through Elbrus' valleys and foothills (Heaven on Horses Tour), or explore the region's river valleys (Waters of Eden Tour).
"We try to go the extra mile to put the personal touch on our tours," Scarbrough said. "But we're early in this game. We can improve. People are already giving us ideas on the ways we can improve and told us that we have accomplished what we set out to do as far as providing them with a high-quality adventure that they've never had before."
But how do you market an outdoor adventure company on the other side of the world – particularly with local competitors – and far removed from populous commerce and economic centers like Moscow or St. Petersburg?
Don't think about expensive commercials or print advertising. In this case, word-of-mouth is the best option.
"Before people are willing to spend maybe a couple of thousand dollars to go overseas to do an adventure that they can find somewhere else, I think what they want to know that somebody's done it," Scarbrough said. "Typical advertising or marketing isn't going to be attractive on the front end. More tourists who come and have a good time and go back and tell friends, 'We did something you're not going to believe and you're not going to believe where we were when we did it.' That's the angle we want."
Pictured below (from left to right): Auburn resident Michael Hill, Auburn student David Creel, translator Olim Turaev, Samford student Alex Sherman, Auburn student James Pool, and guide Yura Gelyastanov