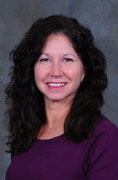 Gina Cantrell, Administrative Support Specialist for MBA Programs in the Harbert College of Business, was one of Auburn University's Spirit of Excellence Award winners for November.
"Gina truly embodies the Auburn spirit and is dedicated to the Auburn Family," said Stan Harris, Luck Professor and Associate Dean for Graduate and International Programs. "She makes sure the trains run on time for our on-campus MBA students and our international programs. She is very caring and makes sure everyone she interacts with feels special. Gina is constantly juggling multiple balls but I always trust her to do what's right by our students, faculty, staff and other stakeholders."
Cantrell, who has been at the college since 2009, was graciously surprised with the honor. "I didn't set out to get an award," she said. "I set out to do my best every day."
Cantrell said she loves her job because of "the people," and its ever-changing environment.
"There is always something new to learn and do, and there are always new people to meet," she said. "All of the jobs that I have had in the past (including selling real estate for 15 years and a three-year tenure at Regions Bank) prepared me for this job. I was meant for this."
With the award, Cantrell is eligible to be named as one of four university-wide Employees of the Year, which will be revealed in June at the university's annual Employee Recognition Program.