Auburn University's Master of Real Estate Development, or MRED, program in the Harbert College of Business and the College of Architecture, Design and Construction is enlisting seasoned developers who have prospered despite changing real estate trends and fluctuating markets to share their stories and collective wisdom with today's students.
The CityBuilders program is the brainchild of MRED professors Michael Robinson and Greg Winchester (below, right). Through panels, webinars and videos produced by the MRED program, students have access to the advice and suggested best practices of leading real estate developers who are Auburn alumni or friends of the university.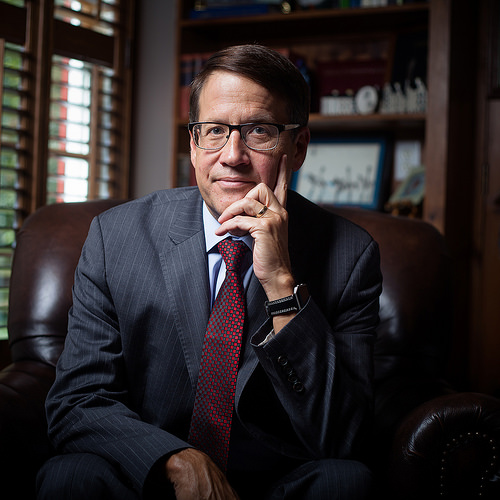 The target audience is students with a background in real estate who have committed to a career in the high-risk, high-reward field of development.
"We wanted participants to hear firsthand from these leaders, whether in a panel format or by future one-on-one video interviews that can serve as an electronic library for the students to hear how successful leaders in real estate started their careers and ended up building wonderful projects that helped transition cities," Winchester said.
CityBuilders began with a recent panel discussion attended by alumni and MRED students, who were on campus for the first MRED program residency. The hour-long event at The Hotel at Auburn University featured a panel of Auburn MRED Advisory Board members with expertise in real estate development and finance. In addition to the many industry themes covered, students had the opportunity to ask questions of panel members regarding industry trends and common hurdles in development projects.
Winchester and Robinson envision a series of expert panel discussion like this in cities throughout the Southeast, particularly those with a large population of Auburn alumni.
CityBuilders benefits from access to a network of successful Auburn MRED alumni, many of whom are involved in groundbreaking projects in cities such as Atlanta, Mobile, Birmingham, Nashville, Charlotte and Greenville, South Carolina.
One such groundbreaking project is ONEC1TY, a 20-acre mixed-use, urban community currently under construction in Nashville. MRED alumnus Ryan Doyle '12, project general manager and vice president of Cambridge Holdings Inc., credits the Auburn MRED program with helping him develop the skill set for executing sustainable projects like this one. Once complete, ONEC1TY will serve as a technology-enabled commercial, residential, research and retail community catering to the idea of mindful healthy living.
"Our alumni and program participants are coast to coast. We're trying to take information and lessons learned from around the country and share those with the community and our students so cutting-edge practices can be used in a lot of different places," Winchester said.
Robinson and Winchester are focused on ensuring the success of future developers by leveraging the experience and expertise of those who have come before.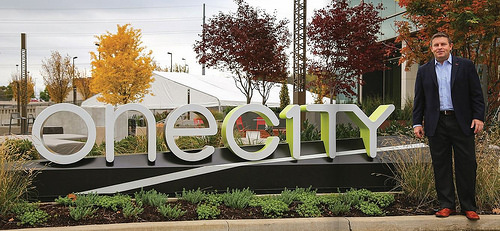 "We want there to be a knowledge transfer of best practices in the industry. Also, a knowledge transfer of lessons learned," said Winchester. "Real estate development is a high-risk, high-return business and you have to be able to navigate through business cycles and a lot of different types of expertise—whether it's finance or construction or design or working with local municipalities. It's a complex business, so we're trying to convey to the real estate communities that that there are ways to minimize risk and to make your projects more successful."
A second goal is to build projects that are better for the communities and more sustainable.
"One of the reasons for CityBuilders is we want to make the audience aware of how well-conceived developments can transform and inspire better cities," Winchester said.
In addition to panel discussions, CityBuilders will soon start a video library featuring one-on-one interviews with successful real estate developers who are Auburn alumni or friends of the university. Interviews will cover the entire career of the subject and offer insights for success. This library would be accessible by MRED students for research and inspiration.