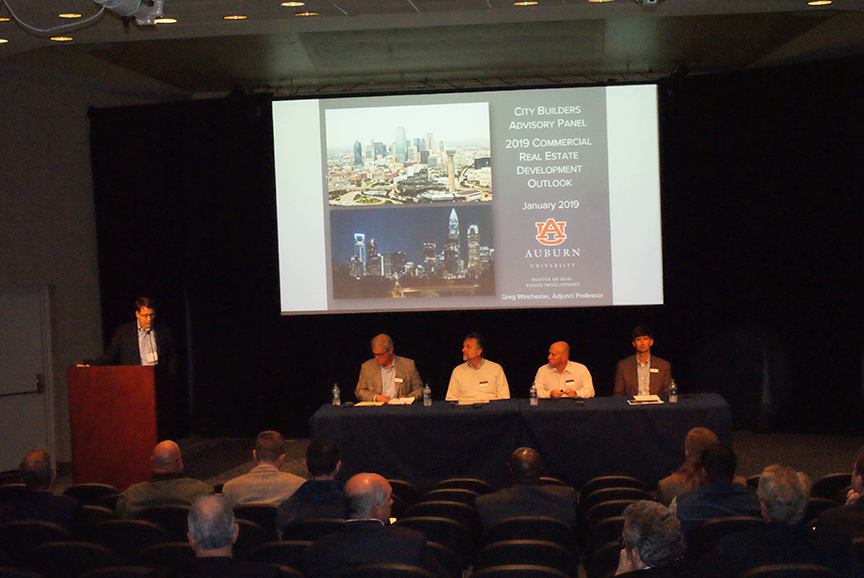 "Look, if you're in the real estate business and you aren't having fun right now, you shouldn't be in the business," an anonymous quote read in the Real Estate Roundtable Sentiment Index's 2017 fourth quarter report.
Times were good. Are they still?
Four leading executives in real estate development – from retail, architecture, self-storage and banking – shared their perspectives Thursday, January 24, with developers, real estate enthusiasts, and students and alums of Auburn University's Master of Real Estate Development (MRED) program during a 90-minute session at Auburn University's Hotel and Conference Center. The panel session – CityBuilders – is the creation of MRED professors Michael Robinson and Greg Winchester.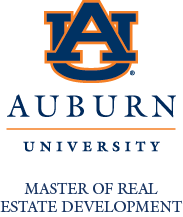 Where do you build? What do you build? Why do you build? Executives shared their expertise on these, and more.
"If you're going to build something – make sure that there is actually a demand for it," Kurt O'Brien, CEO of Simply Self Storage in Orlando, Florida.
Lyle Darnall, Managing Director of real estate developer Edens in Columbia, S.C., challenged students and peers to focus on quality locations and providing consumers with an experience. "Now is not the time to be stepping out there and going long on something simply speculative," he said. "We have honed in on trying to stay very quality-oriented from a location and product standpoint. Good real estate, in the long term, rarely goes bad. That's real estate 101.
Edens is a nationally-recognized developer in the retail space, which faces its own challenges.
"Retail spaces are failing because people today require an experience," Darnall continued. "People need to feel good about going in and coming out. We're fighting for their time. If you can get somebody to extend their stay in your store by just one percent, on average, sales will increase by 1.3 percent."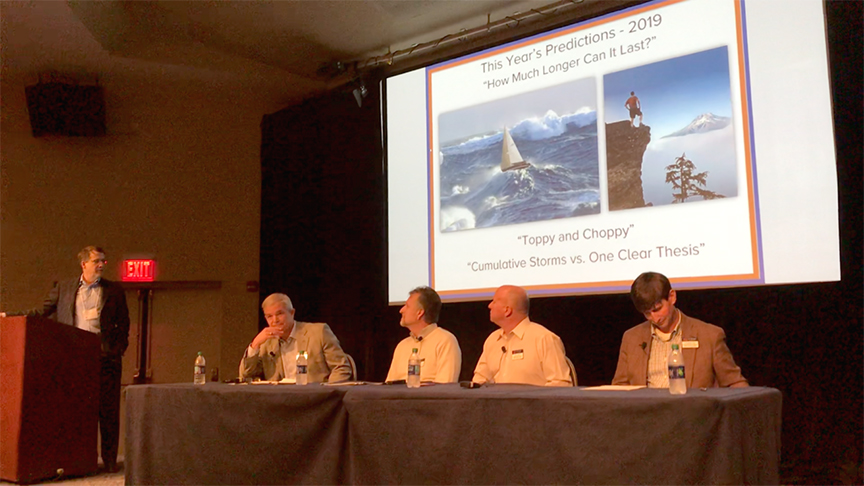 Lyle noted that 29 percent of Eden's developed retail space were leisure-oriented, which includes restaurants, nail salons, etc. "We have a goal to grow that to 35 percent."
What goes into creating an experience? Personality. Mark Wolf, Principal at JHP Architecture/Urban Design, agreed that developers "going heavy" on retail provides tenants and opportunity to live, work and play in their own neighborhoods. But he warned developers to avoid stale projects.
"Character is something that differentiates that retail space from the generic," he pointed out. "Preserve a cluster of trees. Create a plaza beneath the trees. Open up green space. Recover creeks. Have good view of something. It just feels right and brands the place. Provide unique eateries and unique experiences. The younger generation wants authenticity. They want something unique. Stay away from generic developments because you want to add value."
However, quality developments come at a price, and today's market of rising construction costs and uneasy interest rates paint a cloudy future.
"Don't just do a project because your banker will finance it. Do it because you believe in it," said Wesley Lee, Senior Vice President at BB&T in Birmingham.
Winchester, who served as the event moderator, said CityBuilders "Brings the industry to the university and the university to the industry."
"It also to allows developers in the industry who have been successful to tell their stories of how they have helped build today's modern cities and what they are looking to do in the future. Working with both the colleges and the program has been exciting and the support that Auburn has given to the CityBuilders program has really made it a successful launch."
MRED is an executive master's program operated jointly by the Raymond J. Harbert College of Business and the College of Architecture, Design and Construction.
For more information on Auburn University's MRED program, contact Joe Collazo, Assistant Director of Graduate Executive Programs at (334) 877-AUB-EMBA.