Bob Cochran, senior lecturer in the School of Accountancy at the Harbert College of Business, recently earned the 2016 Robert L. Burns Award, given to the "Most Outstanding" faculty advisor among all Sigma Pi fraternity chapters nationally.
"It's a nice feeling when you see all of the awards given and then you see one with the name 'Auburn University,'" Cochran said. "Out of 120 chapters, to get an award nationally is pretty amazing."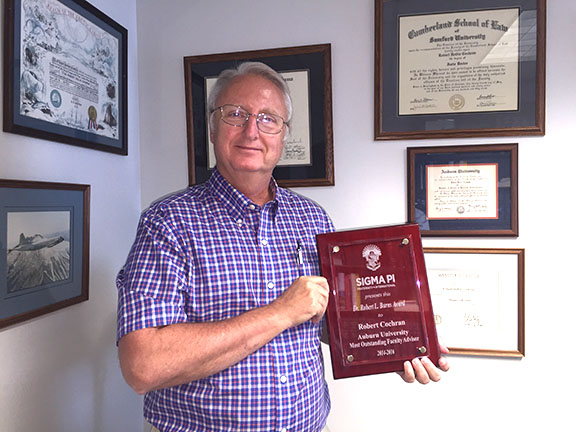 Cochran, who holds a law degree, came to the Harbert College of Business in 2005 and teaches business law and aviation law. He was asked to fill the role of Sigma Pi faculty advisor eight years ago.
"The first thing I realized is that when they received new pledges, there was very little discussion of academics at all," he said. Cochran immediately changed that.
"We started a program to emphasize the importance of academics and I started with the pledges. But through the years, I've expanded that to where an overall attitude of the fraternity is that academics are important."
Cochran gives academic-related presentation to new Sigma Pi members each year, then offers all members the opportunity to meet with him one-on-one. "For the rest of the brothers, I make it a point to talk to them about academics at chapter meetings. Brothers that are worried about their grades will come talk to me and we will discuss getting their priorities right and devoting more time to academics."
Besides academics, Cochran has another reason for being passionate about Greek organizations – service.
"A lot of people have the idea that fraternities are like 'Animal House,' but mostly that's far from the truth," he said. "They are doing things that we don't recognize. Between the fraternities and sororities in this state, and certainly the local area, they probably raise between $500,000 to a million dollars to charities. That's a significant amount that these groups raise and contribute, but if one of them passes out down at a bar that's going to make the front page of the paper.
"What I'm passionate about is trying to get these guys, not only to do these things, but to serve as an example – not only to other groups but for everybody in service to their communities. It's amazing how many hours they put in. It goes far beyond making grades and getting a diploma."