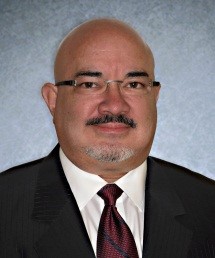 An Auburn University Executive MBA alumnus and current adjunct professor of Leadership, Ethics and Change has been named the new assistant director of Graduate Executive Programs at the Raymond. J. Harbert College of Business.
Dr. Joe Collazo, Class of 2010, stepped into his new role on Feb. 15 to assume primary responsibility for recruiting and admissions for Auburn's Executive MBA, Physicians Executive MBA and Master of Real Estate Development programs.
Collazo began teaching at the Harbert College of Business in August 2016, supporting the Executive MBA leadership class and facilitating the iLead workshop series for campus MBAs.
"We conducted an exhaustive review of candidates, all of whom had strong skill sets, but Joe stood out because of his 30 plus years of corporate experience in the technology industry, his military background, and his experience developing leaders in the corporate world and in the classroom," said Kim Kuerten, executive director of Graduate Executive Programs. "Also, as an alumnus, he has direct knowledge of our executive programs."
"He brings a great deal of experience and energy to the position, and will help further our efforts to build nationally-ranked graduate programs recognized for producing highly sought after, innovative business leaders."
Collazo embraces life-long learning. After attaining his MBA from Auburn, he earned his Ed.D. in Organizational Leadership from Pepperdine in 2015 and is now finishing his professional masters in applied systems engineering from Georgia Tech.
In addition to teaching at Auburn this fall, Collazo taught a Leadership, Ethics and Social Responsibility Ph.D. course at Pepperdine University in Malibu, Calif. His graduate education was accomplished while serving as vice president of COLSA Corporation, an engineering, programmatic and information technology services company in Huntsville, Ala., where he worked 24 years. His duties included guiding the external affairs, political liaison activities and corporate social responsibility and philanthropy. Collazo is also an entrepreneur, having successfully started and sold two technology companies.
Before entering the private sector, Collazo served five years in the Army as a cryptologist and telecommunications specialist.
Collazo has served on several boards of directors, including the U.S. Space & Rocket Center, Still Serving Veterans and the University of Alabama at Huntsville Foundation. His advisory board service includes Auburn University MBA Advisory Council, Auburn's Huntsville Research Institute Advisory Council, Athens State University Board of Visitors, and the International Center for Global Leadership in Belize.
Collazo and his wife, Kim, currently have three children in Auburn degree programs and another to start next year.