Brian Connelly doesn't begin the first class of each semester by reading the syllabus or going directly into lecture. Instead, the McWane Family Professor in Management at Harbert College simply asks his new class a question.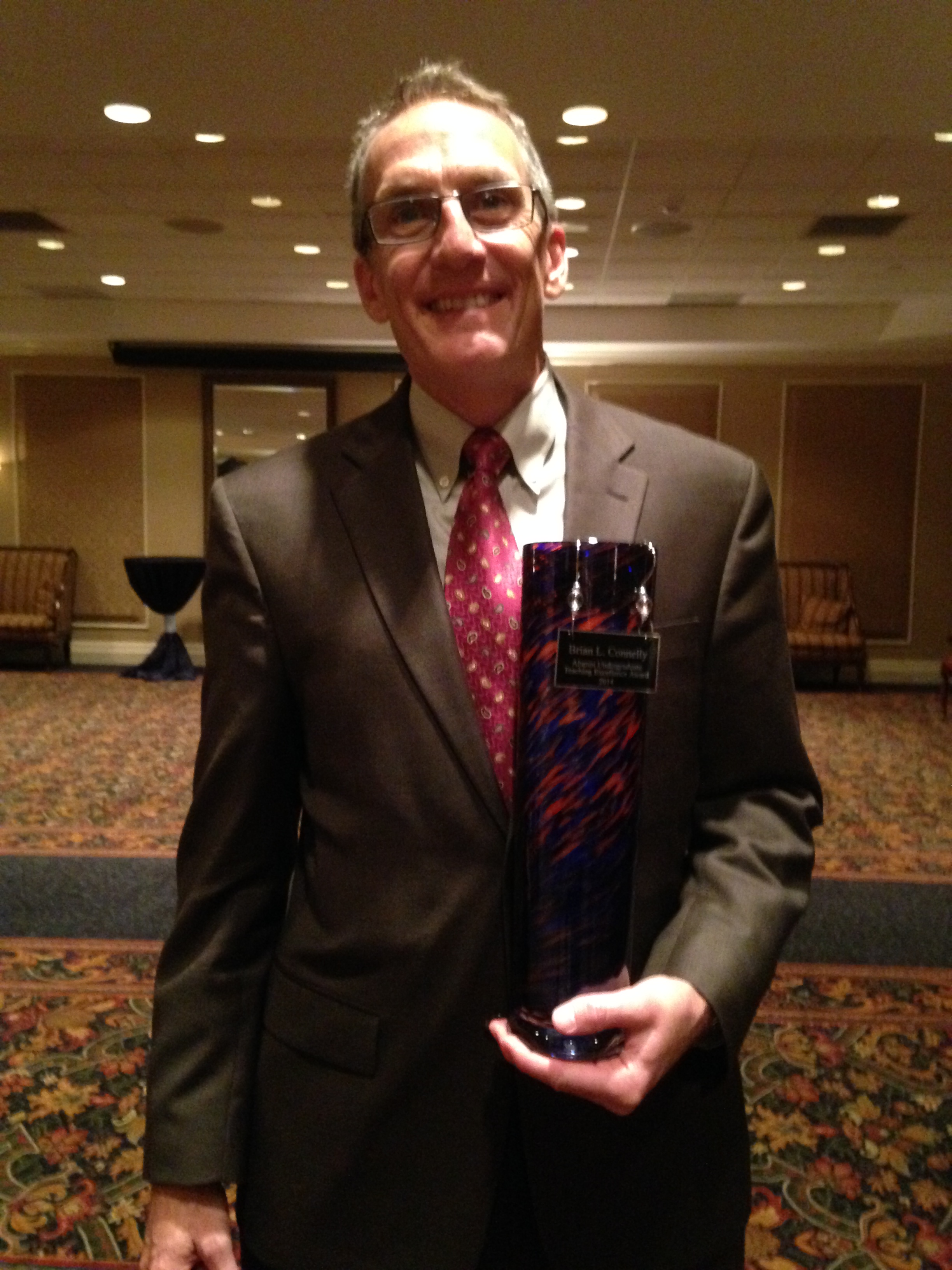 "Why do some firms outperform others?" he might ask his Strategic Management pupils. For 30 minutes thereafter, Connelly fields responses and gets a feel for who he'll be spending the next three months educating.
"I do not answer my own questions," he said. "I hunt within student answers to find what is most meaningful and insightful for the conversation at hand. I foster an environment where students respond to, and build off, each other's comments."
Connelly, an associate professor at Auburn since coming from Texas A&M in 2008, is one of three Auburn University Undergraduate Teaching Excellence Award recipients for 2014. He joined Stephen Schmidt in Animal Sciences from the College of Agriculture and Rod Turochy in Civil Engineering from the Samuel Ginn College of Engineering in receiving the award Thursday, Oct. 23, at the annual Auburn University Faculty Awards banquet at the Auburn University Hotel and Conference Center.
The Undergraduate Teaching Excellence awards are given to teachers who are exceptional in their quality of teaching, knowledge of subject, interest in students and availability to them, impact on the nominator's personal educational experience and influence within Auburn University. Teachers are nominated by students, alumni and colleagues. Recipients were recognized on the field at the San Jose State vs. Auburn football game on Sept. 6 and at the Auburn Alumni Association Faculty-Staff Awards Luncheon on Sept. 9.
"One of Dr. Connelly's strengths is facilitating productive classroom discussion," said Abigail Missildine, a 2014 Harbert graduate and former student in Connelly's Strategic Management class. "By valuing each student's opinion, he created an atmosphere in which we could present opposite viewpoints in a professional and respectful manner. These discussions often brought out unique insights from various students' personal experiences or fields of study, and created a more collaborative tone for the course as a whole."