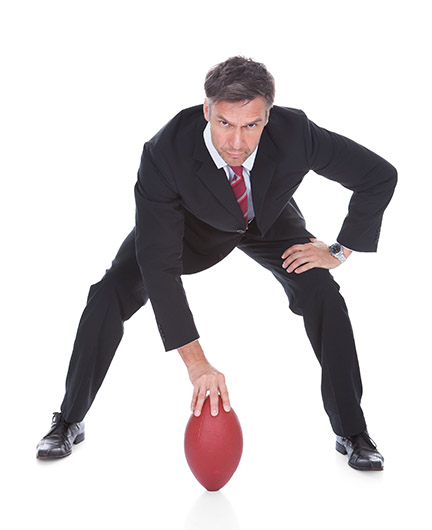 Many parallels exist between head coaches in the NFL and today's CEOs. In both cases, the buck stops with them. Both oversee complex operations with a lot of moving parts, many of which are not under their control even though they are responsible for the end results. When things go wrong, the natural tendency is to pin problems on the person at the top.
The day after the conclusion of the NFL regular season is widely known as Black Monday. It's not a day ridden with post-holiday shoppers. Instead, it's the day numerous NFL head coaches are traditionally dismissed after disappointing seasons. Monday, January 4, was no different as head coaches from three franchises (Browns, 49ers and Giants) lost their jobs.
Brian Connelly, McWane Family Professor in Management at the Harbert College of Business, said, "It is comfortable for us to blame someone when a team or company is not performing at a high level, even if deep down we know that the top dog – be it coach or CEO - might be a scapegoat for more deep-seated problems. This may help explain, in part, why both coaches and CEOs get paid the big bucks."
Connelly's co-authored work, "Making the Most of What You Have: Managerial Ability as a Source of Resource Value Creation," was cited in the recent Harvard Business School article, "NFL Black Monday: How Much Do Coaches Really Matter?"
Connelly, Tim R. Holcomb of Florida State and Michael Holmes, Jr., of Louisiana State, tracked NFL data from 1980-2000 to determine whether head coaches improved their franchises by utilizing the talent available.
"Our research shows that really capable coaches can add a ton of value to their teams," Connelly said. "But here is the kicker: when is coaching ability most important, when you have great players or horrible players? I ask this question of my undergraduates every year, and invariably they have mixed responses. In our study of NFL coaches spanning 21 years, we found that coaching ability was especially critical for the worst teams.
"Stated broadly, managerial ability is most critical when an organization lacks high quality resources. That is where you really see the difference between a great coach, like New England Patriots coach Bill Belichick, versus a shall we say considerably-less-great coach, like former Philadelphia Eagles coach Rich Kotite."
The study parses out influences such as in-season coaching changes, strike-shortened seasons (1982 and 1987), league expansion, introduction of a salary cap, and other variables.
Connelly said leaders add value by successfully utilizing what he calls "resource synchronization."
"By this we mean acquiring the best players and eliminating the worst players, bundling players together in appropriate ways, and leveraging their players' talents through activities like practice and play-calling," he said. "Managers also add a ton of value to their companies via the processes of acquiring and divesting the right resources, bundling them together in unique packages, and leveraging their resources for success.
"Not all coaches can get the most of their players, just like not all managers get the most out of their resources."
"Great managers can and do provide value to the organizations they serve by acquiring and divesting the right resources at the right time, packaging resources together to extract hidden value that lies in bundles, and leveraging their resources to make the most of them. Moreover, it is most important to have a great manager that can do these things when the organization does not have the best resources compared to its competitors. Stated simply, top managers matter, and they matter most in companies that have the least going for them."