Daniel Scott parlayed an internship into a job offer at Big Four accounting firm Ernst & Young, where he will begin work in Dallas, Texas, next year.
"I can say with confidence that few departments in the entire university does as good of a job at helping their students land jobs than this one," Scott said of Auburn's School of Accountancy. "Auburn does a fantastic job of putting you in front of recruiters from all of the top accounting firms in the industry, and accounting is a field that is always in high demand."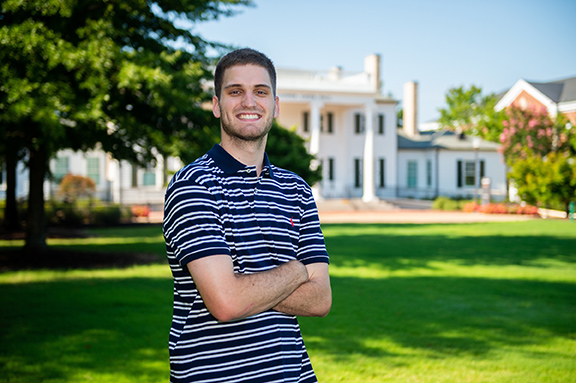 Scott, a Birmingham native who carries a cumulative 3.84 GPA and has been on the Dean's List each semester since 2015, will serve as the Harbert College's graduation marshal for the August 4 commencement.
Scott interned this spring at EY, where he performed a variety of tasks at the Dallas office, including preparing tax provisions for large banking clients, preparing federal and state tax extensions, and participating at college recruiting events. "My internship taught me how to work with a team, how to be more detail-oriented, and about high-level tax concepts," he said. "These things are going to prepare me well for the next step of my career."
Beta Alpha Psi, the School of Accountancy's service organization, played a role in allowing Scott to meet some of the top recruiters in the industry. "I got to learn more about each of the firms, meet more professionals, and stand out from some of the other students that weren't a part of it," he said. "These things made me a more marketable candidate to firms because I received more exposure than I would have had I weren't in Beta Alpha Psi."
Scott recommends that prospective students consider Auburn's School of Accountancy for a number of reasons.
"The professors and directors are more than willing to invest in you not only as an accountant, but as a person," he said. "Rarely have I spoken with students in other majors who speak as highly of their professors as we do in the accounting department. If you work hard, you will feel very prepared to start your career, take the CPA exam, and be successful."