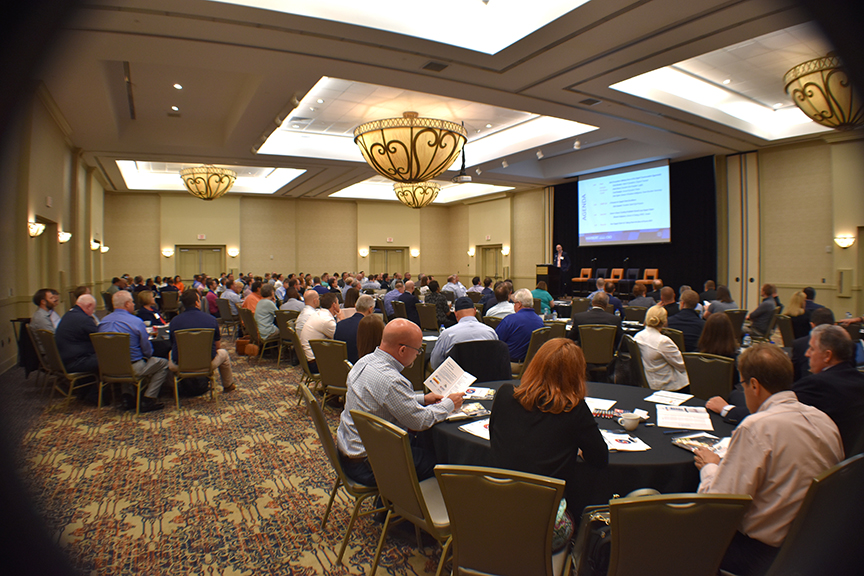 Amazon continues to explore new ways to deliver the most fulfilling – and fastest – customer experiences. Whether it's utilizing big data to forecast customer demand and stock fulfillment centers, improving consumer e-commerce experiences, perfecting cloud computing, digitizing inventory down to the smallest package, or exploring creative means to deliver products, the online retail giant is ever changing to build for customers.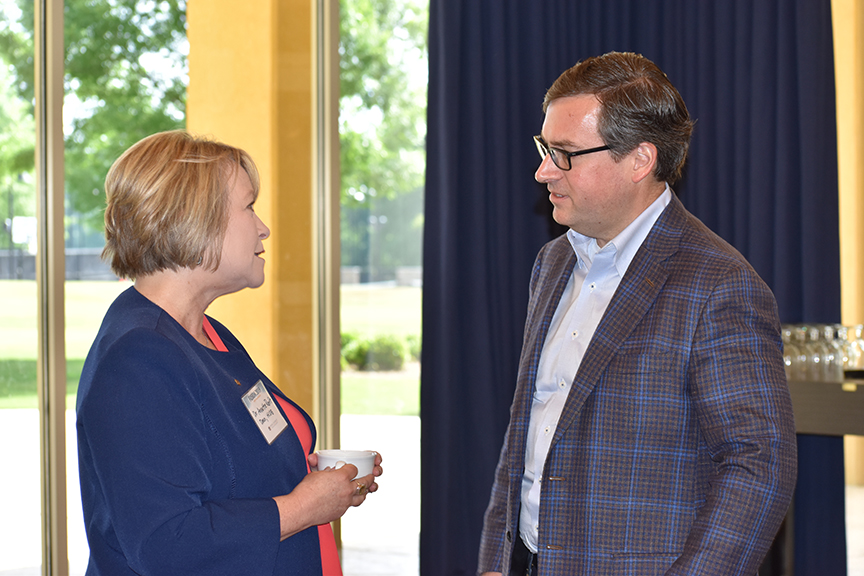 "It used to be whoever gives the best Power Point presentation or is the best marketer would deliver the best results," said Dave Clark, Senior Vice President for Global Operations at Amazon, which reported $233.8 billion in revenue in 2018. "But that model is going away and you are going to see more and more people from supply chain management programs and computer science programs become the future of leadership."
Clark (pictured with Harbert College Dean and Wells Fargo Professor Annette L. Ranft) stressed that if business and technology aren't continuously and fundamentally improved, it's difficult to be nimble enough to make the necessary, quick decisions. The companies that do, win.
Clark was among the speakers Thursday, May 2, to address roughly 200 industry professionals at Fusion, Harbert College's annual Supply Chain Management Symposium. Harbert College's Supply Chain Management program is ranked No. 3 nationwide by Gartner.
The event draws industry leaders from across the spectrum of supply chain to share knowledge and expertise with colleagues. This year's symposium explored the digital transformation and automation in supply chain.
Clark, a 1996 Auburn education graduate, stressed that many of the world's companies will soon be led by supply chain or technology professionals, so now is a perfect time to pursue the talent – or choose to field as a career.
"Supply chain is such an amazing field today," said Clark, who described his job at Amazon as everything from getting the inventory into our network to getting packages to your door. "It's moved from being a back office procurement-oriented role where people think about buying transportation services to really being the engine of growth for so many companies and industries. It's really a technology and leadership field today. It's a special group of people who can combine both technology and people together to build great products for their companies and their customers.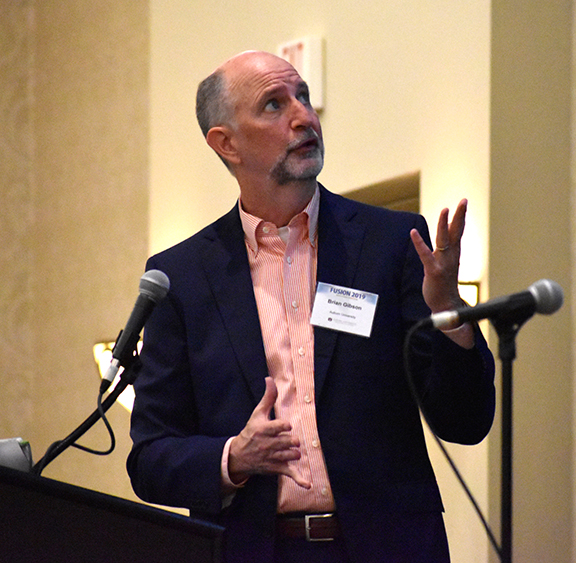 "You're starting to see more and more supply chain leaders move into the highest levels of leadership. I think that's going to be a trend you will see in the future and, for students thinking about a program like this, it's probably the best time in the history of supply chain to enter the field. At Amazon, our operations are all about integrating more than a half-million people around the world with technology, standardized processes and people to fuel fast, free shipping."
Other industry professionals sharing their expertise included Reid Dove, CEO at AAA Cooper Transportation, Tracy Rosser, former Senior Vice President of Transportation at Wal-Mart, Robin Baggs, Director of Transportation at The Home Depot, Chris Brasher, Head of Operations at Regions Financial, and Rick Salantrini, President of Delta Flight Products.
"The symposium is certainly a credibility-builder for our program," said Brian Gibson (above), Wilson Family Professor of Supply Chain Management at the Harbert College and Director of the Center for Supply Chain Innovation at Auburn University. "It's an opportunity to deliver a high-caliber program with great presenters, provide networking opportunities with our students and faculty, and raise awareness of the great work that we are doing at Auburn."