Auburn Executive MBA alumnus Matt Driskill, Class of 2009, is among 60 scholars recently named to the Presidential Leadership Scholars (PLS) program's fifth annual class. PLS serves as a catalyst for a diverse network of established leaders brought together to collaborate and make a difference in the world as they learn about leadership through the lens of the presidential experiences of George W. Bush, Bill Clinton, George H.W. Bush, and Lyndon B. Johnson.
Driskill serves as the deputy program manager for Advanced Development within the Navy's Airborne Electronic Attack Program Office and is stationed in Leonardtown, Maryland. He and his fellow scholars were selected based on the leadership growth potential and personal leadership projects aimed at improving civic engagement or social good by addressing a community or national need.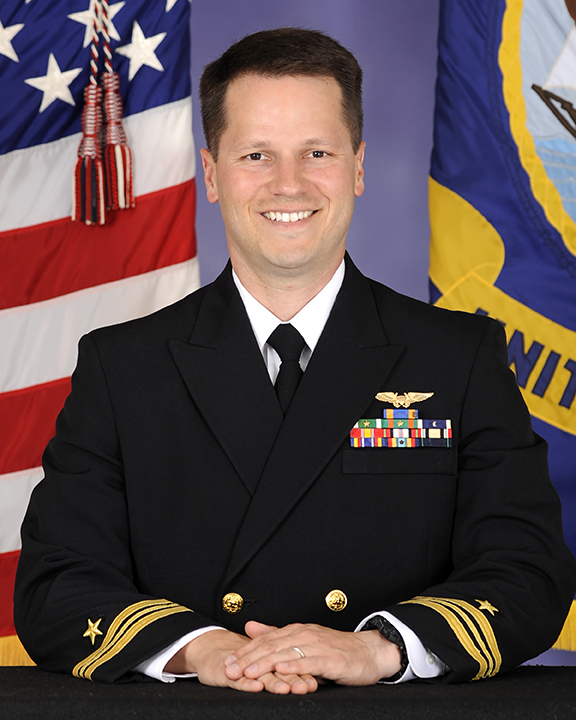 In 2014, Driskill founded the Military Leadership Circle to promote greater military and civilian cooperation and collaboration to address common needs. The group is comprised of junior military officers who have formed a network of corporate, non-profit and government partners to tackle various initiatives, including Realizing America's MIL-CIV Purpose (RAMP), which seeks to provide approximately 500 military members each year the opportunity to participate in a voluntary military-corporate leadership exchange that shares leadership and problem solving best practices such as design thinking, innovation strategies, and emerging technologies management tools among others.
Driskill hopes these exchanges will increase the leadership capacity of military members while also opening meaningful career paths to later help in their transition from military service to the civilian society. His immediate goal during PLS is to seek Department of Defense support for a policy guiding the implementation of the RAMP program.
Driskill was assisted in the creation of the Military Leadership Circle by the Milken Institute, a nonprofit think tank focused on increasing global prosperity by advancing collaborative solutions that create jobs and improve health. He was introduced to the institute by James Barth, Lowder Eminent Scholar in Finance at the Harbert College of Business, one of Driskill's former EMBA professors and active member within the Milkin Institute.
PLS scholars travel to each participating presidential center to learn from former presidents, key former administration officials, business and civic leaders and leading academics. They will study and put into practice varying approaches to leadership and exchange ideas to help strengthen their impact in their communities. The program kicked off in February in Washington, D.C.
The latest class joins an active network of 240 scholars who are applying lessons learned through the program to make a difference in the U.S. and around the world. Examples of these scholar-led efforts include providing employment and mentorship to veterans, helping developing nations access safe anesthesia services for effective surgical care, empowering women with economic opportunity through clean energy in Africa, and deploying much-needed resources in the wake of natural disasters.
Since the program began in 2015, scholars have consistently reported remarkable growth in skills, responsibilities, and opportunities for impact. To learn more, visit www.presidentialleadershipscholars.org.
About Auburn MBA
The Auburn MBA program at the Harbert College of Business serves more than 580 students and an alumni network of more than 5,000. Auburn offers the MBA degree across multiple delivery models, allowing students to choose the program that best accommodates their professional and personal demands. U.S. News and World Report ranks our Online MBA No. 9, and the Full-Time MBA is among the nation's top 35 public universities. The Executive MBA ranks No. 41 in the U.S. by EdUniversal, while our Physicians Executive MBA ranks No. 8 by Modern Healthcare. For more information, visit harbert.auburn.edu.