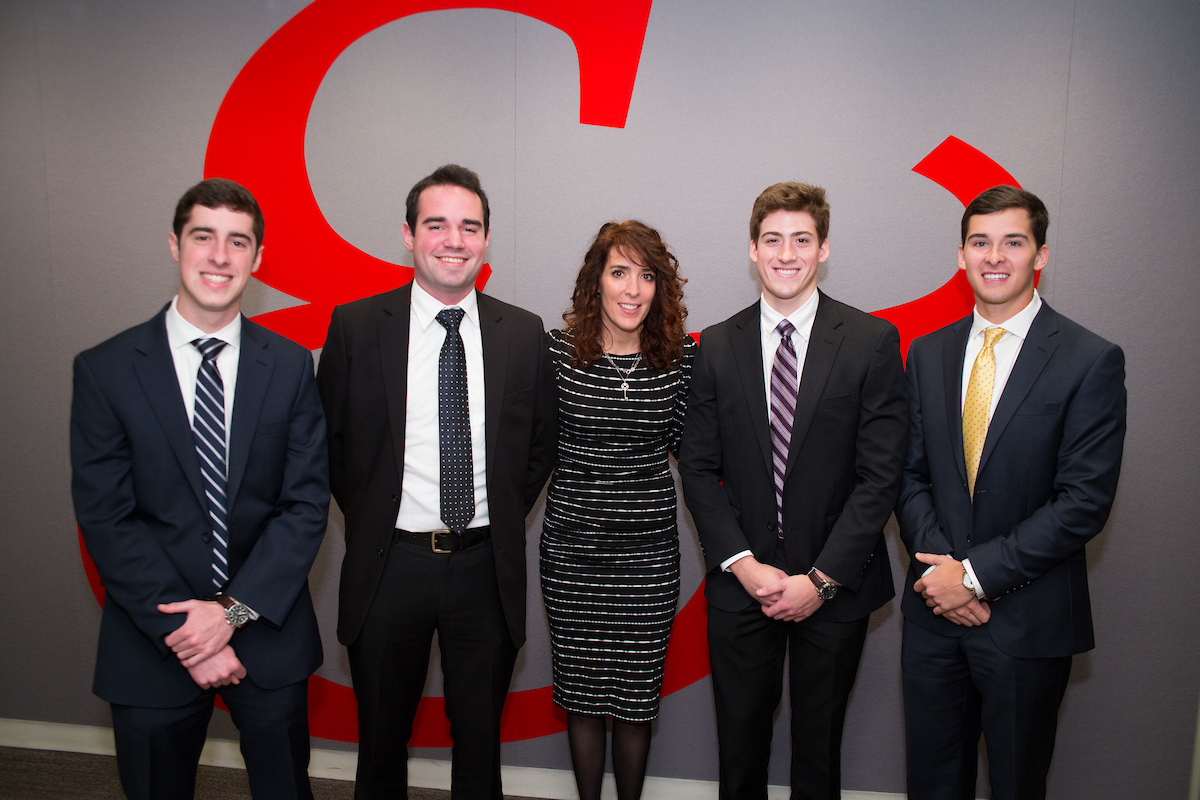 Five students representing Auburn University's Financial Management Association took second place internationally out of 77 teams and won $6,000 in scholarships Feb. 1 at the prestigious Duff & Phelps YOUniversity Deal Challenge in New York City.
"To pursue competitive careers out of school, students need to express a drive that extends beyond the classroom," said Jimmy Brewster, a sophomore finance major in the Harbert College. "Auburn's team viewed this challenge as an opportunity to do just that."
Other team members included Jordan Carr, a senior majoring in mechanical engineering and minoring in finance, Bailey Sullivan, a senior majoring in industrial systems engineering and minoring in finance, Ben Yost, a senior majoring in finance and electrical engineering, and Ty Lamar, a junior majoring in finance.
"The students that were on the Duff and Phelps team are incredibly driven and hard working," said FMA Harbert College finance instructor and FMA advisor Tracy Richard, pictured above with team members. "This competition was rigorous and required a deep understanding of all aspects of the valuation process, including distinct valuation approaches, and the ability to build and explain models within each. These students were required to use valuation models to value not only tangible assets, but intangible assets as well. They immersed themselves in investment banking and valuation self-study opportunities provided by the FMA and also relied on their internship experience within the investment banking industry."
The Duff & Phelps case study put students into consulting roles and gave them a long list of objectives to meet in preparing a set of multi-million dollar recommendations to present before judges.
This year, teams played the role of investment banking consultants and were tasked with valuating a newspaper publishing company (the team recommended the company value between $350 and $385 million), determining what type of buyer it should be sold to, and then recommending the precise purchaser.
"There are several different types of buyers that you might see," Carr said. "You might get a strategic buyer, which is another big company with a similar operation. That would be like an Exxon purchasing a smaller oil company. Then you have financial buyers, which are like private equity firms looking to invest."
The team recommended selling to a strategic buyer.
"What we tried to focus on was how the entire presentation flowed together," Carr said. "It's real important to have a common theme that backs up the whole presentation and ties it together. When you're pitching to a board of a company, you want the theme to run through everything and creates a story that backs up what your final recommendation is."
Brewster noted that meeting a demanding deadline with a laundry list of recommendations was just nature of the business.
"Duff & Phelps looked to incorporate this theme in their challenge because of the nature of the investment banking industry," he said. "Investment banking is a very client-facing business, and therefore the client can be extremely demanding and ask as many deliverables as they choose.
"The experience we had in this challenge helped us prepare for careers in investment banking because we improved our multi-tasking, teamwork, and time-management skills."
Richard likened case competitions to 'real-life experiences that challenge students to go beyond the textbook.'
"Seldom will they encounter a competition of this rigor where they don't have to build on their existing skills. The skills required for analysis and presentation are relevant and applicable to what they will see in the market."
Learn more about Auburn's FMA chapter at: http://auburnfma.com/