What is an entrepreneurial ecosystem? It's a place where students take an idea on paper, turn it into a product like an electrotherapy garment, and win thousands of dollars in a business pitch competition. It's where an open, collaborative environment—including office space—is provided to student-led startups, including a mobile app-enabled delivery service.
Local startups test their ideas with—and receive expert advice from—angel investor and entrepreneur judges; successful entrepreneurs are celebrated for their achievements and risk-taking; and business development and job creation intersect with ingenuity and teamwork.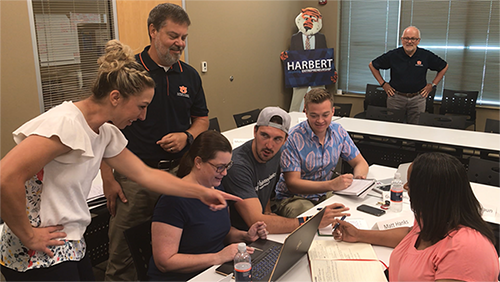 Auburn University is home to this array of innovative and transformative entrepreneurship programs.
A year ago, doctoral candidates Sarah Gascon (kinesiology), Matt Hanks (kinesiology) and Dawn Michaelson (consumer and design services) had never developed a business plan, much less marketed a product in a competitive business environment. But they had a concept: Why go to the orthopedist for electrotherapy when you can wear the treatment? The team created an electrotherapy garment, dubbed their new business ESCAPE Therapy, won the annual Tiger Cage business pitch competition sponsored by the Harbert College of Business, and earned the $25,000 grand prize.
"At the start, it was just an idea that we wrote on paper," said Gascon, who is also a member of Team USA Handball, which trains at Auburn. "We didn't know how to write an executive summary and we didn't know what a business model was. We knew nothing in terms of how to operate a true business. We had to learn all of the different aspects of how to build and develop a business—and we perfected our craft."
The student competition represents just one piece of a much larger puzzle.
Have you ever had fast food delivered? Sure you have. How about groceries? Harrison Evola took delivery service to a new level by offering both, and more, under one umbrella with his business, FetchMe. The recent business graduate spent months growing his new services within the Tiger Cage Incubator, housed at the Auburn Research Park. There, his team was provided office space and expert advice from business professionals. His business is booming.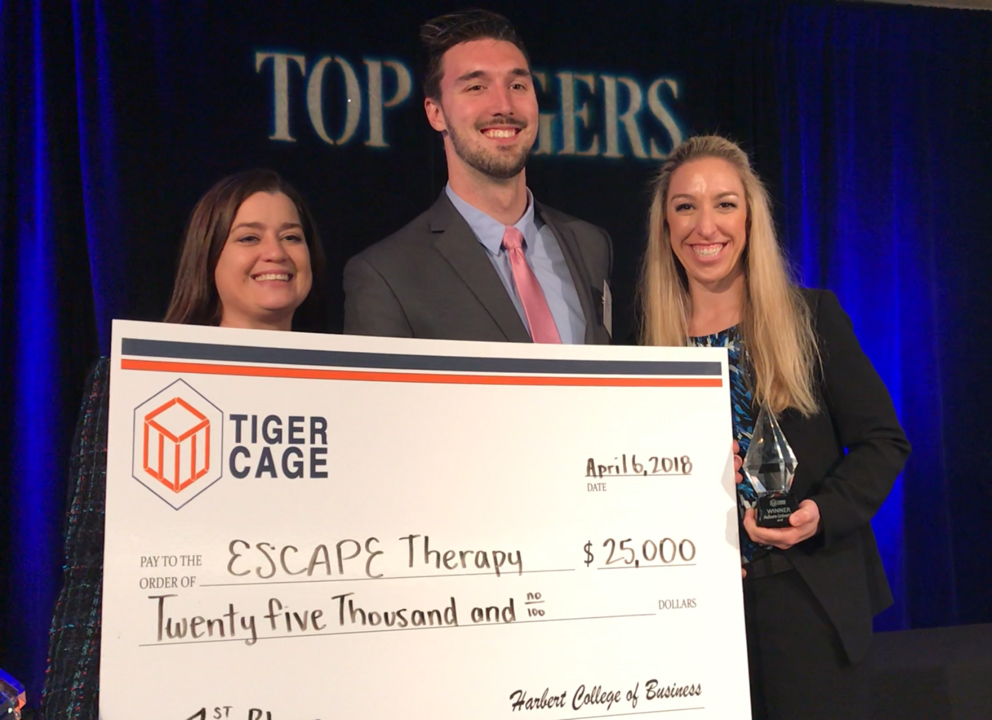 While the Tiger Cage Incubator provides office space and direction to student startups, the Tiger Cage Accelerator takes students with business plans and offers guidance in an eight-week summer course. "The purpose is to accelerate them from taking their business ideas and turning them into legitimate business startups," said Lou Bifano, director of entrepreneurship strategy at the Harbert College of Business. "Innovation is really important for our future, our country, and for us to be innovative leaders in the world economy."
Last spring, Harbert College's Lowder Center for Family Business and Entrepreneurship collaborated with the City of Auburn, Auburn Research and Technology Foundation, and Economic Development Partnership of Alabama to host the Auburn Regional Alabama Launchpad business plan competition. More than a dozen startups from Lee, Russell, Macon, Chambers, and Tallapoosa counties competed for thousands of dollars in funding.
"This demonstrates that the university recognizes the value of entrepreneurship and innovation in driving economic growth," said LaKami Baker, managing director of the Lowder Center for Family Business and Entrepreneurship.
Entrepreneurs start as students, but finish as business leaders. The highlight of Auburn University's entrepreneurship initiatives is its annual Entrepreneurship Summit, which next year will be March 28-29. A new inductee to the Auburn University Entrepreneurship Hall of Fame will be named, as will an Entrepreneur of the Year, Young Entrepreneur of the Year, and Spirit of Auburn Family Entrepreneur Award winner. Fast-growing businesses founded, owned, operated, or led by Auburn University alumni will be honored with Top Tigers awards. To make nominations, visit preview.tinyurl.com/auburnsummit2019.