Thousands of weather balloons are launched each year to track basic weather data. However, an estimated 18 percent of those balloons – which cost roughly $600 per launch – are recovered, costing the National Weather Service nearly $45 million annually.
Three Auburn University students developed a device that could not only save the National Weather Service millions with a greater recovery rate – but also provide more accurate forecasts and dramatically increase the flight times of weather balloons.
Troy Ferguson, a sophomore in chemical engineering from Prattville, Ala., Shawn Majzlik, a senior in engineering systems from Orlando, Fla., and Dennis French, a sophomore in political science from Fairhope, Ala., created a device that could potentially meet those needs. Their team, Envelope Aerospace, won the second Tiger Cage student entrepreneurship competition on April 22 at the Auburn University Hotel and Dixon Conference Center by successfully pitching their concept to a panel of judges that included original ABC "Shark Tank" panelist Kevin Harrington (pictured below).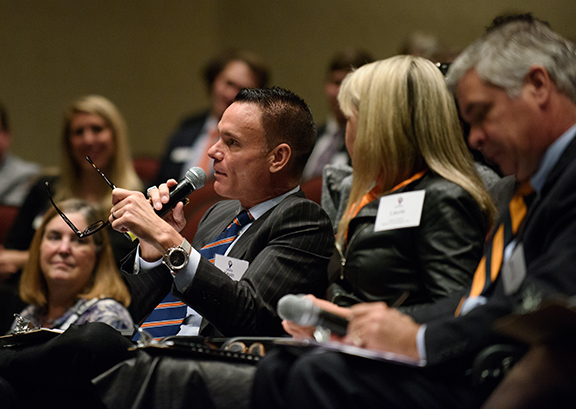 Envelope Aerospace earned $10,000 in funding, as well as $30,000 in legal assistance from the California-based law firm of Wilson Sonsini, Goodrich & Rosati. It also earned another $1,000 by winning the People's Choice Award, sponsored by Mill Creek Limited and The Round House.
Sponsored by Auburn University's Raymond J. Harbert College of Business in partnership with the Auburn Research and Technology Foundation, Tiger Cage enables students from all majors to pitch their early-stage product, service and business concepts.
"Ages ago I was obsessed with putting small satellites into space, and the cost of rocket launches was really expensive," Ferguson said. "I thought maybe if you can do it with balloons it would be a lot easier. So I brought up this idea to Shawn when we were trying to pass physics class and he ran with it."
Second place went to EZXS (industrial systems graduate students Siddarth Doogar, Chaitanya Pawar, Rishi Kamat and Akilesh Yamsani), which produced a backpack that could move around the body for easy access. Finishing in third place was HillVoy Solutions (Bobby Hillman, a junior in information systems management, Zach LaVoy, a senior in finance, and Eric Jackson, a senior in computer science), which created software designed for employees to discretely file work-related complaints). Taking fourth place was Funnel (Jackson Spears, a freshman in finance, and Haven Barnes, a sophomore in engineering), which offered a mobile app to centralize social media connections.
The four finalists emerged from multiple elimination rounds in a competition that began with 30 teams.
"The students put in a lot of hard work and were very open to my feedback and that received from the mentors and prior round judges," said LaKami Baker, associate professor in management and Managing Director of the Lowder Center for Family Business and Entrepreneurship. "I am wowed at the level of commitment and generosity of our alumni base in helping our student entrepreneurs.
"I think all four of our finalists will go on to launch their business. Each of the finalists have a strong desire to take their business idea to the next level and I think each team had a viable and feasible idea that will have strong appeal in their respective markets."
Kevin Harrington, who has launched more than 500 products that have generated more than $5 billion in worldwide sales, served as a Tiger Cage judge for the second-consecutive year.
"They (Envelope Aerospace) stood out to me because they had a four-stage plan of how they were going to attach the market and become a global pioneer in an old industry with new technology," said Harrington, founder of the "As Seen on TV" product line.
Joining him as judges were Dasher Technologies President and CEO Laurie Dasher, 4M Research Founder and CEO Julie Maertz, Oakworth Capital Bank Senior Managing Director and CEO Scott Reed and Torch Technologies President John Watson.
Majzlik said one of the team's strengths was its diversification of expertise. "Troy interned at a patent office (Auburn University's Office of Information Advancement and Commercialization) and I'm a professional scuba diver, so immediately when he was talking about putting things up in the atmosphere, I was like, 'all of the equations I use are for compounding pressures under water.' We have to calculate the atmosphere that we're going to reach at depth. So I was pretty fluent in how pressure systems work. And Dennis, he's literally a genius."
French said he has four years of experience at Algae Systems of Daphne, Ala., as an electrical intern and programmer.
"Also, having a product that is directly marketable helps," Majzlik added. "We have to go through a lot of testing still, but the beta is there. We've done it. We've made the prototype."
"We have a lot of faith in our product," Ferguson added.