Bailey Sullivan's grandfather sold bonds on the New York Stock Exchange and her father is a financial advisor at Morgan Stanley. It makes sense that Sullivan, a rising senior from Tampa, Fla., and incoming president of Harbert College's Financial Management Association (FMA), plans to follow in her family's footsteps and pursue a career in investment banking.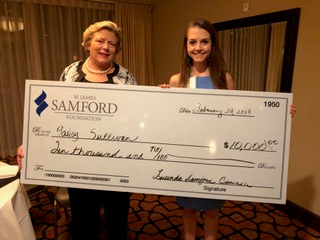 Sullivan, who will intern for a second-consecutive summer at Wells Fargo Securities in New York City, credited her experience with the FMA for "challenging me to reach my full potential as a young professional."
"Through my relationship with our advisor, Tracy Richard, and other FMA members, I have learned the importance of hard work, in addition to the skills necessary for success in my future career," she said.
Sullivan has served as an SGA at-large senator, vice president of operations for the War Eagle Girls and Plainsmen, and is currently FMA's Director of External Engagement. As a result of her dedication to leadership and service, she was presented with the prestigious W. James Samford, Jr., Memorial Scholarship in February. She will be among students honored at the President's Luncheon on April 11.
"When I initially applied for this scholarship, I was struck by the legacy that Mr. Samford left behind," said Sullivan, who is pursuing a degree in industrial and systems engineering with a minor in finance. "He was an honorable Auburn man who made a lasting impact upon this university through his hard work, vision and determination."
Sullivan, who will participate in the Auburn Abroad program in China and a half-marathon in San Diego over the summer, was a member of FMA's award-winning team at the Duff & Phelps YOUniversity Deal Challenge, an investment banking case competition held in New York City in February. The team finished in second place out of 77 teams. She looks forward to her upcoming role as FMA president.
"This organization has challenged me as a leader, student, and individual, and I look forward to continuing its growth," she said.