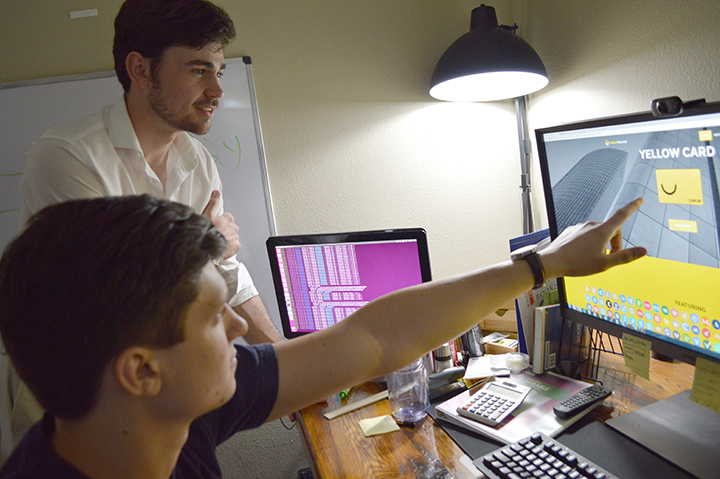 Two Auburn University students, including a Harbert College of Business finance major, will be among the 25 teams competing for more than $200,000 in grants and scholarships April 6-8 at the e-Fest undergraduate student entrepreneurship competition in Minneapolis.
Chris Maurice, a junior in finance, and Justin Poiroux, a sophomore in computer science, created the cryptocurrency business Yellow Card Financial in 2016 and have expanded their reach to 60 countries. Yellow Card Financial aims to make Bitcoin and other cryptocurrencies instantly accessible to anyone without verification burdens or delays.
"Our business model is the same now as it was then, except we've expanded," Maurice said. "Now we offer 85 currencies on top of Bitcoin. If you live in any of the 60 countries that we service and you have Bitcoin or any of these digital currencies, then you can sell that to us and receive money in your bank account or pick it up as cash at an agent location."
Maurice and Poiroux were nominated for e-Fest by Harbert College Management Professor Lakami Baker, who is also director of the college's Lowder Center for Family Entrepreneurship and the Tiger Cage student business pitch competition. Yellow Card emerged from a pool of more than 160 entries that included seven-minute videos and slide decks detailing business concepts. Maurice and Poiroux will make semifinal pitches before judges on April 8 in hopes of advancing to the finals – reserved only for five teams – later that day.
The top three entries will receive $100,000, $50,000 and $25,000 in prizes, respectively. Additional funds will be awarded via grants to winning teams' respective universities to support entrepreneurship education.
"We have to make a 15-minute pitch, which is a lot longer than anything we've ever pitched before," said Maurice. "We've gone from an elevator pitch to 15 minutes. We will be trying to take what we made into a simple, coherent pitch, and now expand on that. Luckily, we're in an industry many people do not understand. So part of our pitch will be 'here's what Bitcoin does.' Then it's 'here's why we matter.'"
Why does cryptocurrency matter?
"It can have enormous global impact," Poiroux said. "If countries with corrupt governments are manipulating their monetary system – it's important that people can have this alternate currency that isn't reliant on any government. There are no geographic bounds."
Though Yellow Card Financial is doing business in 60 countries, Poiroux and Maurice said the business has not yet officially launched. Success at national startup competitions like eFest can give the duo added exposure – along with financial benefits – that will drive growth. "At this point with us being so close to launch, this competition gives us the opportunity to get the name out there and spread the word about digital currency and the different wonders it brings."