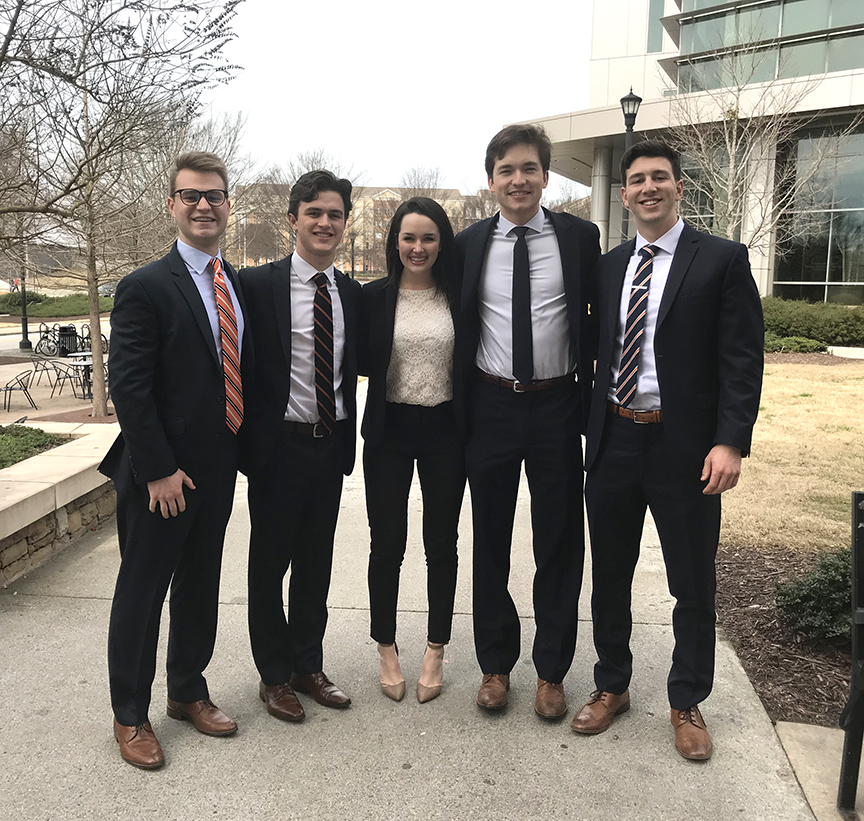 Five Harbert Collegefinance students took second place at the regional CFA Institute Research Challenge, a global equity research competition.
Kate Bagley, Edward Neyman, Michael Byron, Canon Kuipers, and Caleb Carter – all members of the exclusive Financial Management Association Honor Society – were required to research and analyze a publicly-traded company (HD Supply) and give a buy, sell, or hold recommendation.
Using extensive qualitative research and quantitative valuation techniques, the team made a recommendation to buy "with a 17 percent upside based on the team's valuation," Bagley said.
Schools competing in the 15-team event, which featured a 10-minute formal presentation Saturday, March 2, at Kennesaw State University in Georgia, have worked on the project since October.
The team's final report, which consisted of a 10-page in-depth analysis of the stock and 20 pages of appendix figures supporting the team's recommendation placed on the equity, was completed its final report in January.
"We believe that we impressed the judges with amazing graphic design, an impressive valuation comprised of four methods, and a strong, well-rehearsed team," said Bagley.
The CFA Institute Research Challenge is an annual global competition organized by the CFA Institute, the premier global association for investment management professionals.
"Considering this is only the second time Auburn participated in such a large-scale competition and the fact that we are able to beat other regional schools such as Emory, Georgia, Georgia Tech, and Georgia State, I'm so proud of our students," said Albert Wang, associate professor in finance at Harbert College, who also serves as the team's faculty advisor.
"We would not have had such success without the generous support from the department and college. As the faculty advisor for this year as well as last year team, I'm glad that Harbert college and finance department are willing to invest in our students so that they are able to promote the college, the department and themselves in the regional and global platform."