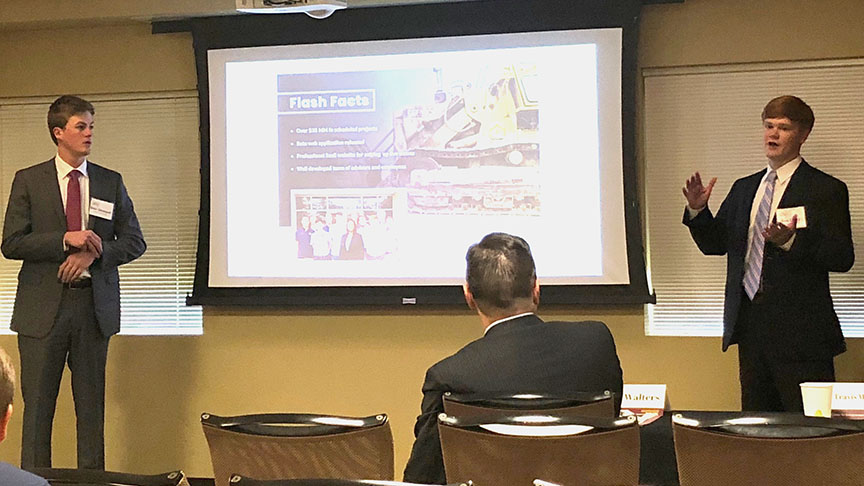 Project owners hire contractors. Contractors hire subcontractors. Subcontractors pay their employees, purchase equipment, and order materials to do a project, whether its roofing, drywall, or laying concrete. In order for subcontractors to get paid they must submit their invoices, lien waivers, and other supporting documents, which must be approved all the way up the payment chain to the project owner or lender. During this process documents are lost in email inboxes, arithmetic errors are made, or someone is out of the office on vacation. The construction payment process is a struggle, contractors make it work, but it's hard work.
Two entrepreneurs from Harbert College's Tiger Cage Accelerator Program, Ben Conry and Blair Chenault, have a solution. Flashtract, a software service that streamlines the construction payment process was co-created in 2017-18 by Chenault and Conry. Flashtract saves project stakeholders from subcontractors to project owners valuable time and expedites the payment process by automating many of the tedious and manual steps required.
The startup is one of 64 entrepreneurship teams -- from an entry field of 1,300 -- chosen for the national Student Startup Madness competition. Eight teams – dubbed the Entrepreneurial Eight – chosen from the online semifinal round will travel to Dallas, Texas, for the March 8 finals.
"We're in a space where there is little to no automation and paperbound documents remain standard," said Chenault, Flashtract's CEO from Huntsville who earned a mechanical engineering degree in the spring. "The way that we differentiate ourselves from our competitors is simplicity. We break down the information in a way that can allow decisions to be made in seconds, rather than hours."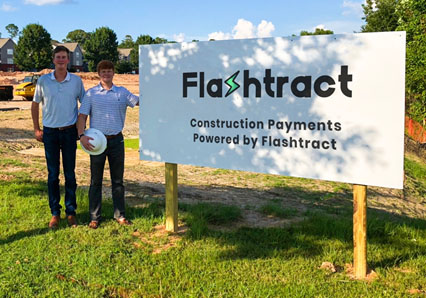 Conry, a senior from Birmingham in civil engineering, said Chenault approached him with the idea of streamlining payment processes. "During my internship with a construction company I got to see firsthand how the process was performed. My supervisor that summer was spending a number of hours at the end of each month answering phone calls, searching through his emails to try and find the correct documents to approve these payment applications so when Blair approached me with the idea, I was all over it."
Flashtract, launching this spring, is no stranger to competitions. The duo represented Auburn last fall at the 2018 SEC Student Business Pitch Competition in College Station, Texas.
Both agreed that competitions help entrepreneurs become better business professionals.
"One thing that's helpful with competitions is that sometimes in the day-to-day operations, you can get caught up in the weeds and in the smallest details," Conry said.
"When you enter competitions, you are forced to take a step back. You have to think about the big picture. Often times we are pitching to a group of judges with little to no construction industry knowledge which challenges use to present our business in the simplest way possible. The more you do this, the better you get at, and in order to sell you product most effectively you must be able to easily explain what your product does and how it is going to solve a problem for your customer.
Being an active resident of the Tiger Cage Accelerator program, housed at the Auburn Research Park, helps, too. "They have provided us with space, where we can all be working together," said Chenault, who earned a degree in mechanical engineering last year. "There's such a big difference when everybody is working in the same location as compared to trying to call or Face Time or shoot messages back and forth. It's increased our productivity tremendously."
The Tiger Cage Accelerator allows student startups to use the office space and provides important mentorship from seasoned professionals. "I think one of the struggles of being a young startup is you experience extreme highs and lows and I think mentors keep you grounded," Conry added. "the inhouse professionals offer advice from their experience. They've seen what has worked and what hasn't worked. We can take what they tell us, and we can apply the things that we think are pertinent to our industry and what we're doing.
"I think being around other entrepreneurs breeds ideas that can really help. You can pivot your product or add features. Everyone is really helpful down here. Having people not only give you advice, but you get a lot of feedback. Also, part of an accelerator, there's a sense of push. Sometimes you can get stagnant and slow down your work, but places like this pushes you each day to come in and work hard."
Flashtract's selection into the Student Startup Madness Final 32 comes on the heels of Tiger Cage Accelerator student team Snippety Snap (Courtney Haun and Olivia Cook) winning $1,200 Nov. 15 at the Global Student Entrepreneurship Awards regional competition in Birmingham. Both teams were Auburn University Tiger Cage Student Business Plan Competition entries last spring.
Tiger Cage heats up again in the Feb. 1 quarterfinals as 29 teams will be trimmed to eight. Four teams will advance from March 1's semifinal round into the Tiger Cage finals to be presented on March 29 at the Auburn University Hotel and Conference Center.
Students aren't the only local startups competing. The second Auburn Regional Alabama Launchpad Startup Competition's pitch event will be Feb. 11 at the Auburn Courtyard by Marriott, with the finals on March 27. The event is a joint effort of the Auburn University Harbert College of Business, the Auburn Research and Technology Foundation, and the City of Auburn. Startups represent Lee, Russell, Chambers, Tallapoosa and Macon counties.