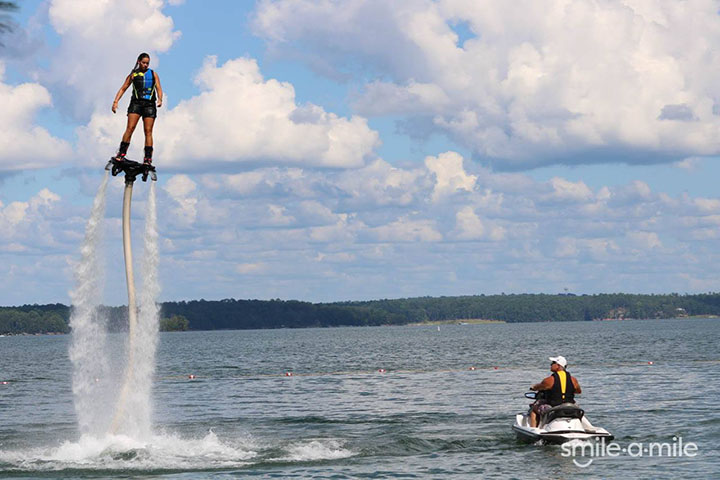 "Don't be afraid to sell yourself, put yourself out there and show that you are better than the rest."
That's just one of the lessons Alexis Goldhagen applied from her business classes at Harbert College in developing her thriving, young business, Lake Martin Flyboard. Goldhagen, a senior in marketing from Alexander City, Ala., has leaned heavily on her business education to grow a start-up rooted in a sport she discovered just six months ago.
Flyboarding allows a person to ride (or fly) on a water-propelled board 15 to 30 feet above the water – all powered by a Sea-Doo below.
"It's one of the safest things that I've ever tried," said Goldhagen, a self-proclaimed adrenaline junkie who scuba dives, sky dives, and owns a motorcycle. "Both of my parents have done it." Goldhagen, who is preparing to attend law school after graduating from Auburn in 2018, says she's flown "close to 150 people" this summer, including a 72-year-old man and 66-year-old couple.
Vacationing over spring break in the Grand Cayman Islands, Goldhagen found the activity for the first time and instantly fell in love with it – so much, in fact, that she brought the new-found sport back home to Lake Martin and started the business.
Goldhagen learned that only one other flyboard business existed in Alabama – far away on the coast of Orange Beach. With no nearby competition in sight, Goldhagen's Sea-Doo was modified for flyboarding in Fort Lauderdale, Fla, fliers were distributed, a web site was made, and Lake Martin Flyboard was born.
Why purchase expensive advertisements when you can showcase your business before potential clientele? On Memorial Day weekend – a big draw at popular Lake Martin in Tallapoosa County – she showed water sports enthusiasts what they were missing. "I was doing tricks and flying around," she said. "People saw it, took videos, and said, 'Oh my gosh, I've never seen this.' I got a group (of customers) that day. They were like, 'Can you come to our lake house right now?' That really got the ball rolling."
One in the Chimney Rock audience that afternoon, Goldhagen said, was WSFA-TV reporter Judd Davis. "He took a video of it and posted it to his Facebook page," she said. "I messaged him to see if he would be interested in trying it. He responded and said, 'Yes. Can we do a story on you?'
"They came to my house a couple of weeks later, in mid-June, and aired the video near the end of June," she said. "That was super-perfect timing. Then the phone starting blowing up."
That's when she put her finance and accounting lessons to good use. "I set up a balance sheet – just like I learned in Mrs. (Jennifer) Cornett's and Mrs. (Tracy) Richard's classes. I have this cost of goods that I have to buy, all of my expenses, inventory, gas, people that I paid to work for me, and the web site, and the little stuff added up. Then I had to balance it all out.
"I have learned a lot about target marketing (in class). It was easy for me to target people my age and athletic people, but reaching people who are older, scared, or aren't water people, I learned how to reach those people and get them to not just come out and see it, but also try it."
"But really, Dr. (Danny) Butler's class about personal selling – how to sell myself. It's not just about selling my business, but my story. I think what caught a lot of people was my story about being an upcoming senior. Don't be afraid, or shy, to talk about yourself."