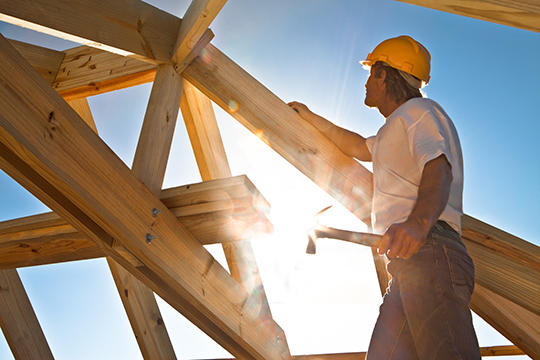 Building a storm-resistant, Fortified home increases the value of a property by nearly 7 percent and mitigates potential damage, a recent study shows. Harris Hollans' co-authored paper, "Estimating the Effect of Fortified Home Construction on Home Resale Value," revealed that the benefits of sturdy construction outweigh the cost.
"We realize there is a cost, but our study shows that there is a positive dollar benefit from the fortification," said Hollans, an associate professor in real estate and finance at Harbert College. "Then this becomes a cost-benefit analysis. One, you have a solid structure with a well-designed, frame to it that may potentially last longer – so the repair and maintenance side might be reduced. Also, most of the insurance companies will give you a reduction on your premium for the home being designated as Fortified. This will reduce your mortgage payment."
Researchers collected sales data provided by the Insurance Institute for Business and Home Safety (IBHS) from fortified and non-fortified homes in Baldwin and Mobile counties from 2004 through the first quarter of 2016. Baldwin County, with a population of 203,709 in 2015, is the fastest-growing county in Alabama. With its sandy beaches and proximity to Mobile and Pensacola, Florida, people are flocking to the coast – which includes popular vacation destinations Orange Beach and Gulf Shores. New homes and condos continue to rise.
Hurricane Ivan, a Category 3 storm, made landfall near Gulf Shores in 2004, wiping out hundreds of homes, and causing $14.2 billion in damages, according to NOAA. In 1979, Hurricane Frederic struck made landfall at Dauphin Island in southern Mobile County, with damages estimated at $2.3 billion.
"We haven't had one in years," said Hollans, who played a key role in analyzing data for the report. "What ends up happening is we have a major hurricane event and the insurance companies pull out and stop insuring or they raise rates. Then we go several years and nothing happens, so they start trickling back in and people start building more houses. People let their guard down and start building houses to whatever minimal standards they can to meet codes. If the codes aren't adequate to facilitate the quality needed to make sure everything is standing after a hurricane, then we sustain big losses again.
But is there a way to improve that situation by simply improving the property?
One of the routes taken over the last few decades was to increase the building code standards, but communities at the local level must adopt those standards. Often, one county will have relatively stringent building codes, and a neighboring county won't. The IBHS created a market-based approach to get around that by identifying standards for building construction. Thus, Fortified homes were born.
Fortified homes (for new or existing properties) are designated by the IBHS based on construction standards, which Hollans said begins with a more solid, sealed roof.
"Roofing is the biggest impact area in a windstorm type of event," Hollans said. "If you improve the structural integrity of the roof, you're going to significantly mitigate the damage to the house and there may be a nominal amount of cleanup."
The report was presented at an August 3 White House Forum on Smart Finance for Disaster Resilience by the IBHS and University of Alabama's Insurance Research Center.
"The bigger question of these White House panels is 'What can government do to promote the reduction of risk across the board?'" Hollans asked.
"A study like this shows there is a value generated by doing this beyond the cost – you're going to get something in return."
Hollans teamed with Sebastian Awondo (University of Alabama), Lawrence Powell (University of Alabama), and Chip Wade (University of Mississippi) on the report, which was sponsored by the Alabama Center for Insurance Information and Research.