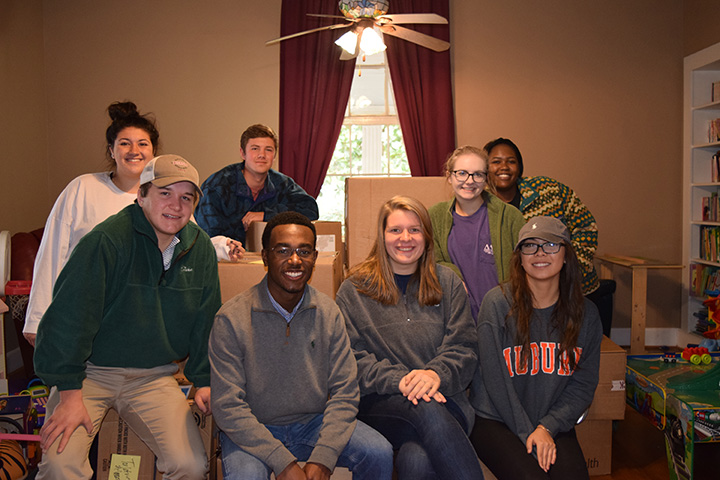 Between English Composition and introduction to business classes, nine freshmen in the Harbert College of Business found time during the fall semester spearhead multiple donations of clothes, toys and other essential needs for dozens of foster children in Lee County.
In its second year, Harbert College's Freshman Focus Committee partnered with the BigHouse Foundation, a non-profit organization in nearby Opelika, to collect and solicit items specially for children's needs.
"Some of these children are removed from the only home-life they've ever known with only the clothes on their backs," said Beth Ann Mabrey, Director of Student Services and committee sponsor, whose office in Lowder Hall has become the 'hub' for donated items. "The foster family might not have the right size or season of clothes and shoes when they receive a phone call about a child who needs immediate placement, so they rely on the BigHouse Foundation to help provide such items for that child."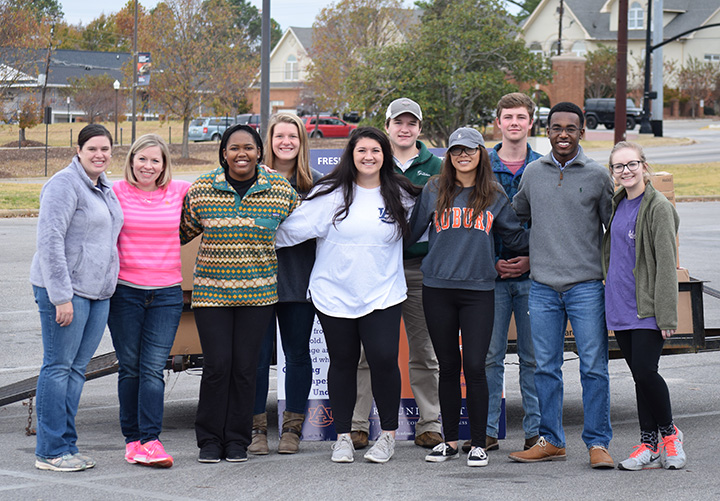 Committee members A.J. Stanley, Alex Harper, Alec Lyons, George Battle, Hollie Terry, Hunter Barron, Jessica Gulledge, Rae Martin and Rilee Humphries introduced the project to peer students within business classes, created their own Instagram page to help raise awareness, established business partnerships within the community to hold fundraising events, passed out fliers about their organization and the Big House Foundation, and collected donations through a variety of bins placed in strategic campus and community locations.
Looking for a community project in August, the new committee was instantly sold on the BigHouse Foundation.
"When our advisors (Mabrey and Sarah Henry) introduced us to BigHouse, it didn't take very long at all for everyone to jump on board," said Stanley, a pre-business student from Huntsville who was elected Freshman Focus Committee Chair. "Ideas for what we could do started flowing during that introductory meeting. You could feel it in the room that this was where we needed to start and you could see it on our faces that we were excited and ready to get to work."
BigHouse co-founder Blake Melnick said, "It is awesome to see how students who aren't in a position to be foster parents right now can still have a part in helping kids in care. The help from the students will definitely brighten the lives and make the foster care experience a little bit better for these kids."
Mabrey offered praise for all committee members with a specific emphasis on two of them.
"He (Stanley) has really pounded the pavement, not only on campus but in the community to try to establish business partnerships," she said. "He has done so much to help put a relatively new student organization on the map and he's committed countless hours to make sure that the other students know about the BigHouse project. He, along with the other committee members, have quickly developed a strong understanding of the important connection between being a leader in the business industry and extending a helping hand to others. For a freshman to enter the doors of a large institution and hit the ground running with zero fear of approaching classmates or members of the local community regarding this project is admirable. A.J. is a natural leader, and the other members of the Freshman Focus Committee recognized his talents and leadership abilities when they elected him chair of the group.
"Another committee member, Alex Harper, got her entire family involved in the Big House project. She went home and said, 'We are cleaning the closets. We are giving to these foster families and foster children what they need.' Alex and her family have provided the single largest donation so far that includes clothing items and children's books."
Stanley said it was important for students to get involved in community projects.
"We are in a great position to create sustainable solutions to issues on campus and in the community," he said. "As a freshman, it's particularly imperative to experience firsthand giving back and to understand the significance of it. No act is too big or too small in order for you to make a positive impact in someone's life. Seeing the ambition that my fellow committee members have really drives me to want to take this project as far as possible."
Mabrey said the group will continue working with the BigHouse Foundation next semester – with a new twist. "The committee focus on collecting donations for the upcoming prom season," she said. "Some of these teenagers in foster care may not otherwise be able to participate in such school events. We will be collecting prom dresses, shoes, and accessories. We also hope to partner with local hair salons and formal wear businesses." The idea was sparked by Sarah Henry, who also serves as an FFC advisor. "Once that idea was out there, the committee members came up with the rest of the plan. It's wonderful to watch them roundtable their ideas and get excited about the work that will be involved in the project. The sky is the limit for this group of students. I can't wait to see how far their talents take them academically and professionally, and how many lives they touch along the way."
For more information about the Big House Foundation, visit http://www.ourbighouse.org/.