Financial Management Association students continue to soar.
Auburn's FMA chapter recently celebrated its second student acceptance, finance sophomore Emily Mills, into the prestigious Girls Who Invest (GWI) Summer Intensive Program – a competitive, national program that places females into elite finance positions and prepares women for a future in asset management.
"At school I have learned the basic skills I will need for my career, but I believe Girls Who Invest will take that education one step further, putting me in the mindset of somebody who is already part of the asset management industry," Mills said. "I will be surrounded by peers and mentors focused on the same goal this summer, and I am so excited to learn as much as I can from each of them."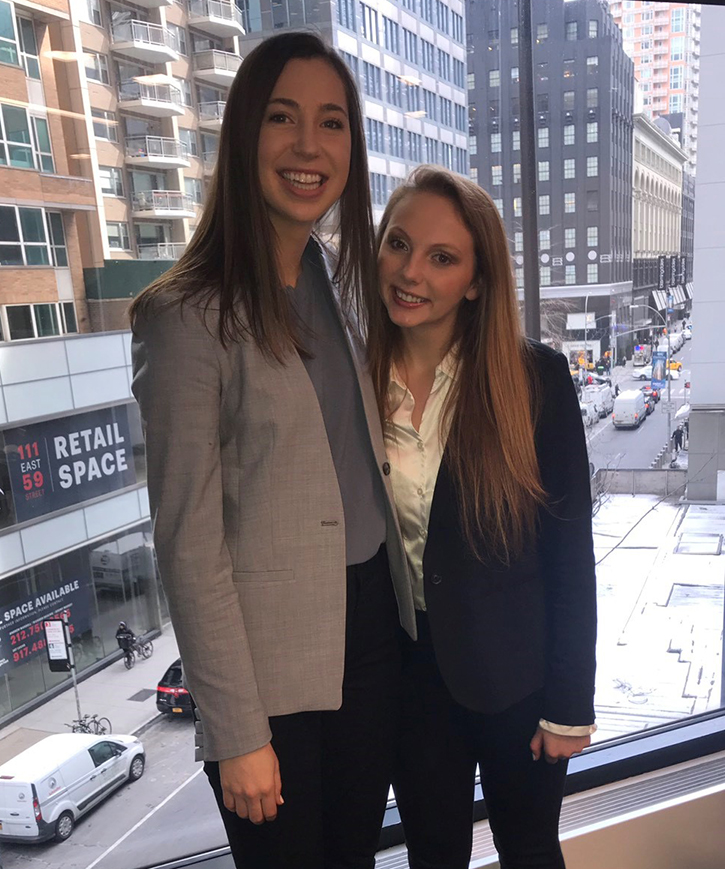 Mills, left, follows Jenny Herrell, right, a junior in finance, current teaching assistant at the Harbert College of Business and future summer analyst at Point72, a leading hedge fund in New York City. In 2018, Herrell became the first student from an SEC institution accepted into the program, where she completed a course of study at the University of Pennsylvania, and an internship with PGIM (the investment management arm of Prudential Financial, Inc.
"FMA's accomplishments and prestige are built on student drive and ownership," said Tracy Richard, Auburn FMA Director. "Jenny is a solid testament to this dedication. When she returned to campus, our goal was simple: rally behind a candidate and aim to place a second woman into this program."
That candidate was Mills, who competes in distance running events on Auburn University's women's track and field team. "Without Jenny pushing me to apply, not only would I have never heard of GWI, but I would not have realized the amazing opportunity the program offers," Mills said. "I applied in September and I did not submit a single piece of my application without having Jenny scan every line. Jenny clearly gave GWI a great respect for Auburn's finance students this past summer and I hope to continue on the path that she set."
Herrell said, "Emily is equally dedicated to her career and personal development, and we anticipate great things to follow her admission to this program."
GWI seeks to address the gender imbalance in the male-dominated asset management sector by equipping women with the necessary technical and behavioral skills to succeed in a career in investing. This 10-week program entails four weeks of classroom experience at elite financial research institutions Wharton and Notre Dame followed by a six-week internship with a leading asset manager. The training portion of the program culminates into a capstone project, where women have the opportunity to consult with a Fortune 500 company's investor relations team and formulate a pitch to a committee of investors.
GWI's goal is simple: Build a pipeline of female asset managers so that 30 percent of global investable capital is managed by women by 2030. FMA shares in this vision.
"We believe financial literacy offers women and minorities the opportunity to hold power over their future, pursue a career with influence, and ultimately better their communities and bring about change in both political and social spheres," Herrell adds. "Financial literacy provides the opportunity to control your own wealth, and wealth implies power, which ultimately garners influence.
"Financial institutions have a duty to maintain teams of investors that best reflect the diverse backgrounds of the pools of clients they serve, and in turn, studies show diverse teams yield higher returns and have better team dynamics. FMA believes in this cause and pushes women and minorities to lean in – to fight for their own careers and allow their voices to be heard."
Auburn FMA will host Janet Cowell, Girls Who Invest CEO and former North Carolina state treasurer, to speak at the second annual FMA Inclusion and Diversity Forum on March 28. There, she will openly engage with students about the need for diversity within the financial services industry. This forum is open to all students and faculty. The event will be followed by a closed-door women's power hour, allowing FMA women to openly engage with Cowell and attending FMA alumni.
Richard explains, "It is candid events like these that truly change students' perceptions and attitudes and encourage those of diverse backgrounds to lean in with conviction."
FMA is an 85-member honor society that develops students' business skills, finance savvy, and job-readiness. The organization is now in its fifth year on campus and has boasted 100 percent full-time placement rates for seniors every year.
"FMA has had a huge impact on my education and time here at Auburn," said Mills. "Tracy Richard and FMA have helped me realize my potential following graduation and made me really look into what I want to do with my finance major in the future. It has introduced me to every sector of finance and surrounded me with students dedicated to making an impact in the industry."