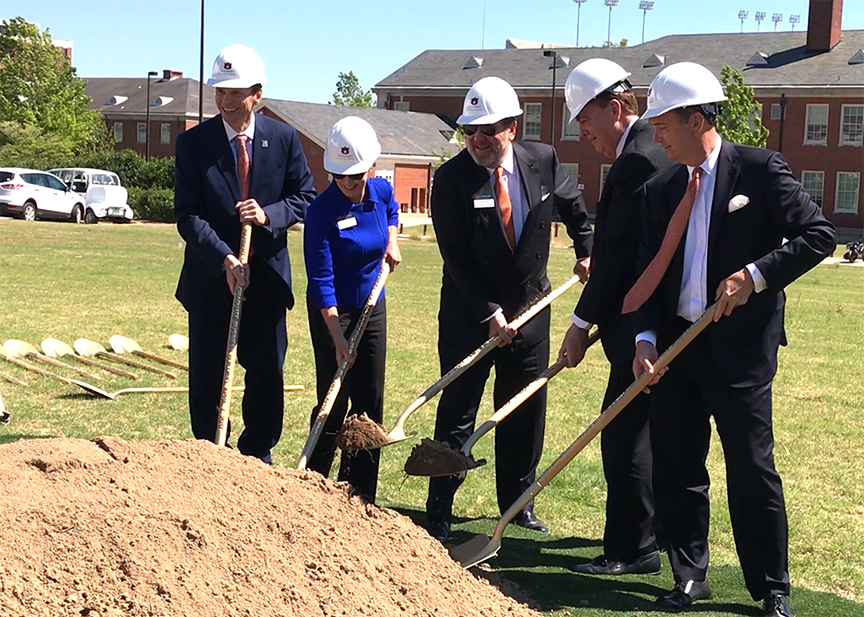 Ground was ceremoniously broken Friday, April 7, on Harbert College's 100,000 square-foot graduate building, one that Dean Bill Hardgrave said will be "absolutely 100 percent for the students."
The students who attended the groundbreaking couldn't be happier.
"Everyone is excited to have a new building on campus and it's especially exciting to know that there will be a new building catered to my area of classes that I will be taking," said Katherine Oberkirch, a junior in accountancy from Naperville, Illinois, who looks forward to pursuing a Masters in Accountancy. "From people I have spoken with about graduate classes – many are group-based, while many undergraduate classes are lectures. This will impact me in a very positive way."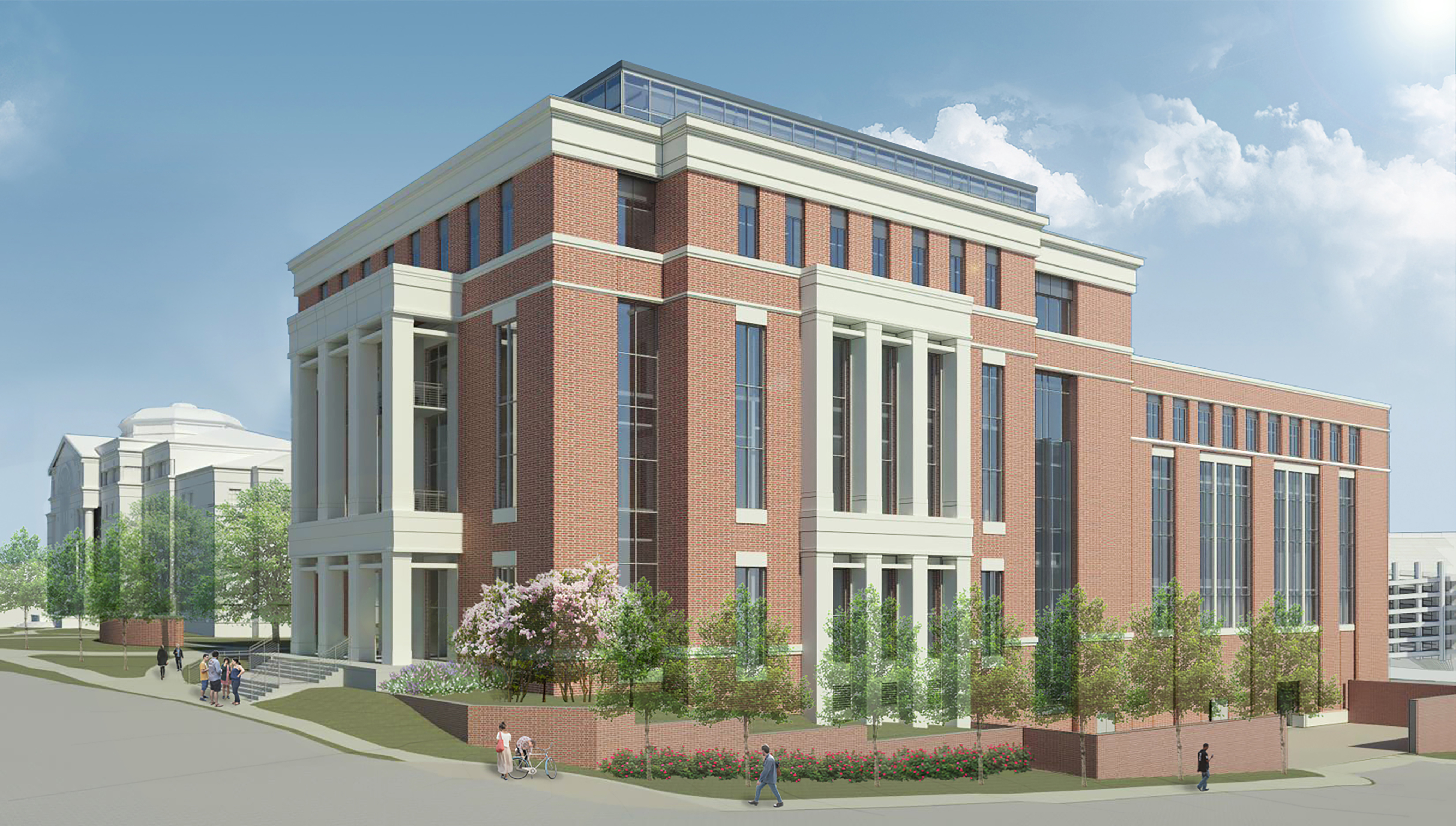 The $40 million facility, which will include a large atrium, breakout rooms, an innovation lab for project teams, adaptable classroom spaces, large auditorium, executive boardroom and rooftop terrace, will be adjacent to Lowder Hall near the intersection of Magnolia Avenue and Donahue Drive. It will have a graduate student focus, but will be used by all students.
"This is so exciting because Lowder Hall is so nice and now having another building will make our college even better for students with the extra space to study and work on projects," said Cinda Hodge, a junior in accountancy from Montgomery, who hopes to enter the college's MAcc program and one day use the new building. "This will definitely help me to become a better industry professional by providing more places to study and have a nice haven to come to."
A $15 million gift from Raymond J. Harbert, a 1982 Harbert College alumnus, kick-started the planned facility. While addressing attendees at Friday's ceremony, Harbert reflected on the college's vision for Harbert College to become one of the elite business schools in the U.S.
"How Dean Hardgrave will do that is by producing highly-desired graduates and generating knowledge that drives thought and practice," said Harbert, who made a $40 million transformational gift to the college in 2013. "When (wife) Kathryn and I made our initial gift to the college, I knew that at least two things were absolutely necessary to obtain that lofty goal: vision and capital. The college has been put on a very different trajectory today than it was four or five years ago, and the momentum the college has as it progresses toward being an elite business school is very real.
"In conversations with Bill during 2016, he told me the most important thing to maintaining the momentum we had established was the need for a new state-of-the-art landmark business building to build out our campus. That's why we are all here today – to maintain our momentum in striving for greatness."
Andrew Barnes, a Chick-fil-A franchisee who earned an MBA at Harbert College in 1997, said "everything changes and gets better over time – and this is just another step in that direction."
"As an Auburn MBA graduate, having this new space dedicated to graduate programs is exciting and provides a lot more really neat opportunities – especially between the buildings with green space and places where students can relax," he said. "Overall, the new building will provide some showplaces, some meeting space that's sorely needed to show off the program and business school, in general."
Harbert College is Auburn University's second-largest academic unit with more than 5,000 students – an enrollment growth of more than 40 percent since 2010. The college's reputation continues to climb as it has received numerous national and international acclaim, from supply chain management, to accounting and graduate programs.
"It's that growth and accomplishments that have led us to being here today," Hardgrave said. "We have seven programs in the nation's Top 10."
But the ceremonial afternoon didn't conclude with golden shovels and dirt at the site of the new building. Harbert College officially cut the ribbon on a graduate student study area (Lowder 023), space created after a donation from Auburn Physicians Executive MBA alums.
"This open interactive space gives students a place to relax, study and collaborate on group projects. In the end, this space helps improve the student experience," said Stan Harris, Associate Dean of Graduate and International Programs. "This gives our students an opportunity to have a professional-looking space to meet with teams, work on projects together, and get away from the crowds a little bit. It represents what the real-world work space is like."
Kim Kuerten, Director of Executive MBA Programs, said it was gratifying to see the continued impact that executive programs have on the life of the college.
"While the executive students will have priority in this space while they are in residency, it will primarily be used by undergraduate business students, students who do not have team rooms or quiet study space in Lowder Hall," she said. "I know this is a gift that will be appreciated by everyone in the years to come."