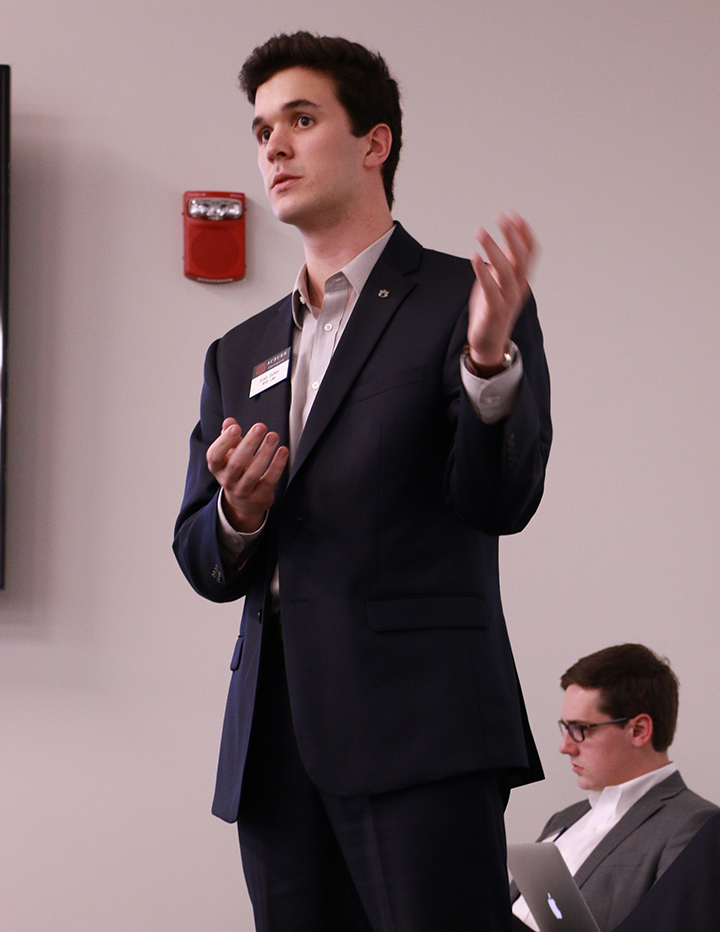 Driven. That's how Allan Gulley operates. Not only is Gulley just weeks from earning an undergraduate accounting degree, but he is also Senior Manager of Blockchain Strategy at the Auburn University RFID Lab and carries a 3.80 GPA.
It's no wonder the senior from Montgomery, Alabama, was selected as Harbert College of Business' recipient of the 2018-19 President's Award, a premier honor that recognizes outstanding seniors. He, and other students across campus, will be honored at a special ceremony at Auburn University President Stephen Leath's home on April 9.
"I was truly surprised upon being selected," said Gulley. "I don't believe that this was an award I earned on my own merit. So much of what I have been able to accomplish has been a direct result of friends encouraging me and faculty members challenging me. One of the biggest motivating factors for me each day is what I've been given and the opportunities I've been afforded… I don't believe that they are for my own, personal edification. I'm at an excellent school with a great accounting program, and I'm in a unique position to lead others and learn about emerging technology at the RFID Lab."
A member of the Harbert College's Executive Society, Gulley already has business experience outside of Lowder Hall. Gulley: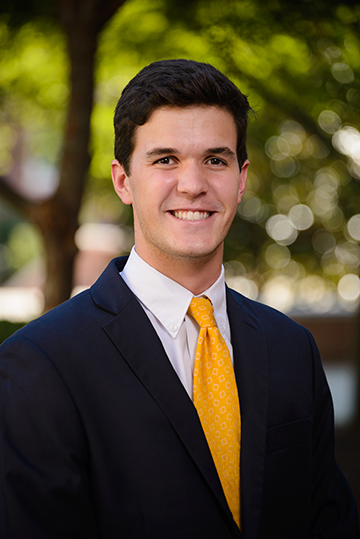 * Served as technology portfolio manager for the Auburn Student Investment Fund (ASIF) in 2016-17
* Led a Top 10 team to an annualized ROI of 1,152 percent at the 2017 TD Ameritrade Think-or-Swim Trading Competition
* Attended the Deloitte National Leadership Conference in 2018
* Founded his own e-commerce business – Pentium Products - that sourced and supplied its products throughout six continents and fourteen countries.
"The School of Accountancy has so many capable and talented graduates, but Allan stood out to us as being particularly deserving of this award," said Colby Lakas, Director of Recruiting and Professional Development within the Harbert College School of Accountancy. "He is gifted academically, but also possesses an intense work ethic and drive to develop himself professionally. He is entrepreneurial and stays on the cutting edge of emerging technologies. Allan's involvement in the RFID lab and work with blockchain strategy embodies the skillset we encourage accounting students to gain prior to graduation. With all of these qualities, we know Allan will be very successful in his career."
Though his degree might be in accounting, Gulley's passion has become blockchain technology. He even penned a report, "Blockchain and The Internet of Things," in 2018 and he is currently working on another industry report focused on the blockchain's disruptive potential in the supply chain space.
"Blockchain really does represent the next generation of application structure and it's going to fundamentally change programming," he said. "Every industry stands to be disrupted in some form or fashion by the technology, because it restructures the way we transact at a fundamental level - with value, with information, and with everything in between."
At the RFID Lab, Gulley has overseen a number of projects, most notably "Project Zipper," a national data exchange data study comprised of 13 major brands and retailers, and the "CHIP" project, a blockchain proof-of-concept for serialized data exchange between global supply chain stakeholders.
"We're taking an enterprise-grade blockchain solution and putting it into practice in a supply chain environment for a number of different partners," he said. "We're integrating stakeholders who make goods, transport goods, and sell goods. All of the partners that are interacting with products in the supply chain space can benefit from the implementation of the technology, and RFID is a critical component for the solution to operate effectively.
"We're essentially playing a global game of digital connect the dots."