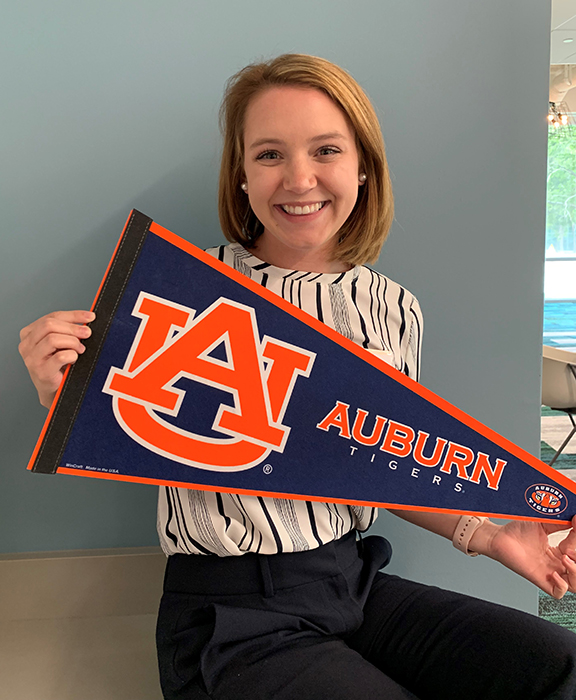 Just as it says in the Creed, 'I believe in the human touch which cultivates sympathy with my fellow men and mutual helpfulness and brings happiness for all.' My experience at Auburn has been just that. Without those men and women who went out of their way to provide opportunities for me, I would not be where I am today."
Auburn has been more than a university for Megan Thompson. Instead, it's been "an unbelievable experience."
Thompson, who will serve as Harbert College of Business graduation marshal for the December 14 commencement, credits her time at Auburn University for molding her into a future professional. After all, the senior in marketing from Montgomery begins work as a client consultant at oncology software company VieCure in January.
"I have seen a huge change in myself from the time I began at Auburn until now," Thompson said. "I developed from a timid, unfocused college freshman into a driven and passionate (almost) graduate. The confidence and support that Auburn has given me throughout these last four years cannot be gained from just any school. Every point of my life at Auburn has been enhanced by the people and relationships that I've built while at this university. From my professors who invested their time to get to know me as a student and as a mentee to my advisors and peers who worked alongside me in my campus involvement, I can truly say that each person has made an impact on the person that I am today.
"To me, that is exactly what Auburn stands for. Just as it says in the Creed, 'I believe in the human touch which cultivates sympathy with my fellow men and mutual helpfulness and brings happiness for all.' My experience at Auburn has been just that. Without those men and women who went out of their way to provide opportunities for me, I would not be where I am today."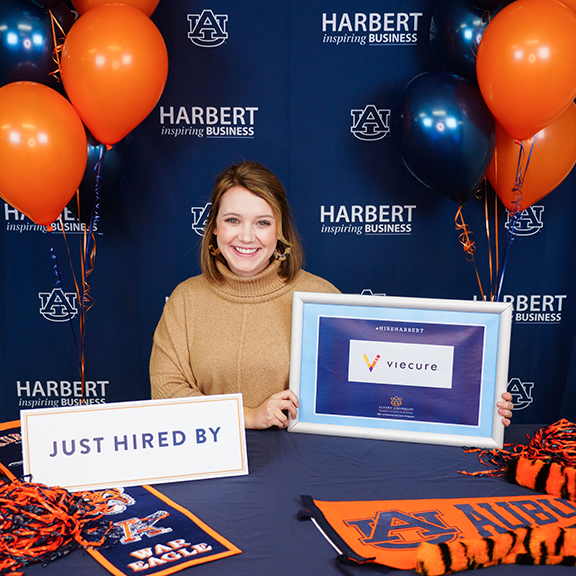 Thompson -- who still relishes storming the field with friends at the conclusion of the Iron Bowl -- made her mark at Auburn University not just as a standout business student, but she served as a peer instructor and is of the select members of the Auburn University Honors College.
Internships are often an integral part of a college student's education, and Thompson was no exception. She not only served in the Governor's Mansion in the summer of 2017, but was a sales and marketing intern at future employer VieCure in 2018, and then an account executive coordinator at Gartner this past summer.
"My internship with Gartner was integral to preparing me for my career," she said. "It allowed me to integrate what I learned in the classroom with practical application in the workplace. By completing account management activities alongside my team, I was not only able to support their clients, but also develop and learn methods of how I would support my own clients as an account manager.
"I was able to gain insight into the type of position I wanted to pursue after graduation as well. Because I was treated as a member of the team, I was fully immersed in the day-to-day activities that I would be doing as a full-time employee. This internship is where I decided whole heartedly that I wanted to work in sales. Most importantly, this internship gave me the confidence that Auburn had thoroughly prepared me to enter the workforce after school."
Whether a student wants to pursue a digital marketing, sales or PR career, the marketing department is fully equipped and willing to support students in their pursuit to find their dream job."
As she prepares for her career as a consultant at VieCure, she credits Harbert College's marketing program for giving her the tools to develop her craft.
"Marketing, in my opinion, is the most versatile major in business," she added. "Whether a student wants to pursue a digital marketing, sales or PR career, the marketing department is fully equipped and willing to support students in their pursuit to find their dream job. The most distinguishing characteristic of marketing is the faculty. Not only has each member supported me academically, but they have all gone out of their way to help me grow professionally as well. I feel that each professor that I have grown close with that past few years has my best interest at heart and genuinely wants to help me succeed in any way possible. Furthermore, their support is not limited to my time at Auburn, but will continue as I graduate and begin my career."