Baltimore, Maryland has a problem. What was once a city of a million has shrunk to 630,000. Thousands of old, abandoned homes – a symptom of past problems and perpetuator of new problems – sit vacant. The shambles of former homes now harvest crime, are dirty, and create hazards.
They must be removed.
But a small team from Humanim, a non-profit workforce and community development agency, and the Baltimore City Housing had an idea. What if they could remove the vacant homes and create jobs at the same time?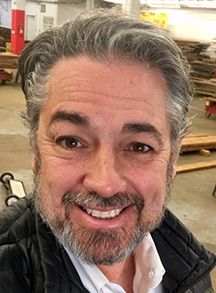 "If you can do it, you would increase your diversion rate to the landfill and hire people who are difficult to employ. You would be solving an environmental problem and you would be addressing a social problem," said Jeff Carroll (right), vice president at Humanim.
One brick and one board at a time, deserted began to disappear. Though 16,000 remain, 1,000 have already come down. "We're taking them down at a pace of a little more than 200 per year," said Carroll, who has employed 175 during the six-year project. "I've been on a personal mission of wanting to address issues of urban poverty and I'm grateful to be part of an organization like Humanim who has that mission in its DNA. Collectively, we believe through the development of social enterprises we can hire and help build wealth within these communities."
How is this an Auburn story? Baltimore is roughly 800 miles from Toomer's Corner
Brian Connelly, Professor and Luck Eminent Scholar in the Harbert College of Business, has known Carroll since the 1980s when both shared the same Baltimore-area neighborhood.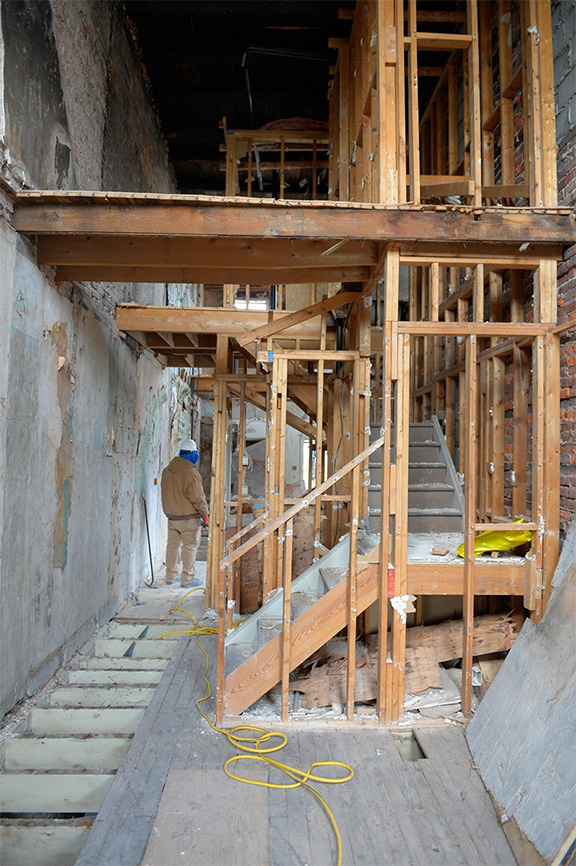 "I have always been impressed with his ability to think strategically," Connelly said of Carroll. "He assesses situations in the abstract so that he can understand the key forces at work. It is a rare skill, but it is important in business because too often business leaders will get consumed with the details and bogged down with the day-to-day. Jeff has a unique ability to think at the 10,000-foot level, which allows him to understand the forces behind the problems that he is trying to address and generate alternatives that others might overlook."
Connelly invited Carroll to an Auburn football game last fall, where he was introduced to Lou Bifano, Director of Entrepreneurship Strategy at Harbert College.
"Jeff told me what he's doing in Baltimore and I said, 'You need to come talk to my entrepreneurship class,'" Bifano said.
Carroll, who grew up in central Maine in a poverty-burdened small town and developed an affinity for urban woes in Baltimore, took Bifano up on his offer on Wednesday, February 6. The class is "focused on how to write a business plan for a new venture and how to communicate that to potential investors or the people necessary to make this idea a reality," according to Bifano – a perfect match for Carroll.
In the classroom, Carroll shared his commitment to social entrepreneurship, difficulties in starting such a project, maintaining its profitability, and finding business partners. "It's gratifying to see that we are able to embrace people who are not Auburn graduates and include them in what we are trying to do," Bifano said. "We're trying to expose our students to as many successful innovators and entrepreneurs telling their story rather than us standing up lecturing to them."
Carroll's message hit home.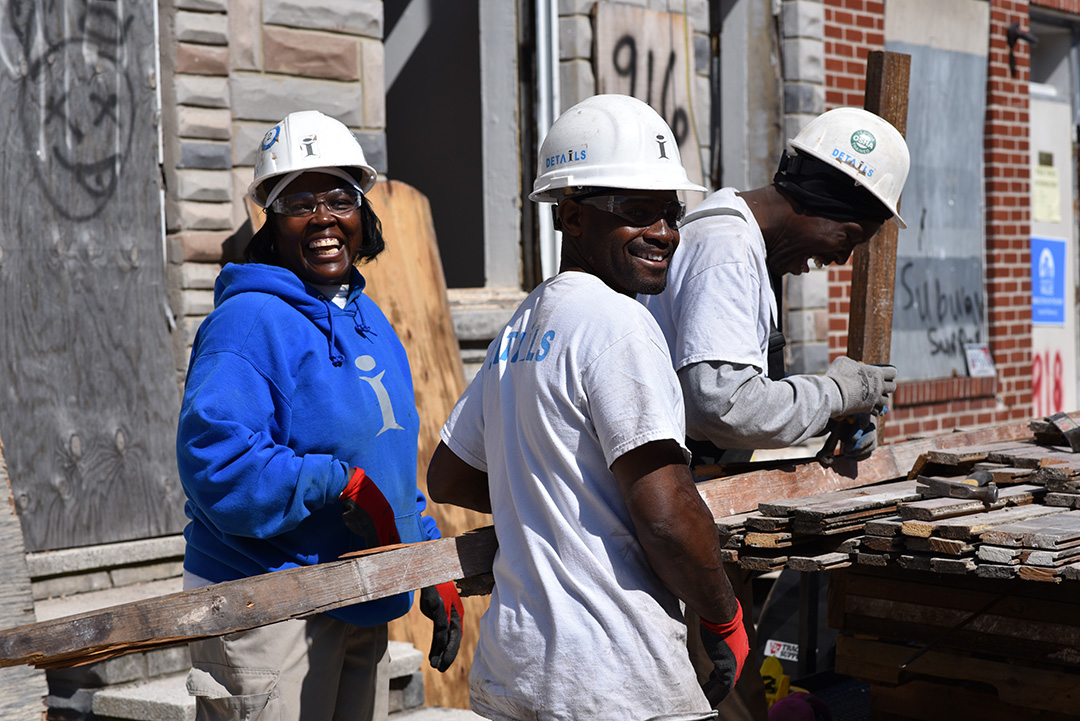 "His stories conveyed, quite clearly, that Humanim isn't necessarily about corporate politics or income statements as much as it was about the men and women the company served," said Graham Llivina, a senior in Bifano's entrepreneurship class. "Mr. Carroll stressed the need for service, respect, and inclusion in all things pertaining to success, and pointed to Humanim's track record as proof."
Finding solutions to a new problem
The story didn't end when Carroll left the classroom. Each student in Bifano's class must select and develop a business plan from a number of projects. One project includes demolishing abandoned buildings and have a financially viable business model.
Therein lies a problem – creating a financially viable business model. "It is an enterprise that functions just like any other business, except I have to have a financial bottom line that is in the black," Carroll said. "I must have social outcomes that demonstrate that it's true to the mission that we started beneath the umbrella of a non-profit parent. I have to hit both. In order to make both of those happen, there's tension between the two. The more socially-driven you get, almost certainly the more your financial sustainability will be jeopardized."
Connelly said that Carroll described a scenario typical of many entrepreneurs – a point at which he thought the entire enterprise might implode.
"Everything was crashing in around him as contracts fell through and the business model was not working. Just when it appeared all might be lost, things turned around and the money started flowing again. It is a story I have heard before: the tenacity of the founding entrepreneur is imperative to the success of the organization."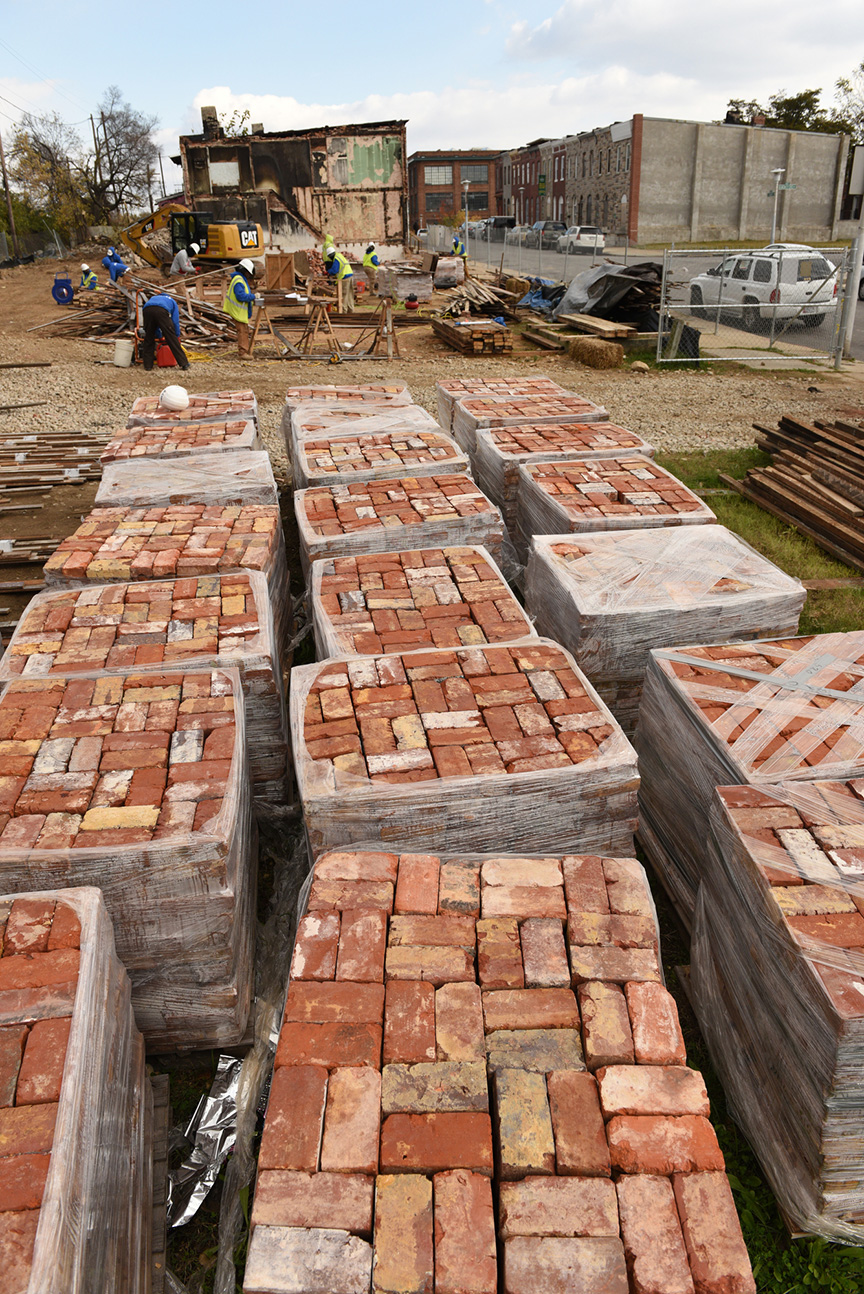 But there is a solution. Carroll knows it. Bifano knows it. Connelly knows it. In fact, Bifano said he and Connelly will team on a project case study to be used for classroom assignments in the future. "Like in most case studies, you tell the story about an organization and then there will be some difficulty that they encounter," Bifano said. "Then the students will be assigned as to how they might deal with this problem."
How did Carroll balance the bottom line? Brick by brick, board by board.
"We thought, 'Instead of watching all of this stuff get crushed and disposed of, what if we could capture it efficiently, sell it and generate revenue to offset the additional employment needs?'" Carroll asked. "Then we would have something that's viable."
To date, Humanim has salvaged and sold an estimated 1.4 million bricks and 450,000 feet of lumber. "Right now, we are out of brick," Carroll quipped. "We're processing it as fast as we can."
Carroll's work in Baltimore is about more than bricks or lumber, however. It's about impacting lives.
"Mr. Carroll reminded me that behind (business) products and gadgets are real people with real feelings," Llivina said. "Everybody in the business universe already knows how to make money, Mr. Carroll said. But if everybody knew how to treat others with decency and respect, then we would truly have a better world."
Starting with Baltimore, Maryland.