Dick Ingwersen, a 1970 Harbert College alumnus, was among the four 2019 Auburn Alumni Association Lifetime Achievement Award winners recognized on March 2.
Ingwersen graduated with a bachelor's in business management and later earned his juris doctor degree from Emory Law School. Under his leadership, Gifford, Hillegass & Ingwersen (GH&I), became one of the top local certified public accounting firms in Atlanta. He was instrumental in completing a merger with Warren Averett, LLC, the fifth-largest accounting firm in the southeast.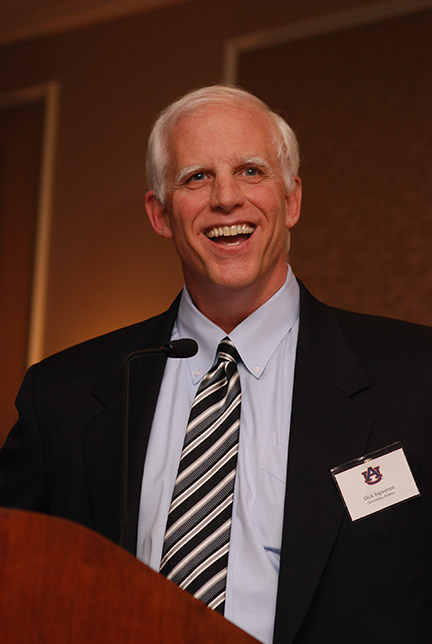 "Receiving this award is amazing!" Ingwersen said. "I am honored and humbled to receive this recognition from the Auburn Family. I have attended several of the previous Lifetime Achievement ceremonies to support friends of mine, but it never crossed my mind that I would be a recipient of this high honor. Joining this distinguished group is a dream come true."
Ingwersen was the recipient of the School of Accountancy's 2008 Outstanding Alumnus award. He formerly served on the board of directors for the YMCA of Metropolitan Atlanta, where he was named Volunteer of the Year three times, and has served on the advisory council for the Auburn School of Accountancy.
A former defensive end for the Auburn Tigers under Shug Jordan in the late 1960s, Ingwersen received the Walter Gilbert Award in 2016, an award recognizing former athletes who distinguished themselves after graduation.
"Auburn University, the Harbert School of Business, the School of Accountancy, the Auburn Football Letterman's Club, the Sigma Nu Fraternity, and the relationships I have with the people associated with these organizations, have been an integral part of my life, and I truly consider them as blessings," he added.
"My professional career has been challenging, rewarding, and satisfying, in that it has enabled me to fulfill a goal of helping my clients achieve their own business and personal goals. If you love what you do, then it is not considered work. Based on that, I have never worked a day in my life. I believe that it is very important to give back to my church, my local community, and the larger community as well as the university that paved the way for me to get started with my own career."
Other Lifetime Achievement honorees included:
* The late Neil Owen Davis ('35, science and literature), was a newspaper publisher and editor who rose to prominence during the Civil Rights era for his stands on desegregation, public education and poverty relief.
* Thom Gossom ('75, speech communication) is an actor, writer, speaker and communications consultant who helped desegregate Auburn football and later became the first African-American athlete to graduate from Auburn University.
* Jeff Stone ('79, civil engineering) is executive vice president of Brasfield & Gorrie and current chairman of the United Way of Central Alabama's 2019 annual campaign.
Ashley Nunn Robinett ('01, chemical engineering) is the Young Alumni Achievement Award recipient for 2019. Robinett is vice president of Corporate Real Estate for Alabama Power.