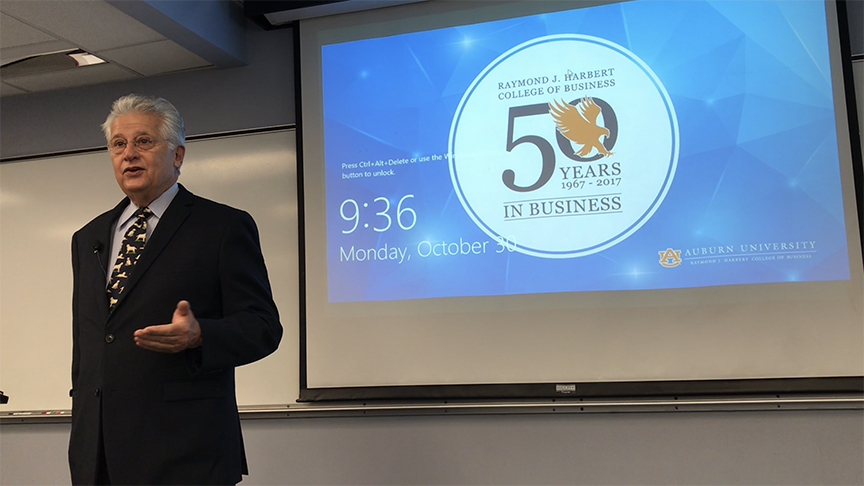 Insurance executive and author Ron Collins, who had an up-close view of brokerage firm Palmer & Cay's rise and fall, discussed servant leadership and business ethics with Harbert College MBA students on Monday morning.
"When employees know that management is supporting them, working for them, and hearing what they have to say, then there is more incentive to be involved and participate," Collins, a Harbert College alumnus, told classes. "When you see your boss working hard, you are more inclined to respond."
Collins, the former Senior Vice President and Managing Partner at Palmer & Cay, made special note of the firm's Chairman, John Cay. "He produced more business than anyone and he never took credit for it," Collins told students. "If he introduced me to a large client and we made a $200,000 commission, I got the credit for it. He was just happy that we wrote the business."
By 2003, Palmer & Cay, headquartered in Savannah, Georgia, was the second largest privately held firm in the industry with a value of $135 million.
Things changed that February after Cay decided to reshuffle the company's board -- bringing in two new members, who orchestrated a maneuver to reassign the company's president in favor of another.
"We had a president that we all liked," Collins said. "What happened to him? He got promoted, or demoted, to Vice Chairman of the Board. They brought in this new president who came in from Marsh, the world's largest broker, and the internet was abuzz. 'Who is this guy? Why is he coming here?' It turns out he had been fired by the world's largest broker. His style was completely different than the style that we had. We went from a servant leadership style to an autocratic, bureaucratic leadership style. Our new president valued his own instincts over our own experience.
"When you have the autocratic, bureaucratic style – leaders often mistake their own intellectual abilities, their own thoughts and ideas versus what empirical data tells you. They think that they are smarter than the rest so that what applies to other people does not apply to them because they are so smart. What we found out is … they should have listened. What we got was a new management, new philosophy and everything came grinding to a halt."
Collins said the new president's growth plan – raising value to $300 million within two years and $500 million within five without a major acquisition – raised eyebrows.
"What's the secret plan?" he asked. "He was going to hire away the leading sales producers and leading managers from the world's largest broker (Marsh), and they were going to come join Palmer & Cay and bring their business. Does anybody see a problem with that plan? Does it sound ethical?"
Palmer Cay's new president, fired by Marsh, had a no-compete arrangement where he could not solicit employees. Palmer & Cay sued to reverse the contract. "Perhaps you have heard of this concept – never poke a large dog with a sharp stick," Collins said. "That's what we were doing. We were irritating the world's largest insurance broker."
Instead of reversing terms of the contract, Marsh sued Palmer & Cay in every state it operated. "They came after us with a vengeance," Collins said, noting his firm's legal fees skyrocketed to $250,000 per month.
With that, Palmer & Cay's ship began to take on water, which eventually led to the publication of Collins' business novel, "Scuttled: The Sinking of the Palmer Cay."
Today, Collins leads the employee benefits practice for Atlanta-based Prymium Solutions.
A final takeaway for students: "Keep your eyes and ears open to what's going on in your organization, any changes in your organization," Collins said. "Study servant leadership -- because that will make you very successful."