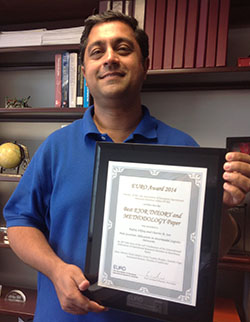 Rafay Ishfaq recently explored how freight companies can achieve a cost-effective, more efficient logistics network when cargo is carried by a variety of mediums (air, sea, train, etc). His co-authored research paper, "Hub location – allocation in intermodal logistics networks" was so impressive, it was named the 2014 Best Research Paper Award by the Association of European Operational Research Societies.
Ishfaq, assistant professor in Supply Chain Management at Harbert College, was presented the award July 18 in Barcelona, Spain, during a banquet at the 20th Conference of the International Federation of Operational Research Societies.
"When they called out 'Auburn University' in that arena, I felt that was a contribution that I made towards extending the name of our university in an international forum," Ishfaq said. "That made me proud.
"Also -- it's an international award. The audience and the reach of these international forums increase the dissemination of knowledge. Along with that, to win this award out of such a large pool of research papers makes this award special."
The European Operational Research Societies is an international consortium of academic researchers, with members from over 30 countries. A jury of leading academic researchers and journal editors chose Ishfaq's work over 736 other research papers published in the past three years.
The paper addresses the complexity of intermodal transportation and logistics networks in the global supply chains. It evaluates the effects and interactions of several factors on the design and operation of intermodal logistics hub networks, subject to customer service requirements.
Charles R. Sox, Department Head of Information Systems, Statistics and Operations Management at the University of Alabama, was co-author.